Your patronage of our affiliate partners supports this web site.
We thank you! In other words, please shop at LBC Gift Galerie!

Banana Samba
Art Print
Brown, Greg
Buy at AllPosters.com


Banana Crunch Muffins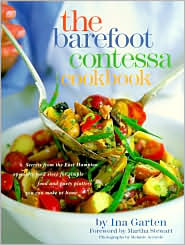 Barefoot Contessa Cookbook

by Ina Garten, 1999, Random House
Makes 18 large muffins
"This muffin is the perfect balance of moist muffin and
crunchy surprises. It is important to use really ripe bananas
to get the best flavor."
3 cups all-purpose flour
2 cups sugar
2 teaspoons baking powder
1 teaspoon baking soda
1/2 teaspoon salt
1/2 pound unsalted butter,
melted and cooled
2 extra-large eggs
3/4 cup whole milk
2 teaspoons pure vanilla extract
1 cup mashed ripe banana (2 bananas)
1 cup medium-diced ripe banana (1 banana)
1 cup small-diced walnuts
1 cup granola
1 cup sweetened shredded coconut
Dried banana chips, granola or
shredded coconut (optional)
Preheat the oven to 350 degrees [F.]
Line 18 large muffin cups with paper liners. Sift the flour, sugar, baking powder, baking soda, and salt into the bowl of an electric mixer fitted with a paddle attachment. Add the melted butter and blend. Combine the eggs, milk, vanilla and mashed bananas, and add the to the flour-and-butter mixture. Scrape the bowl and blend well. Don't overmix.
Fold the diced bananas, walnuts, granola, and coconut into the batter. Spoon the batter into the paper liners, filling each one to the top. Top each muffin with dried banana chips, granola, or coconut, if desired. Bake for 25 to 30 minutes, or until the tops are brown and a toothpick comes out clean. Cool slightly, remove from the pan and serve.

Featured Archive Recipes:
Banana Macadamia-Nut Bread
Big, Beautiful Muffins
Blueberry Banana Muffins
Chewy Brown Sugar Muffins
Cinnamon Butter Puffs
Morning Glory Muffins
Peanut Butter Banana Muffins
Coffee and Granola at Barefoot Contessa


Index - Breakfast Recipe Archives
Index - Bread Recipe Archives
Yummy Muffin Recipes
Daily Recipe Index
Recipe Archives Index
Recipe Search