Your patronage of our affiliate partners supports this web site.
We thank you! In other words, please shop at LBC Gift Galerie!

A Cup of Coffee on an Antique Map
Buy This Allposters.com


Recipe Source: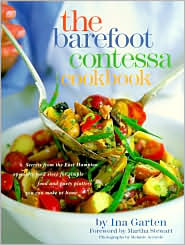 Barefoot Contessa Cookbook

by Ina Garten, 1999, Random House
The Perfect Cup of Coffee
"Everyone wants to know why the coffee at Barefoot Contessa is so good.
I like to think it has something to do with the atmosphere in the store,
but the truth is, the quality of the coffee beans is outstanding."
Buy the best quality coffee beans you can afford and have the store
grind them for your type of coffeemaker. [Or grind your own!]
Measuring the coffee is the next important step. For each cup of water,
as measure on the coffeemaker, use 1 level tablespoon of ground coffee.
I use a quick-measuring method: figure out how much coffee you need
in cup measures, rather than in tablespoon measures (8 tablespoons
equal a 1/2-cup measure). Therefore, if you make 8 cups of coffee each
time, you can simply use a level 1/2-cup measure of ground coffee each
time you make a pot. Instead of all that measuring while I am still half
asleep, I keep a cup measure with the ground coffee, and it comes out
perfectly every time.
For storing coffee, I find that if I leave ground coffee in the freezer,
measure it directly into the coffeemaker, and immediately return it to
the freezer, the quality of the coffee is the same from the beginning of
the bag to the end. You can also keep it in an airtight container on the
counter. The key is that a minimum amount of air is allowed to come
on contact with the ground coffee.
There are lots of varieties of coffee; make a blend that you like for dif-
ferent times of the day. Start with something mild and flavorful, such
as Guatemalan or Costa Rican. Then add beans with more body, like
French roast. Experiment and you'll find a blend that will satisfy you
for years.
Homemade Granola
Makes 12 cups
"This is the best granola. It was inspired by the delicious granola in
Sarah Chase's Nantucket Open House Cookbook. I started with her
recipe and then added dried apricots, dried figs, dried cherries, dried
cranberries, and roasted cashews. I love it sprinkled over yogurt and
berries, but in a bowl with cold milk, it's just fine, too."
4 cups old-fashioned rolled oats
2 cups sweetened, shredded coconut
2 cups sliced almonds
3/4 cup vegetable oil
1/2 cup good honey
1 1/2 cups small-diced dried apricots
1 cup small-diced dried figs
1 cup dried cherries
1 cup dried cranberries
1 cup roasted, unsalted cashews
Preheat the oven to 350 degrees [F].
Toss the oats, coconut, and almonds together in a large bowl.
Whisk together the oil and honey in a small bowl. Pour the liquids over
the oat mixture and stir with a wooden spoon until all the oats and nuts
are coated. Pour onto a 13 x 18-inch baking sheet. Bake, stirring occa-
sionally with a spatula, until the mixture turns a nice, even golden brown,
about 45 minutes. Remove the granola from the oven and allow to cool,
stirring occasionally. Add the apricots, figs, cherries, cranberries, and
cashews. Store the cooled granola in an airtight container.

Featured Archive Recipes:
Crazy for Coffee
Nothing bad could ever happen to me in a café...
The Barefoot Contessa's Banana Crunch Muffins

Index - Breakfast Recipe Archives
Yummy Muffin Recipes
Daily Recipe Index
Recipe Archives Index
Recipe Search