Your patronage of our affiliate partners supports this web site.
We thank you! In other words, please shop at LBC Gift Galerie!

Coho or Silver...
Ken Lucas
Buy This at Allposters.com


Smoked Salmon Canapés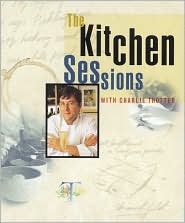 Kitchen Sessions
with Charlie Trotter

by Charlie Trotter, 1999,
Ten Speed Press
"The following are some of my favorite ways to serve smoked salmon. In this
recipe, I have assembled the canapés as a plated appetizer, but they could
be served as individual, passed canapés. I think the versatility of this fish
is amply demonstrated with these preparations. It can stand up to assertive
Asian flavors or act as the backdrop to something luxurious like caviar.
If you want to achieve a slightly different flavor, smoked sturgeon could
be substituted in any of these recipes with equally fabulous results."
Serves 8
1/2 cup crème fraîche [purchased or make your own]
2 tablespoons water
Salt and pepper
1 ounce caviar
Smoked Salmon Terrine (recipe follows)
1 cup baby cress (or other tiny lettuce or sprouts)
8 teaspoons olive oil (optional)
Smoked Salmon and Avocado Maki Rolls (recipe follows)
Smoked Salmon Tartar on Brioche (recipe follows)
Smoked Salmon Rolls with Hot and Sour Cucumbers
(recipe follows)
Method – To prepare the caviar crème fraîche:
Place the crème fraîche and water in a small bowl, whisk together until smooth, and season to taste with pepper. Gently fold in the caviar. Use immediately; if the mixture stands too long, the caviar breaks down
and the crème fraîche turns gray.
Assembly – Place a triangle of the salmon terrine upright on one
corner of each plate and spoon some of the caviar-crème fraîche
around it. Sprinkle some of the baby cress around the terrine.
Drizzle the terrine with a teaspoon of olive oil if a richer presenta-
tion is desired. Place a Smoked Salmon and Avocado Maki Roll
on the opposite corner. Place a Smoked Salmon Tartar on Brioche
and a Smoked Salmon Roll with Hot and Sour Cucumbers on the
remaining corners of the plate.
Wine Notes – Canapés are always best with Champagne
. Crisp styles
like Veuve Cliquot and Pol Roger are perfect, or for a very special
occasion, try a vintage Krug. If you prefer a nonsparkling wine, a
Sancerre will be a great match for the rich salmon.
Smoked Salmon Rolls with
Hot and Sour Cucumbers
Assemble these rolls just prior to serving or the
pickling juice will cook the salmon.
Yield: 8 rolls
1 cup Hot and Sour Cucumbers [follows]
8 thin slices smoked salmon
Method – To prepare the salmon rolls:
Drain any liquid from the cucumbers. Lay the salmon slices on a work surface and place some of the hot and sour cucumbers in the middle of
one of the slices. Roll up the salmon slice from one end to the other,
keeping the cucumbers securely inside. Repeat with the remaining slices
of salmon and cucumbers.
Hot and Sour Cucumbers
Yield: about 3 cups
"These cucumbers hold in the refrigerator for up to 1 week.
For spicier cucumbers, add a minced habañero chile pepper."
2 cucumbers, cut in half lengthwise
1 1/2 bay leaves
1 1/2 cups rice wine vinegar
1 cup sugar
1 jalapeño, chopped
6 ounces thinly sliced red onion
3 ounces thinly sliced fennel
1/2 tablespoon crushed pink peppercorns
Method – Scrape the seeds from the cucumbers, discard the seeds,
and thinly slice the cucumber. Place the bay leaves, vinegar, sugar,
and jalapeño in a saucepan and simmer for 5 minutes. Strain and
cool. Combine the cucumbers, onion, fennel, peppercorns, and
cooled vinegar mixture and refrigerate for at least 3 hours.
Smoked Salmon and Avocado Maki Roll
"You can easily substitute any other fish or vegetables
for the salmon and avocado in these maki rolls."
Yield: 8 pieces
1 1/2 cups cooked sushi rice, cooled
2 tablespoons rice wine vinegar
1 1/2 tablespoons sugar
2 teaspoons wasabi powder
1 teaspoon water
2 sheets nori
6 long chives
Four 8-inch-long by 1/4-inch-wide strips smoked salmon
1/2 avocado, peeled and cut into batons
2 tablespoons wasabi tobiko [flying fish roe]
Method – To prepare the maki rolls:
Place the rice in a medium bowl, add the vinegar and sugar, and mix until thoroughly combined. Place the wasabi and water in a small cup and stir
until smooth. Lay a sheet of nori flat on a bamboo maki roller. Place 1/2
cup of the rice on top of the nori. (Moisten your hands with water before touching the rice to prevent the rice from sticking to your hands.) Spread
the rice flat, leaving a 2-inch border at the top of the nori. Spread some of
the wasabi mixture on top of the rice and lay 3 of the chives horizontally
in the center of the rice. Lay two strips of the smoked salmon and some
of the avocado over the chives. Using the maki roller, carefully roll up the nori sheet, creating a firm, smooth maki roll. Moisten the 2-inch border
of the nori with water and press against the roll to create a seal. Set the
maki roll aside and repeat the process. Trim the ends of each maki roll,
slice in half, then slice each of the 4 pieces in half on the diagonal. Spoon some of the wasabi tabiko over each maki roll piece just prior to serving.
Smoked Salmon Terrine
Yield: 1 terrine (8 inches long by 1 1/2 inches wide by 2 1/4 inches high)
"This terrine can be made the day ahead and
then sliced just prior to serving."
1/4 cup butter, at room temperature
1 shallot, finely minced
1 tablespoon freshly squeezed lemon juice
1 tablespoon lemon zest, finely chopped
Black pepper
1 1/2 pounds thinly sliced smoked salmon,
cut into 1 1/2-inch-wide strips
Method – To prepare the lemon butter:
Place the butter, shallot, lemon juice, and lemon zest in a small
bowl. Mix until smooth and season with pepper.
To prepare the terrine: Line an 8-inch long by 1 1/2-inch wise by
2 1/4-inch high terrine mold with plastic wrap. Place a layer of the
smoked salmon on the bottom of the mold and spread with a very
thin layer of the lemon butter. Continue to layer the salmon and butter
until all of the salmon is used. Cover the terrine with plastic wrap and refrigerate for at least 2 hours. Leaving the plastic wrap on, slice the
terrine into 1/2-inch-thick slices. Carefully remove the plastic wrap
and cut each slice in half on the diagonal.
Smoked Salmon Tartar on Brioche
Yield: 8 pieces
"The brioche can be toasted earlier in the day but the capers
should not be added to the tartar until you are ready to use it."
1/2 cup finely diced smoked salmon
2 tablespoons chopped fresh chervil
1 tablespoon chopped capers
1 tablespoon chopped shallots
2 teaspoons olive oil
Black pepper
8 thin 1-inch squares toasted Brioche [recipe included
in cookbook, or substitute the crouton of your choice]
Method – To prepare the salmon: Place the smoked salmon, chervil,
capers, shallots, and olive oil in a small bowl and mix thoroughly. Season
to taste with the freshly ground black pepper. Place some of the smoked salmon tartar on each piece of toasted Brioche (or any type of crouton)
just prior to serving.

Featured Archive Recipe:
Charlie Trotter's Shrimp Maki Rolls
Warm Shellfish and Asian Vegetables with
Spicy Ginger-Lime Dressing


Index - Appetizer Recipes
Index - Fish Recipe Archives
Party Central!
Daily Recipe Index
Recipe Archives Index
Recipe Search