Provence
Gilles ...
Buy This at Allposters.com

La Belle Cuisine - More Appetizer Recipes
Fine Cuisine with Art Infusion
"To cook is to create. And to create well...
is an act of integrity, and faith."
Bruschetta with Scallops Provençale
"Cooking is at once one of the simplest and most gratifying
of the arts, but to cook well one must love and respect food."
~ Craig Claiborne
---
Recipe of the Day Categories:
Recipe Home
Recipe Search
Appetizers
Beef
Beverage
Bread
Breakfast
Cake
Chocolate
Fruit
Main Dish
Pasta
Pies
Pork
Poultry
Salad
Seafood
Side Dish
Soup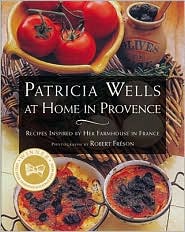 Patricia Wells at Home in Provence: Recipes Inspired by Her Farmhouse in France

Your patronage of our affiliate partners supports this web site.
We thank you! In other words, please shop at LBC Gift Galerie!

Maison Provencale
Steven Harvey
Buy This at Allposters.com


Bruschetta with Scallops Provençale
Gourmet
Archives
Bruschetta:
1/3 cup olive oil
Four 3/4-inch-thick slices, each about 6 inches long,
cut from a day-old loaf of Italian bread
1 large garlic clove, halved crosswise
1/2 pound bay scallops, rinsed and drained
3 tablespoons olive oil
1/4 cup flour
1/4 pound mushrooms, sliced thick
2 tablespoons minced onion
2 teaspoons minced garlic
1 tomato, peeled, seeded, chopped
1/2 teaspoon tomato paste
3 tablespoons minced fresh parsley
1/2 cup dry white wine
1/4 cup finely chopped roasted red bell pepper
For the bruschetta: In a large skillet heat the olive oil over moderately
high heat until hot but not smoking and in it sauté the bread, turning it,
1 to 2 minutes, or until golden. Transfer the toasts with tongs to paper
towels to drain; rub them with the cut sides of the garlic and arrange
them on a platter.
Discard the small, tough muscle from the side of each scallop and pat
scallops dry. In a large heavy skillet heat oil over moderately high heat
until hot but not smoking. While oil is heating dredge the scallops in
the flour and in a large sieve shake off the excess. In the hot oil sauté
the scallops, stirring and separating them with a fork, for 1 minute or
until tender, and transfer them with a slotted spoon to a bowl.
In the skillet sauté the mushrooms, stirring, for 3 minutes, or until the
liquid they give off is evaporated. Return scallops to the skillet with the
onion, garlic, tomato, tomato paste, 2 tablespoons parsley, and salt and
pepper to taste. Sauté the mixture, stirring, for 30 seconds or until
combined well, and with the slotted spoon, divide it among the toasts.
To the skillet add the wine and simmer it, stirring, until it is reduced by
one-third. Stir in the roasted bell pepper, drizzle the wine mixture over
the bruschetta and sprinkle with the remaining parsley.
Serves 4 as a first course.

Featured Archive Recipes:
Bruschetta w/ White Beans, Tomatoes
and Olives
Mario Batali's Bruschetta
Pâté d'Aubergine Provençale


Index - Appetizer Recipe Archives
Daily Recipe Index
Recipe Archives Index
Recipe Search