Recipe of the Day Categories:
Recipe Home
Recipe Search
Fruit

Steps to Montmartre,
Paris, France
Walter Bibikow
Buy This at Allposters.com


Provence Cookbook: 150 Recipes and Select Guide to the Markets, Shops, and Restaurants of France

Your patronage of our affiliate partners supports this web site.
We thank you! In other words, please shop at LBC Gift Galerie!

Sacre Coeur and Notre Dame de Lorette, Paris France
Walter Bibikow
Buy This at Allposters.com



Joël Robuchon's
Creamy White Bean Soup
(Crème de Cocos Blancs Joël Robuchon)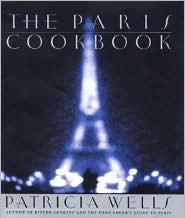 Paris Cookbook

Copyright © 2001 by Patricia Wells,
HarperCollins Publishers, Inc.
12 demitasse servings
"During the last years of his chiefdom on the rue de Longchamp, Joël Robuchon served this rich, soul-warming white bean cream as part of his all-truffle menu.
With a faintly smoky flavor and that creamy richness of good white beans, this
should be served in small portions. I like to serve it as a small first course, which
can be drunk from a simple white demitasse cup. The soup can be anointed with
finely minced truffles or with a drizzling of hazelnut oil. I only recently learned
that fresh white beans, such as the French 'cocos blancs', which can be found
from May to September, can easily be frozen. So when you find the beans in your
farmers' market, freeze them for one of those cool winter days when bean soup is
all that will do!"
2 pounds fresh small white (navy) beans or
red (cranberry) beans in the pod, shelled;
or 1 pound dried small white beans (such as cannellini,
Great Northern, or marrow beans), soaked (see note)
2 carrots, peeled and halved
1 onion, peeled and stuck with a clove
4 cloves garlic: 3 peeled, 1 very finely minced
1 bouquet garni: several sprigs of parsley
and thyme, and several bay leaves, tied
together with cotton string
3 ounces smoked bacon, in one piece
Sea Salt
2 cups homemade chicken stock
1 cup heavy cream
6 tablespoons unsalted butter, softened
Freshly ground white pepper
1 small fresh black truffle (about 1 ounce),
cleaned and minced (optional);
or several teaspoons best-quality
hazelnut or pistachio oil (optional)
Equipment: A 6-quart stockpot; a food processor, a food
mill, 12 demitasse cups or other very small bowls
1. In a 6-quart stockpot, combine the fresh or soaked dried beans with the carrots, onion, garlic cloves, bouquet garni, bacon, and 1 teaspoon sea
salt. Cover with cold water, bring to a boil, and cover the pot. Simmer
gently over low heat until the beans are very tender, about 30 minutes
for fresh beans, 1 to 1 1/2 hours for dried beans. (The cooking time will
vary according to the freshness of the beans.) Add additional stock or
water if necessary.
2. Drain the beans. Remove and discard the carrot, onion, garlic, bouquet
garni, and bacon. Transfer the beans to a food processor and purée.
Pass the purée through the finest grid of a food mill. (The soup can
be prepared ahead of time up to this point. Cool and refrigerate.)
3. At serving time, reheat the puree. Add the chicken stock and cream, stir
to blend, and bring just to a simmer. Stir in the butter and the minced
garlic. Add sea salt and white pepper to taste. Serve piping hot, in very
small warmed soup bowls or in demitasse cups. Sprinkle with minced
truffles or drizzle with hazelnut oil, if desired.
Note: To prepare dried beans, rinse them, picking them over to remove any
pebbles. Place the beans in a large saucepan. Cover with boiling water by
2 inches. Cover and let stand until the beans swell to at least twice their
size and have absorbed most of the liquid, about 1 hour. Drain the beans
in a colander, discarding the soaking liquid. Proceed with the recipe.

Featured Archive Recipes:
Soups from Patricia Wells
at Home in Provence
New Orleans Navy Bean Soup
White Bean and Broccoli Soup with
Parmigiano and Prosciutto
Favorite Black Bean Soup
Cream of Lima Bean Soup
JR's Gratin Dauphinois

Index - Soup Recipe Archives
Basic Stock Recipes
Daily Recipe Index

Recipe Archives Index
Recipe Search