Recipe of the Day Categories:
Recipe Search
Fruit

Huile d'Olive
Giclee Print
Foache, Arthur
Buy at AllPosters.com


Citrons Jaunes
Art Print
Givelet, Frederic
Buy at AllPosters.com


Mastering the Art of French Cooking Boxed Set: Volumes 1 and 2

Your patronage of our affiliate partners supports this web site.
We thank you! In other words, please shop at LBC Gift Galerie!

Olive Oil and Olives
Buy This Allposters.com


Julia's Caesar Salad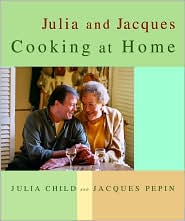 Julia and Jacques
Cooking at Home

Julia Child and Jacques Pepin,
1999, Alfred A. Knopf
Julia: "I am probably one of the few people around who saw the real
Caesar Cardini making his salad. I was about 9 when my parents took
me to his restaurant in Tijuana, just the other side of the border from
San Diego. They were so excited when big jolly Caesar himself came
to the table to make the salad, which had already been written up and
talked about everywhere. And it was dramatic: I remember most clearly
the eggs going in, and how he tossed the leaves so that it looked like a
wave turning over.
This version is quite close to the original, and you can see it is really a
very simple salad. Use small, tender whole leaves, real Parmigiano-
Reggiano – none of the fake stuff – and the 1-minute egg for creaminess
(though you can substitute 1 teaspoon of mayonnaise for the egg). But
you don't want herbs and anchovies and things like that – then you
have adulterated it."
[In her classic The Way to Cook Julia advises, "According to Chef
Caesar Cardini's daughter, with whom I talked at length before
doing this recipe for our TV show some years ago, the original
contained no anchovies. However, you may certainly add them if
you wish, mashing them into a puree with a bit of olive oil and
tossing them in before adding the cheese."]
"When Caesar Cardini first served his famous salad in the early 1920s,
he used just the hearts of the romaine lettuce, the tender short leaves
in the center, and he presented them whole. The salad was tossed and
dressed, then arranged on each plate so that you could pick up a leaf
by its short end and chew it down bit by bit, then pick up another. How-
ever, many customers didn't like to get their fingers covered with egg-
and-cheese-and-garlic dressing, and he changed to the conventional
torn leaf. Too bad, since the salad lost much of its individuality
and drama. You can certainly serve it the original way at home —
just provide your guests with plenty of big paper napkins. And plan
to be extravagant."
Yield: 2 or 3 servings
18 to 24 crisp, narrow leaves from the hearts of
2 heads of romaine lettuce, or a package of
romaine hearts (about 1 pound)
1 cup Plain Toasted Croutons (recipe follows)
1 large clove garlic, peeled
1/4 cup or more excellent olive oil
Academia Barilla 100% Italian Unfiltered
Extra-Virgin Olive Oil
Salt
1 large egg
Freshly ground black pepper
1 whole lemon, halved and seeded
Worcestershire sauce
2 tablespoons freshly grated parmesan cheese,
imported Parmigiano-Reggiano only
Academia Barilla Parmigiano Reggiano
Special equipment: A large mixing bowl; a small frying pan
Preparing the salad components:
You will probably need 2 large heads of romaine for 3 people - or use a commercially prepared package of "romaine hearts," if they appear fresh
and fine. From a large head remove the outside leaves until you get down
to the cone where the leaves are 4 to 7 inches in length - you'll want 6 to
8 of these leaves per serving. Separate the leaves and wash them carefully
to keep them whole, roll them loosely in clean towels, and keep refrigerated
until serving time. (Save the remains for other salads - fortunately, romaine keeps reasonably well under refrigeration.
To flavor the croutons, crush the garlic clove with the flat of a chef's knife, sprinkle on 1/4 teaspoon of salt, and mince well. Pour about a tablespoon
of olive oil on the garlic and mash again with the knife, rubbing and pressing
to make a soft purée.
Scrape the purée into the frying pan, add another tablespoon of oil, and
warm over low-medium heat. Add the croutons and toss for a minute or
two to infuse them with the garlic oil, then remove from the heat. (For a
milder garlic flavor, you can strain the purée though a small sieve into a
pan before adding the extra croutons. Discard the bits of garlic.)
To coddle the egg, bring a small saucepan of water to a simmer. Pierce
the large end of the egg with a pushpin to prevent cracking, then simmer
for exactly 1 minute.
(See Julia Child on Egg Safety!)
Mixing and serving the Caesar:
Dress the salad just before serving. Have ready all the dressing ingredients
and a salad fork and spoon for tossing. Drizzle 2 tablespoons of olive oil
over the romaine leaves and toss to coat, lifting the leaves from the bottom
and turning them towards you, so they tumble over like a wave. Sprinkle
them with a generous pinch of salt and several grinds of pepper, toss once
or twice, then add the lemon juice and several drops of the Worcestershire,
and toss again. Taste for seasoning, and add more, if needed. Crack the egg
and drop it right on the romaine leaves, then toss to break it up and coat the
leaves. Sprinkle on the cheese, toss briefly, then add the croutons (and the
garlicky bits in the pan, if you wish) and toss for the last time, just to mix
them into the salad. Arrange 6 or more leaves in a single layer on individual
plates, scatter the croutons all around, and serve.
Homemade Croutons
"Homemade croutons are essential for our Caesar salad and a fine addition to a
basic green salad as well as soups. You can enrich the cubes with melted butter
before toasting, if you like, or flavor them after with garlic oil, as in the Caesar
recipe. It's easy to make a large batch and freeze any croutons you are not using
the same day. Reheat frozen croutons in a low oven until crisp."
Plain Toasted Croutons (makes 4 cups)
Preheat the oven to 350 degrees F. Remove the crusts from 4 or more thick
slices of home-style white bread and slice bread into 1/2-inch strips and then
the strips into 1/2-inch cubes, to make 4 cups. Spread the cubes in a single
layer on a cookie sheet and set in the oven for about 10 minutes, turning
once or twice, until lightly toasted on all sides. Spread the cubes on a tray
to cool before using or freezing.
Butter-Toasted Croutons
Before toasting the bread cubes, toss them in a bowl with 1/4 cup of
melted butter, then spread them out an bake them.
And just what does Jacques have to say about this?
"Julia's authentic Caesar salad is excellent, but I love Gloria's almost-Caesar
salad, the one my wife makes at home. She mixes all the dressing ingredients
together first – oil, lemon juice, Worcestershire, seasonings, chopped garlic,
egg, and anchovy fillets in little pieces – and then tosses it with the broken-up
Romaine leaves. And she tosses in some crumbled blue cheese, either Roquefort
or Stilton, as well as Parmesan. She made this for me when we first met, and I
have never wanted to change it."

Featured Archive Recipes:
A Salute to Salads!
A Tribute to Julia Child
Caesar Salad with Bagel Croutons
Julia's American-Style Potato Salad
Ultimate Spinach Salad

The Essentials!
Index - Salad Recipe Archives
Index - Salad Dressing Recipes
Daily Recipe Archives
Recipe Archives Index
Recipe Search