Recipe of the Day Categories:
Recipe Search
Fruit

Decor au Citron
Art Print
Lavitelle,...
Buy at AllPosters.com


Daffodils and Lemons
(Jonquilles et Citrons)
Giclee Print
Ochoa, Isy
Buy at AllPosters.com


Your patronage of our affiliate partners supports this web site.
We thank you! In other words, please shop at LBC Gift Galerie!

La Patisserie
Dawna Barton
Buy This at Allposters.com


The World's Best Lemon Tart
(Tarte au Citron Nézard)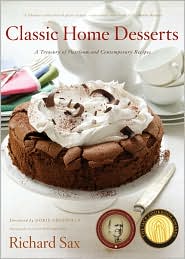 Classic Home Desserts:
A Treasury of Heirloom
and Contemporary Recipes
by Richard Sax, introduction by Dorie Greenspan
November 2010, Houghton Mifflin Harcourt
Please, please, please do yourselves a favor and buy
this excellent cookbook! It truly is a treasure. (MG)
"More a story of the pleasures of real dessert-making
than anything yet written."—M.F.K. Fisher
" 'Tomorrow, Monsieur…'
I started stopping in regularly at Nézard to eat a little lunch, and once
the owners started getting used to seeing my face, I asked for the lemon
tart recipe, always being told, 'Certainly, Monsieur – tomorrow.' This
went on for weeks: lots of 'tomorrow,' lots of smiles, but still no recipe.
Finally, when I explained that I was returning to America, the proprietor
broke down and let me talk to the pastry chef, who explained the recipe to
me in great detail – on one condition: that I never bake this tart anywhere
in Paris. I've kept that promise."
"After tasting my way through just about every tarte au citron in Paris, I
came back again and again to this simple version baked at Nézard, a tiny
unknown patisserie on the Left Bank near Montparnasse. Nowhere else
did the lemon burst with such sharp citrus zing in each mouthful. No
other tart cut so cleanly, each slice standing neat and trim on the plate,
its unadorned surface of baked lemon curd glazed with gold.
There's still no dessert more refreshing after dinner, whether in winter,
when there's little other fruit around, or in summer, served with a few
fresh berries on the side."
Makes one 9- or 10-inch tart; serves about 8
Rich tart dough (recipe follows)
Lemon Curd Filling
Juice of 2 lemons [about 1/3 cup]
6 large eggs
1 scant cup sugar
10 tablespoons (1 stick plus 2 tablespoons
cold
unsalted butter, cut into pieces
Finely grated zest of 3 lemons
[about 1 tablespoon]
3 tablespoons apricot preserves or
orange marmalade
1 paper-thin lemon slice
1. Roll out the dough on a lightly floured surface into a large circle; the
crust for this tart should be very thin. Gently fold dough in half and fit
it, without stretching, into a lightly buttered 9- or 10-inch fluted tart or
quiche pan with a removable bottom. Trim off the excess dough, leaving
a 3/4- inch overhang. Tuck in the overhang, pressing edges of the dough against sides of the tart pan to form a high, smooth border. Chill the tart
shell while you preheat oven to 400 degrees F, with a rack in the center.
2. Line the tart shell with a sheet of lightly buttered foil, buttered side
down. Weigh down with dried beans, rice or pie weight; place the shell
on a heavy baking sheet. Bake until the edges are set, 8 to 10 minutes.
Very carefully lift out the weights and foil; prick the dough lightly with a
fork. Continue to bake until the pastry is very pale gold, about 8 minutes longer. Cool slightly on a wire rack; leave the oven on.
3. Lemon Curd Filling: In top of a double boiler or a heatproof bowl,
whisk together the lemon juice, eggs and sugar until blended. Add the
butter, and set over simmering water. Whisk the mixture constantly until
thick and smooth, about 8 minutes. Do not let it boil; be sure to scrape
the bottom as you whisk. Remove from the heat. Strain the mixture into
a clean bowl; whisk in the lemon zest. (If you are not going to use the
custard immediately, lay a sheet of wax paper or plastic wrap directly on
the surface and refrigerate.)
4. Pour custard into the tart shell. Bake until the filling is set and lightly golden, about 30 minutes. Cool the tart to room temperature on a wire
rack, 1 to 2 hours.
5. Strain a thin layer of the preserves directly over the surface of the tart
(if you are using a stiff marmalade, it may need to be warmed before straining.) Gently brush it over the surface of the tart, glazing evenly
(brush gently so you don't tear the custard). Lay the thin slice of lemon
in the center of the tart; glaze the lemon slice with the preserves. Re-
move the tart from the rim of the pan and serve at room temperature.
Variation
Fresh Orange Tart: For the lemon zest and juice, substitute the zest of
1 orange and 1 lemon, 1/4 cup fresh orange juice and the juice of 1/2 lemon.

Rich Tart Dough
"This dough is made with butter as its only fat, producing a slightly
less flaky, but richer-tasting dough that's more like a cookie..."
2 2/3 cups all-purpose flour
2 tablespoons sugar
Pinch of salt
1/2 cup cold unsalted butter,
cut into pieces
3 tablespoons ice water or
cold orange juice, or as needed
1. If making the dough by hand, sift together the flour, sugar and salt into
a large bowl. Cut in the butter with 2 knives or your fingertips, until the mixture is the texture of crumbly meal.
2. Sprinkle 3 tablespoons of the liquid over the flour mixture and toss with
a fork until the pastry just comes together. Add more liquid if necessary,
but do not moisten the dough too much. Gather the pastry together in a
ball and flatten it into a disk. Wrap in plastic or wax paper and chill for at
least 1 hour before rolling out.
Note: To make this pastry in a food processor, combine the dry ingredi-
ents and butter and pulse briefly until crumbly; do not overmix. Add the
liquid gradually and process just until the dough begins to clump together.

Featured Archive Recipes:
François Payard's Lemon Tart
Lemon and Florentine Tart
Lemon Meringue Pie
Fresh Lemon Chess Tart in
Spiced Almond Crust
Lemon Ripple Ice Cream Pie
Kumquat Citrus Tarts
Lime Curd and Toasted Almond Tart
with Fruit Compote


Index - Pie Recipe Archives
Basic Pie Crust Recipes
Classic French Recipes
Daily Recipe Index
Recipe Archives Index
Recipe Search