Your patronage of our affiliate partners supports this web site.
We thank you! In other words, please shop at LBC Gift Galerie!

Magnolia with Apricots
Joe Anna Arnett
Buy This at Allposters.com


Margaret's Sausage Balls
I simply can't imagine a Christmas party in the South without Sausage
Balls. Now that I think of it, I've been to lots of non-Christmas parties
where these were served and eagerly devoured. They are not difficult
to make, just a tad tedious... well worth the effort!
Recently I had occasion to compare Margaret's recipe to Paula Deen's,
as published in her fine Southern cookbook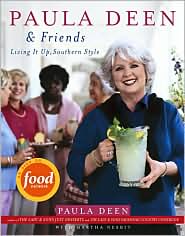 Paula Deen & Friends:
Living It Up Southern Style
and found (not at all to my surprise) that they are virtually identical.
Since the method in Paula's recipe is preferable, I present it to you
here, with all due respect to Margaret, a dear family friend...
1 pound hot pork sausage
3 cups Bisquick baking mix
4 cups grated sharp Cheddar cheese
1/8 teaspoon pepper, or more if desired
1. Preheat the oven to 375 degrees F. Spray a 15-by-10-by-1-inch
baking pan with vegetable oil cooking spray.
2. Combine all of the ingredients in a large glass bowl; mix well with
your fingers. The mixture will be very crumbly. Form into 1-inch
balls, squeezing the mixture so it holds together, then rolling it be-
tween the palm of your hands to form balls. Then place the balls
on the prepared baking sheet.
3. Bake for 18 to 20 minutes, until golden brown, To prevent stick-
ing, move the sausage balls with a spatula halfway through cook-
ing. Cool, then remove fro the cookie sheet,

[These freeze beautifully as follows: Place unbaked sausage balls on
cookie sheet and freeze. Then place the frozen balls in plastic bag.
Take out as needed. Bake 30 minutes at 375 degrees F. Yummy!]
Note: Some recipes call for melting the cheese in a double boiler,
then adding the sausage (broken into small pieces). Place this mixture
in a large bowl, add Bisquick, mix thoroughly and proceed as above.

More Favorites:
Cheesy Retro Stuff
Favorite Shrimp Dip
Hot Pepper Jelly
Liptauer
Pecan Cheese Bites, Gigi's
Pepper Biscuits with Cheddar
Pecan Spread
Southern Heirloom Recipes
A Tribute to Craig Claiborne
A Tribute to Eudora Welty


Index - Appetizer Recipe Archives
Index - Favorite Recipes Archives
Holiday Central!
Daily Recipe Index
Recipe Archives Index
Recipe Search