Recipe of the Day Categories:
Recipe Home
Recipe Index
Recipe Search
Appetizers
Beef
Beverage
Bread
Breakfast
Cake
Chocolate
Fruit
Main Dish
Pasta
Pies
Pork
Poultry
Salad
Seafood
Side Dish
Soup

Cow Cheese
Art Print
Buy at AllPosters.com


Save up to 40% on our everyday assortment. No promotion code necessary. Prices
as marked.

Your patronage of our affiliate partners supports this web site.
We thank you! In other words, please shop at LBC Gift Galerie!

Cheese and Wine
Nicole Etienne
Buy This at Allposters.com


The Liptauer Controversy
In the course of reviewing our Appetizer Archives recently in preparation for the Holiday Season, I was appalled to realize that I had not included a very simple, utterly delicious, long-standing favorite: Liptauer. How could that be??? As I
plowed through a ridiculous number of recipe cards, it came back to me. I have
way too many Liptauer recipes, and I always have trouble deciding which one to
use. Some recipes called for butter. Some for sour cream, mustard, caraway seed. What to do? I wound up just winging it. I can tell you though, that I prefer to leave the capers, cornichons, anchovies and such in the accompaniment category. I use
a combination of cream cheese and sieved cottage cheese with minced onion, salt, pepper and LOTS of imported Hungarian paprika.
Liptauer should be served with the closest thing to European dark rye bread you
can get your hands on. I surround the cheese with small dishes of sliced scallions, drained capers, chopped red radishes, finely chopped cucumber, chopped anchovy fillets, chopped smoked oysters, caviar or crumbled crisp bacon. Or whatever else suits my fancy. And I always drag out Gigi's sterling demitasse spoons just for the occasion. Why not?
If you want to get a heated conversation going, just mention the origin of Liptauer (assuming, of course, you are dealing with people who have actually heard of it). I have always considered Liptauer a Hungarian concoction. Perhaps it is. I have known Hungarians who consider it theirs and theirs alone. (And they, by the way, insist that it be made very simply. No funny stuff.) Good enough for me. However, there have been some quite adamant folks out there in cyberspace proclaiming Liptauer to be German. Or: No way! It is NOT German, it is NOT Hungarian, it
is Slovakian! What I can tell you for sure as of this writing (27 December 2002),
is that Liptov is located in Slovakia. Well, what if we traced the history of Liptov? Would that take us back to the Austro-Hungarian Empire? See what I mean? I did not want to bring it up at all, but it is such great party food, that I gave in. With or without cottage cheese, with or without capers, anchovies or caraway seed, I do
hope you enjoy it. Wave whatever flag suits your fancy.
So. Here is how Nigella does it:

Liptauer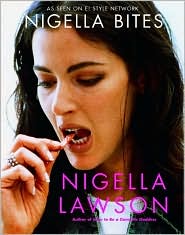 Nigella Bites:
From Family Meals
to Elegant Dinners --
Easy, Delectable Recipes
for Any Occasion

by Nigella Lawson, 2002, Hyperion
"What did I get myself into, deciding to put this here? It sounds, or will once
I explain it, so unlikely, so culinarily yesteryear. But if we're talking family
favorites I couldn't leave it out. Liptauer was the deli-counter delicacy of my childhood, and another eating-item I'd all but forgotten about. But something
made me remember it, and from taste-memory and some note from the kitchen
book inherited by my friend Olivia from her mother, I tried my hand at making
it myself, and I can confidently and categorically state that it's not some senti-mental yearning that makes me now want to see its comeback. You don't need
to go in for the retro-molding here, just mix the ingredients and plonk them
in a bowl if you like: but whatever this glorious cream cheese, caper, caraway
seed and paprika combination, spread over black sour bread – or if you don't
have the genetic taste for it – over slices of any dark or brown bread, which
you can get from the supermarket, is rhapsodically unbeatable."
18 ounces cream cheese
2 1/4 cups cottage cheese
4-5 tablespoons capers
8 cornichons, chopped
3 teaspoons paprika
Pinch of salt
Good grating of black pepper
2 teaspoons caraway seeds
2 teaspoons French mustard
1-quart mold or bowl
For drizzling over:
1-2 tablespoons flavorless vegetable oil
Fat pinch of paprika
Beat the two cheeses together until they are smooth, and then add all the other ingredients. Mix everything together well, and then turn into a small bowl with a capacity for approximately 1 quart, lined with plastic wrap for easier unmolding later. Smooth the top with a spatula and cover with the overhanging plastic wrap. Place it in the refrigerator to set. I put a couple of cans on top to press it down, but I don't feel it's crucial. I think it's because my mother was always putting pâtés and suchlike in the refrigerator with weights on. [We have never weighted it down, and quite agree that it is not crucial. We find it, in fact, unnecessary.]
When it has become cold enough to turn out – a few hours should do it – unwrap the folded-over plastic wrap on top, place a plate over the now uncovered bowl, turn it the other way our and unmold. Pull the plastic wrap off and drizzle over a rust-red ooze, made by mixing the oil with the paprika.
Serve this with bread or poppy-seed-sprinkled bagels, gherkins, and, if you like, some chopped red onions.

Featured Archive Recipes:
Cheesy Retro Stuff
Crocked Shrimp and Cheese
Gigi's Smoked Oyster Mousse
Charlie Trotter's Smoked
Salmon Canapés
Pepper Biscuits with Cheddar-
Pecan Spread


Index - Appetizer Recipes
Index - Classic German Recipes!
Party Central!
Daily Recipe Index
Recipe Archives Index
Recipe Search