Plum
Kate Ward...
Buy This at Allposters.com

La Belle Cuisine - More Fruit Recipes
Fine Cuisine with Art Infusion
"To cook is to create. And to create well...
is an act of integrity, and faith,"
Poached Plum and Raspberry Compote in
Late-Harvest Wine Syrup
"The value of those wild fruits is not in the mere possession
or eating of them, but in the sight and enjoyment of them."
~ Henry David Thoreau
---
Recipe of the Day Categories:
Recipe Home
Recipe Index
Recipe Search
Appetizers
Beef
Beverage
Bread
Breakfast
Cake
Chocolate
Fruit
Main Dish
Pasta
Pies
Pork
Poultry
Salad
Seafood
Side Dish
Soup

Your patronage of our affiliate partners supports this web site.
We thank you! In other words, please shop at LBC Gift Galerie!

Still Life with Plums
Art Print
Gish, Del
Buy at AllPosters.com



Poached Plum and Raspberry Compote
in Late-Harvest Wine Syrup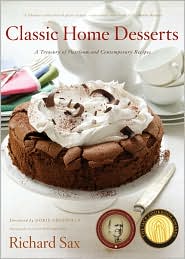 Classic Home Desserts:
A Treasury of Heirloom and
Contemporary Recipes

(winner of both a James Beard Award and a Julia Child Award!)
by Richard Sax, 1994, Chapters Publishing, Ltd./2000 Houghton Mifflin Company
"Nothing complicated: just a cool blend of summer fruits in
dessert-wine syrup. This late-harvest wine syrup is basic; you
can use it for any combination of fresh fruits in season."
Serves 4
1 cup sweet dessert wine, such as late-harvest [Spätlese]
Riesling or Gewürztraminer, Muscat de Beaumes-de-Veise
or Sauternes
(or substitute 1/2 cup each dry white wine and
water, plus 1/3 cup sugar)
1/4 cup cold water
1/2 vanilla bean, split lengthwise
4 quarter-size slices peeled fresh ginger
1/2 cinnamon stick
1 pound Italian prune plums (12-16), rinsed, stems
removed, halved and stoned, or
1 pound purple or red plums, quartered and stoned
1/2 pint fresh raspberries, picked over
Fresh lemon juice
Vanilla or plain yogurt or ice cream, for serving
1. Place the wine, cold water, vanilla bean, ginger and cinnamon stick in a nonreactive saucepan. (If you want to go to the trouble, tie the vanilla,
ginger and cinnamon stick in a piece of cheesecloth.) Cover and bring to
a boil, stirring to dissolve the sugar, if using. Uncover and simmer to
reduce slightly, about 3 minutes.
2. Add the plums, cover and simmer gently, turning them over once or
twice, until they are tender, but not mushy, about 5 minutes. Remove
the pan from the heat and gently stir in the raspberries and a squeeze
of lemon juice. Let stand for at least 20 minutes. Remove the cinna-
mon stick and vanilla bean.
3. Serve the compote warm or cool, drizzling a spoonful of yogurt or ice
cream into the syrup in each serving.

Featured Archive Recipes:
Plentiful Plums
Fruit-Filled Lattice Torte with
Four Fillings
Stewed Rum Plums


Index - Fruit Recipe Archives
Index - Miscellaneous Dessert Recipes
Recipe Archives Index
Recipe Search