Your patronage of our affiliate partners supports this web site.
We thank you! In other words, please shop at LBC Gift Galerie!

The Word Lust, Chocolate-coated
Kai Stiepel
Buy This Allposters.com


Is there such a thing as too many brownie recipes?
Of course not! Sheesh...
Barefoot Contessa's
Outrageous Brownies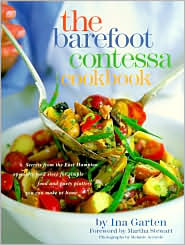 Barefoot Contessa Cookbook

© 1999 by Ina Garten,
Clarkson N. Potter, Publisher
Makes 20 large brownies
"Inspiration for this recipe came from the 'Chocolate Glob' from the
'SoHo Charcuterie Cookbook' published by William Morrow in 1983.
Buy new, used, and hard-to-find books at Alibris!
In its heyday, the SoHo Charcuterie was the cutting edge of New York
restaurants. The giant confection was a blob of chocolate dough filled
with chocolate chips and nuts. I thought I could make a brownie with
almost the same formula. They've been flying out the door for 15 years!"
1 pound unsalted butter
1 pound plus 2 cups semisweet
chocolate chips, divided
6 ounces bitter [unsweetened] chocolate
6 extra-large eggs
3 tablespoons instant coffee powder
2 tablespoons real vanilla extract
2 1/4 cups sugar
1 1/4 cups flour, divided
1 tablespoon baking powder
1 teaspoon kosher salt
3 cups diced walnut pieces
Preheat oven to 350 degrees F. Grease and flour a 13 by 18 by
1 1/2-inch sheet pan.
Melt together the butter, chocolate chips, and unsweetened chocolate in
a medium bowl over simmering water. Allow to cool slightly. In a large
bowl stir (do not beat) together the eggs, coffee granules, vanilla and
sugar. Stir the warm chocolate mixture into the egg mixture and allow
to cool to room temperature.
In a medium bowl, sift together 1 cup of flour, the baking powder and
salt. Add to the cooled chocolate mixture. Toss the walnuts and 12
ounces of chocolate chips in a medium bowl with 1/4 cup flour, then
add them to the chocolate batter. Pour into the baking sheet.
Bake for 20 minutes, then rap the baking sheet against the oven shelf
to force the air to escape from between the pan and the brownie dough.
Bake for about 15 minutes, until a toothpick comes out clean. comes
out clean. Do not overbake! Cool thoroughly, refrigerate well and cut
into squares.
Notes:
"We find that Hershey's chocolate chips work very well."
"Flouring the chips and walnuts helps them from sinking to the bottom."
"It is very important to allow the batter to cool well before adding the
chocolate chips, or the chips will melt and ruin the brownies."
"The recipe can be baked up to a week in advance, wrapped in plastic,
and refrigerated."
Ina explains why you need to whack these brownies halfway
through baking.


Featured Archive Recipes:
Brownie Bonanza
Brownie Bars, Rich Espresso
Brownies, Cappuccino Cream Cheese
with Chocolate Glaze
Brownies, Chocolate Cheesecake (Chocolatier)
Brownies, Chocolate Chunk (Sheila Lukins)
Brownies, Espresso (Maida Heatter)
Brownies, Fudgy Peanut Butter Cup (Chocolatier)
Brownies, Nick's 'Supernatural'
Brownies, Palm Beach, with Chocolate-Covered
Mints (Maida Heatter)
Brownies, Raspberry Cheesecake
Brownies, Sour Cherry Cheesecake
Brownies, Super Fudgy Five Chocolate (Chocolatier)
Brownies, White Chocolate, with Chocolate Sauce
Brownies, White Chocolate and Macadamia Nut
with Hot Fudge Sauce
Chocolate Brownie Pie (for chocolate freaks!)



Index Chocolate Recipe Archives
Index Cookie Recipe Archives
Daily Recipe Index
Recipe Archives Index
Recipe Search