Your patronage of our affiliate partners supports this web site.
We thank you! In other words, please shop at LBC Gift Galerie!

A Christmas Forest Scene with Father Christmas

Buy This at Allposters.com


Marie's Rich Gingerbread with
Candied Ginger and Lemon Glaze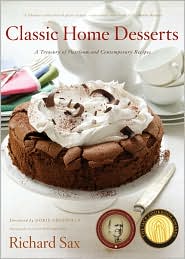 Classic Home Desserts:
A Treasury of Heirloom and
Contemporary Recipes

by Richard Sax, 1994, Chapters Publishing, Ltd.
"This is extraordinary gingerbread, moist and great-looking.
Cookbook author (and great cook) Marie Simmons, my co-
columnist for Bon Appetit
, says she also likes to serve this
cake with John's Mother's Lemon Sauce with Lemon Slices
[recipe follows]."
Makes one 10-inch tube cake; serves 12 to 16
1 tablespoon unsalted butter, melted,
for the pan
1 cup (2 sticks) unsalted butter, softened
1 cup packed dark brown sugar
2 large eggs
2 cups dark molasses *See note!
3 1/2 cups all-purpose flour
2 tablespoons ground ginger
2 teaspoons baking soda
1/2 teaspoon ground cloves
1/2 teaspoon salt
1/4 cup minced crystallized ginger
1 cup boiling water
Lemon Glaze
1 cup confectioner's sugar
1 – 2 tablespoons fresh lemon juice
1/2 teaspoon grated lemon zest
* Note: As I don't particularly care for the taste of molasses, I
substitute either Lyles Golden Syrup or Steen's Cane Syrup.
1. Preheat the oven to 350 degrees F. Generously brush the inside of a
10-inch Bundt or tube pan with the melted butter; sprinkle with a fine coating of flour and shake out the excess; set aside.
2. In a large bowl, beat the butter with an electric mixer at medium-high speed until light and fluffy. Add the sugar and beat until smooth. Beat
in the eggs, one at a time, beating well after each addition. Gradually
beat in the molasses in a slow, steady stream until blended.
3. Meanwhile, sift the flour, ginger, baking soda, cloves and salt together;
stir in the crystallized ginger. Gradually beat the dry ingredients into the batter just until blended, no longer; turn off the mixer. Add the boiling
water to the batter, 1/3 cup at a time, stirring gently but thoroughly by
hand with a large rubber spatula after each addition. Spoon the batter
into the prepared pan.
4. Bake until the cake pulls away from the sides of the pan, 55 to 60 minutes.
5. Cool the gingerbread in the pan on a wire rack until warm, 20 to 30 minutes. The top of the cake may fall slightly upon cooling. Run the
tip of a knife around the sides of the cake to loosen it from the pan.
Invert the cake onto a platter.
6. Lemon Glaze: In a small bowl, stir together the confectioner's sugar
and lemon juice until smooth; add the lemon zest. Drizzle the glaze
over the top of the cooled cake. The cake is delicious served slightly
warm. But for neat cutting, let the glaze set before serving.

John's Mother's Lemon Sauce with Lemon Slices
Makes about 1 1/3 cups
1/2 cup sugar
1 tablespoon cornstarch
1 cup cold cider or water
Grated zest and juice of 1 lemon
1 lemon, thinly sliced (about 8 slices)
2 tablespoons unsalted butter
Pinch salt
1. In a small nonreactive saucepan, stir together the sugar and cornstarch. Add the cider or water in a slow stream and stir until smooth.
2. Set the pan over medium heat and bring the mixture to a boil. Stir in the lemon zest and juice, lemon slices, butter and salt until the butter melts. Serve immediately.

Featured Archive Recipes:
How to Make Gingerbread
Chocolate Gingerbread
Cranberry Gingerbread with Brown
Sugar Whipped Cream
Fresh-Ginger Pain d'Epice
Gingerbread Bundt Cake with
Lemon Glaze
Triple Ginger Loaf


Index - Cake Recipe Archives
Index - Bread Recipe Archives
Thanksgiving Recipe Index!
Holiday Central!
Daily Recipe Index
Recipe Archives Index
Recipe Search