Recipe of the Day Categories:
Recipe Index
Recipe Search
Fruit

Christmas Gingerbread House
Kindra Clineff
Buy This at Allposters.com


Ginger Jar with Orchids II
Art Print
Kruskamp, Janet
Buy at AllPosters.com


Decor au Citron
Gilbert ...
Buy This at Allposters.com


Ginger Jar with Peaches,
Apricots and Tapestry
Art Print
Speck, Loran
Buy at AllPosters.com


Jade Ginger Jar
Art Print
Kruskamp, Janet
Buy at AllPosters.com


Your patronage of our affiliate partners supports this web site.
We thank you! In other words, please shop at LBC Gift Galerie!

Detail of Gingerbread Cookies Arranged on a Plate
Rich Reid
Buy This at Allposters.com


How to Make Gingerbread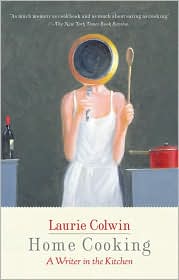 Home Cooking:
A Writer in the Kitchen

by Laurie Colwin, 1993, HarperPerennial
"No one who cooks, cooks alone. Even at her most solitary, a cook
in the kitchen is surrounded by generations of cooks past, the advice
and menus of cooks present, the wisdom of cookbook writers."
~ Laurie Colwin
"Gingerbread, that most evocative of nursery treats, has gone out of fashion and even the revival in American cooking has failed to bring it back. You never see it on menus or in bakeries, except in the form of gingerbread
cookie men at Christmastime. [Home Cooking was originally published
in 1988; no doubt that was more true then than today. Ed.]
"I love gingerbread in its true cake form – moist, spongy, and spicy... It is strictly home food, but no one makes it any more. [We are trying to change this!] Those who crave it get their fix from mixes [!], and if you give them
the real thing, they appear confused. Why doesn't their gingerbread taste
that good? There is nothing to be said about mixes: they are uniformly disgusting. Besides, gingerbread made from scratch takes very little time
and gives back tenfold what you put into it. Baking gingerbread perfumes
a house as nothing else. It is good eaten warm or cool, iced or plain. It improves with age, should you be lucky or restrained enough to keep
any around. [And not only that, it is also a wonderful comfort food!]
"Gingerbread exists in some form or other all throughout northern Europe. Florence White's classic Good Things in England, for example, has twelve recipes. Mrs. Mary Randolph's The Virginia Housewife, published in 1824, has three. It is definitely food for a cold climate. Its spicy, embracing taste
is the perfect thing for a winter afternoon. Ginger warms up your stomach (and is believed by many to purify the blood). When you serve it, once
they have stopped giving you a funny look, people often say: 'Gingerbread!
I haven't had that since I was a child.'
"If you are feeding sophisticates, you can either take them back to child-
hood and serve it plain with a little whipped cream, or fancy it up by
adding crème fraîche and a poached Seckel pear.
"I have tried any number of recipes and have finally found the one I like
best. Its basic proportions come from a recipe for Tropical Gingerbread
in a spiral-bound book entitled Charleston Receipts
. This gem, which has
been published since 1950 by the Junior League of Charleston (now in its 25th edition…) contains wonderful recipes for everything from Brunswick Stew to scones to shortnen' bread and spoonbread. Tropical Gingerbread, however, calls for coconut which I feel has no place in gingerbread at all,
so I have felt free to make a few changes and additions to an otherwise
excellent recipe.
"Instead of the white sugar called for, I use either light or dark brown.
Light brown makes a slightly spongier cake, and dark brown creates a
more sugary crust. I also add two teaspoon of lemon brandy, a heavenly
elixir easily homemade by taking the peel from two lemons, cutting very
close to get mostly zest, beating up the peels to release the oils, and steep-
ing them in four ounces of decent brandy. I have had my bottle for thir-
teen years and have replenished the brandy many times.
"Besides the ginger, the heart of gingerbread is molasses. Now, there is molasses and molasses and there is the King of Molasses, which is avail-
able in the South but virtually unknown in the North. [This may have changed since 1988.] It comes in a bright yellow can and can be ordered
by mail… Steen's 100% Pure Cane Syrup.
[Updated contact information: (800) 725-1654, www.steensyrup.com]
You do not need Steen's to make gingerbread, but I see it as one of life's greatest delights: a cheap luxury.
The following recipe makes one nine-inch cake:
1. Cream one stick [1/4 pound] of sweet [unsalted] butter with 1/2 cup of light or dark brown sugar. Beat until fluffy and add 1/2 cup of molasses.
2. Beat in two eggs.
3. Add 1 1/2 cups of flour, 1/2 teaspoon of baking soda and one very generous tablespoon of ground ginger (this can be adjusted to taste,
but I like it very gingery). Add one teaspoon of cinnamon, 1/4 tea-
spoon of ground cloves and 1/4 teaspoon of ground allspice.
4. Add two teaspoons of lemon brandy. If you don't have any, use plain vanilla extract. Lemon extract will not do. Then add 1/2 cup of butter-
milk (or milk with a little yogurt beaten into it) and turn batter into a
buttered tin.
5. Bake at 350 degrees [F.] for between twenty and thirty minutes (check after twenty minutes have passed). Test with a broom straw, and cool
on a rack.
[Icing is optional…]
Chocolate Icing
1. Cream 1/2 stick [1/4 cup] of sweet [unsalted] butter. When fluffy add
four tablespoons of unsweetened cocoa.
2. If you have some, add one teaspoon of vanilla brandy (easily made by steeping a couple of cut-up vanilla beans in brandy – another excellent
thing to have around), or plain vanilla or plain brandy. Then add about
a cup of powdered sugar, a little at a time until you get the consistency
you want.
This cake is also delicious with lemon icing. Substitute for the cocoa the
zest of one big lemon, one teaspoon of lemon brandy (or extract) and
one tablespoon of lemon juice and proceed as in Chocolate Icing.
Lemon icing, I have discovered, must stand around for a while in order
to bloom. At first taste, it is impossibly sweet, but after an hour or so it
mellows into something suave and buttery…
[Our personal favorite with gingerbread is lemon sauce]:

Old Fashioned Lemon Sauce
1/2 cup butter
1 cup sugar
1/4 cup water
1 large egg, beaten
3 tablespoons fresh lemon juice
Grated zest of 1 lemon
Combine all ingredients in a medium non-reactive saucepan. Cook
over medium heat, stirring constantly, until mixture comes to a boil.]
"This… will feed six delicate, well-mannered people with small appetites
who are on diets and have just had a large meal, or four fairly well-
mannered people who are not terrible hungry. Two absolute pigs can
devour it in one sitting – half for you and half for me – with a glass
of milk and a cup of coffee and leave not a crumb for anyone else."
A little more insight from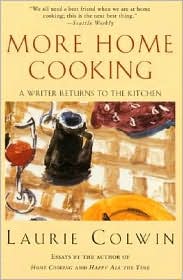 More Home Cooking:
A Writer Returns to the Kitchen

by Laurie Colwin, 1995, HarperPerennial
"After years of hands-on experience, I have come to three conclusions about gingerbread. First, the ground ginger must be fresh. If your half-consumed
jar of ginger has dust all over it, throw it out and buy a new one – ginger
loses its power after it has been sitting around for nine months or so. If you live near an ethnic market that sells spices in bulk, buy your ground ginger there. Otherwise, a fresh jar from the supermarket will do fine.
"Second, most recipes are very timid about the quantity of ginger. [I really
do not understand this. It is, after all, supposed to be gingerbread, is it
not?] You may start out mild and wind up tripling the amount. I like a
heaping tablespoon, which may be too much for some people but not
enough for others. This is a matter of taste.
"Third, never use ordinary molasses. It is simply too bitter – not what you want. [Perhaps this is why some people maintain they do not like ginger- bread!] Pure cane syrup is the name of the game, and I whole-heartedly
endorse that made by the C. S. Steen Syrup Mill of Abbeville, LA [see
above]. British recipes often call for black treacle, for which Steen's cane syrup is a good substitute, or light treacle, for which I use Lyle's Golden
Syrup, an English standby that can now be found in many supermarkets
and fancy food shops.
"If you happen to be a fan of English cookbooks (I seem to be addicted to them), you will be amazed at the array of gingerbreads, from those dry, breadlike ones called parkin to the dark, sticky ones that are more like
what we Americans know as pudding. After much trial and error, I have come across two recipes that are sublime. Nevertheless, I realize hundreds more are out there, yet untried.
"The first comes from a British Penguin book, The Farmhouse Kitchen
by Mary Norwak… It is easy and sensational.
Old-Fashioned Gingerbread
1. Preheat the oven to 375 degrees F. and line the bottom of a buttered
8-inch round tin (2 inches deep) with parchment paper. (Parchment
paper has come to have great importance in my kitchen, and it is my
opinion that the person who invented it should get a Nobel Prize.)
2. Melt 1/2 cup cane syrup or black treacle with 6 tablespoons butter.
3. Beat 1 egg with 4 tablespoons buttermilk.
4. Sift together 2 cups flour, 1 teaspoon baking soda, 2 heaping tea-
spoons ground ginger, 1 teaspoon cinnamon, 1/3 cup firmly packed
brown sugar, and a pinch of salt. Mix in 3/4 cup dried currants
or raisins.
5. Add the egg mixture, then add the syrup mixture and mix well.
6. Bake 10 minutes in the 375-degree oven, turn the heat down to
325 degrees F. and bake 35 to 40 minutes more. A few crumbs
stick to a tester when the cake is done.
The above recipe is an all-around hit and combines many of gingerbread's virtues. It is spicy, heartwarming, and cake-like. You do not need to add
one thing: no ice cream, no icing, no poached fruit on the side. It is really
and truly good by itself. For some time it displaced all others in my
kitchen, but people on quests are not easily satisfied.
After a while, I began to long for something new, and in another English book, Delia Smith's Book of Cakes, I found what I was looking for. It is
not sticky, but moist and velvety. The name describes it perfectly:
Damp Gingerbread
1. Preheat the oven to 350 degrees F. Butter a 9-inch round tin (2 inches deep) and line the bottom with parchment paper.
2. Melt 9 tablespoons butter with 12 ounces (1 1/2 cups) Lyle's Golden Syrup.
3. Into a bowl sift 2 cups plus 2 tablespoons flour, 1/2 teaspoon salt,
1 3/4 teaspoon baking soda, 1 tablespoon ground ginger, 1/2 tea-
spoon ground cloves, and 1/4 teaspoon cinnamon.
4. Pour the syrup and butter onto the dry ingredients and mix well.
5. Add 1 beaten egg and 1 cup milk. Beat well. The batter, Ms. Smith
tells us, will be very liquid, and it is. Pour it into the tin and bake at
350 degrees F. for about 50 to 55 minutes. (The middle should be
just set, with the edge pulling away from the pan, and a tester will
bring out a few crumbs.) Cool the cake in the tin for 10 minutes
before turning out."

More Gingerbread:
Chocolate Gingerbread
Cranberry Gingerbread with Brown
Sugar Whipped Cream
Fresh-Ginger Pain 'Epice
(Martha Stewart)
Gingerbread Biscotti
Gingerbread Bundt Cake with
Lemon Glaze
Gingerbread Cookie Cutouts
(Chef Keegan, Chef Lisa)
Gingerbread Roll with Lemon Cream Filling
Marie's Rich Gingerbread with Candied
Ginger and Lemon Glaze
Prune Armagnac Gingerbread
Triple Ginger Loaf


Index - Bread Recipe Archives
Index - Cake Recipe Archives
Yummy Muffin Recipes
Holiday Central!
Index - Food Features
Daily Recipe Index
Recipe Archives Index
Recipe Search