Your patronage of our affiliate partners supports this web site.
We thank you! In other words, please shop at LBC Gift Galerie!

Je t'aime
Jennifer Garant
Buy This at Allposters.com


Sauces
"The French are credited with refining the sophisticated art of sauce-making.
It was the 19th-century French chef Antonin Carême who evolved an intricate methodology by which hundreds of sauces were classified under one of five
"mother sauces." Those are:
Espagnole (brown stock-based)
Velouté (light stock-based)
Béchamel (basic white sauce)
Hollandaise and Mayonnaise (emulsified sauces)
Vinaigrette (oil-and-vinegar combinations)"
(from The New Food Lover's Companion
by Sharon Tyler Herbst)
The Classic White Sauces:
Béchamel and Velouté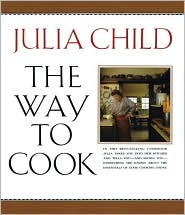 The Way to Cook

© 1989 by Julia Child (Alfred A. Knopf, Inc.)
"These are the old standbys of home cooking, and you will use them countless
times in one guise or another – for baked vegetables, for egg and fish dishes,
in cream soups, and so forth. Flour-based sauces have a bad reputation
because they are too often carelessly put together, but there is no excuse for
grainy floury-tasting sauces when they are so very easy and quick to make.
The essential, really, is the initial cooking together of the thickening
element: the flour-butter paste – the white roux."

White Sauce – Cream Sauce – Béchamel Sauce
For 2 cups of medium-thick sauce
2 1/2 tablespoons butter
3 1/2 tablespoons flour
2 cups hot milk
1/2 teaspoon salt and several
grinds of white pepper
Special Equipment Suggested:
A heavy-bottomed 2 1/2-quart stainless saucepan for the sauce;
a wooden spatula or spoon; a small saucepan for the milk;
a wire whisk
The white roux. Melt the butter in the 2 1/2-quart saucepan, then blend
in the flour with a wooden spoon to make a smooth somewhat loose
paste. Stir over moderate heat until the butter and flour foam together
for 2 minutes without coloring more than a buttery yellow. Remove
from heat.
Adding the milk. When the bubbling stops, in a few seconds, pour in all
but 1/2 cup of the hot milk at once, whisking vigorously to blend tho-roughly. Then whisk rather slowly over moderately high heat, reaching
all over the bottom and sides of the pan, until the sauce comes to the simmer; simmer 2 to 3 minutes, stirring with a wooden spoon and thin-
ning out the sauce as necessary with dribbles of the milk. The sauce
should be thick enough to coat a spoon nicely. Whisk in the salt and
pepper, tasting very carefully and adding more as needed.
Ahead-of-time note: To prevent a skin from forming over the surface
of the sauce, (1) whisk it every few minutes until it has cooled, or (2)
film the surface with milk - spread a tablespoon or so of it over the
surface of the sauce with the back of a kitchen spoon – or (3) press
a sheet of plastic wrap right down onto the surface. The sauce will
keep 2 to 3 days under refrigeration or may be frozen.
For a thicker or thinner sauce
Thin sauce, such as for cream soups:
1 tablespoon flour and 3/4 tablespoon butter per cup of milk.
Thick sauce, such as for cheese soufflés:
2 tablespoons flour and 1 1/2 tablespoons butter per cup of milk
For a lighter or richer sauce, use skim milk for the former, or, for a
rich sauce, use half-and-half or whisk several tablespoons of butter
into the finished sauce.
First aid for a lumpy sauce: Push it through a mine-meshed sieve,
then whirl it in an electric blender, and finally whisk it over heat until
it simmers a moment.

Velouté Sauce
For vegetables, fish, and white meats
This is exactly the same as white sauce except that, rather than
milk alone, you use vegetable, fish, or meat juices or stock, plus
milk and/or cream if called for. [Click here for a detailed recipe.]

Cheese Sauce: Mornay Sauce
Make either a white or a velouté sauce, and let it cool several minutes
before whisking it grated cheese. Proportions are usually 1/4 cup of cheese per cup of sauce, and the cheese is usually Swiss, although you may use
any kind you wish. Usually, too, a speck of nutmeg is included.
First aid for stringy cheese sauce: When cheese is added to a very hot sauce the sauce can become stringy – Swiss cheese is often the culprit
here. To remedy, bring it to the simmer whisking in drops of lemon juice
or dry white wine – a tip from our late great American culinary authority James Beard – and it usually works.

Classic White Sauces from
"Mastering the Art of French Cooking"

A Tribute to Julia Child
Happy 90th Birthday, Julia!
Julia Child in her own words...


Index - Basic Sauces
The Basics
Classic French Recipe Index
Daily Recipe Index
Recipe Archives Index
Recipe Search