Your patronage of our affiliate partners supports this web site.
We thank you! In other words, please shop at LBC Gift Galerie!

Picking Up Flowers
Gilles ...
Buy This at Allposters.com


Mayonnaise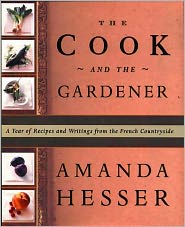 Cook and the Gardener:
A Year of Recipes and Writings
from the French Countryside

by Amanda Hesser, 1999, W. W. Norton & Company, Inc.
"I like fresh mayonnaise so much I often smear it on bread for a snack. The
bread, of course, is merely a vehicle for the lemony, yellow sauce. Use it as a
basic summer recipe; it goes well with any blanched summer vegetable or on
any sandwich, for that matter, with or without vegetables. Mayonnaise is also
lovely with herbs swirled into it. Basil mayonnaise tossed with warm sliced
potatoes, parsley mayonnaise with fresh peas and green beans, oregano
mayonnaise slathered on a sandwich layered with fat, juicy slabs of August
tomatoes – you can get hungry thinking of ways to use it!
Mayonnaise can be made in either a food processor or an electric mixer fitted
with a whisk. I have given instructions for doing it by hand because I find it
is just as quick, and I like to see it thickening with each stroke of the whisk."
Standard Mayonnaise
Makes 1 to 1 1/2 cups
3 large egg yolks, at room temperature
1 teaspoon Dijon mustard
1 tablespoon lemon juice
Coarse or kosher salt
Freshly ground white pepper
1 – 1 1/4 cups best-quality olive oil
(remember, the taste of the
olive oil will be clearly reflected
in the taste of the mayonnaise)
1 tablespoon white wine vinegar
In a medium bowl, whisk the egg yolks, mustard, lemon juice, and a
little salt and pepper, until the salt dissolves and the mixture begins to
thicken slightly. Add the olive oil one drop at a time, letting the mixture emulsify after each addition. As the mayonnaise thickens, you may add
the oil at a faster rate, in a very slow, steady stream, creating a thick
yellow sauce with a consistency close to that of tube paint. (If you
prefer a looser mayonnaise you can whisk in a little cream at the end.) After all the oil is added, fold in the vinegar with a spatula. Taste and adjust the seasoning, adding more salt, pepper, or lemon juice
as needed. Keep refrigerated for up to 5 days.
Note: If the mayonnaise breaks (if the oil and egg begin to separate), stop
what you're doing and take a deep breath. Get another bowl and break a
fresh egg yolk into it. Then whisk in the broken mayo a little at a time.
It should emulsify fine, with no harm done.
Herb Mayonnaise
1 1/2 cups Standard Mayonnaise
3 tablespoons finely chopped herbs
(e.g., basil, parsley, chervil, oregano,
sage, lemon balm, thyme, marjoram or
hyssop, alone or mixed)
2 shallot lobes, chopped fine
Fold herbs and shallots into Standard Mayonnaise recipe with
a rubber spatula.
Mayonnaise with Fines Herbes
1 1/2 cups Standard Mayonnaise
1 tablespoon finely chopped tarragon leaves
(about 3 branches)
1 tablespoon finely chopped chervil leaves
(about 8 sprigs)
1 tablespoon thinly sliced chive blades
(about 12 blades)
Fold the herbs into the Standard Mayonnaise recipe with
a rubber spatula.
Aļoli
"The proportions I use for Aļoli come from Elizabeth David's essay on making a proper aioli in her book 'French Provincial Cooking'. Typical of her prose, she prods you along knowingly through her instructions, lacking no crucial details,
to a result that captures the beauty of the food: "Aļoli is indeed one of the most
famous and most beloved of all Provenēal dishes. The magnificent shining
golden ointment which is the sauce is often affectionately referred to as the
'butter of Provence.' " Mine is simply an adaptation.
1 1/2 cups Standard Mayonnaise
16 cloves garlic
In a large mortar pound the garlic cloves to a pulp with the pestle. Omit the mustard and pepper from my Standard Mayonnaise and add the garlic pulp
to the bowl with the salt and lemon juice. This dressing is quite strong; it is supposed to be. There is no rule, however, against reducing the amount of garlic. You will find that if you make this in the spring with fresh new garlic, 16 cloves may seem just fine, but once garlic dries a bit, it becomes pungent and tingly in the mouth. Use your judgment.
"Aioli epitomizes the heat, the power, and the joy of the Provencal sun,
but it has another virtue-- it drives away flies."
~ Frederic Mistral
MORE TO COME!
Additions and variations, storing, trouble-shooting,
cooked egg mayonnaise. Stay tuned!


Julia Child's Mayonnaise
Index - Basic Sauces
The Basics
Classic French Recipe Index
Daily Recipe Index
Recipe Archives Index
Recipe Search