Your patronage of our affiliate partners supports this web site.
We thank you! In other words, please shop at LBC Gift Galerie!

Bowl of Blueberries
ATU Studios
Buy This at Allposters.com


Drew's Cake,
a Blueberry Cobbler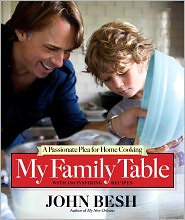 My Family Table:
A Passionate Plea
for Home Cooking

Copyright © 2011 by John Besh and
Dorothy Kalins Ink, LLC
Andrews McMeel Publishing, LLC
"Our youngest son, Drew, has mastered this easy cobbler - which he always
calls a cake. What happens is that the berries will, in essence, stew at the
bottom of the pan while the cobbler batter bakes above. This 'cake' is
perfect eaten warm with a big scoop of ice cream." [YES!]
1/2 cup (1 stick) butter, softened
1 cup sugar
2 eggs
1 cup milk
1 cup all-purpose flour
1 tablespoon baking powder
1 teaspoon lemon zest
1 pinch cinnamon
3 cups blueberries or other berries
[we used blackberries]
1. Preheat the oven to 375 degrees F. Grease the sides and bottom
of a small baking dish with 2 tablespoons of the butter and dust
with 3 tablespoons of the sugar. Set aside.
2. In a mixing bowl whish together the remaining butter, remaining
sugar, and the eggs until light and fluffy. Add the milk and mix
well. Whisk in the flour, baking powder, lemon zest, and cin-
namon. Pour the berries on the bottom of the prepared baking
dish and top with the batter Bake for 25 - 30 minutes, until the
top is nicely browned. Serve warm.

Featured Archive Recipes:
John Besh's 'Big Easy Christmas'
John Besh's 'My New Orleans'
Beautiful, Bounteous Blueberries
Berries from 'A Country
Garden Cookbook'
Berry, Berry
Blueberry Carrot Picnic Cake
Blueberry Cream Cheese Tart
Blueberry-Lime Shortcakes
Blueberry-Pecan Crunch Pie
Grandma Potter's Peach Cobbler
Old Dominion Cobbler
Peach, Plum and Blackberry Cobbler



Index - Miscellaneous Dessert Recipes
Index - Fruit Recipe Archives
Daily Recipe Index
Recipe Archives Index
Recipe Search