Your patronage of our affiliate partners supports this web site.
We thank you! In other words, please shop at LBC Gift Galerie!

Bayou Plantation
Diane Millsap
Buy This at Allposters.com



Jezebel Sauce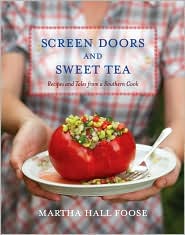 Screen Doors and Sweet Tea:
Recipes and Tales from a
Southern Cook

Copyright 2008 Martha Hall Foose
Clarkson Potter/Publishers
"In the movie trailer from the 1938 Academy Award-winning film 'Jezebel', headlines flash across the silver screen: 'Bette Davis as ...Jezebel! The story
of a woman who was loved when she should have been whipped! Pride of the
South that loved her... Shame of the Man she loved!' The saucy Ms. Davis as
the title character dares to wear a red dress to the Olympus Ball. Coquettish
with a sharp tongue, this sauce is aptly named. What sweet heat."
Makes 2 1/3 cups
1 (5-ounce) jar pineapple preserves
1 (5-ounce) jar apple jelly
1 (5-ounce) jar prepared mustard
1 (4-ounce) jar prepared horseradish
1 teaspoon kosher salt
Combine the preserves, jelly, mustard, horseradish and salt in a medium saucepan. Heat over medium heat until the mixture is hot and bubbly. Carefully pour the sauce into clean jars and allow to cool. Place the lids
on the jars and store in the refrigerator for up to two weeks.
Notes
• This condiment is wonderful paired with smoked meats, and
can dress up cream cheese as a spread. [We love to serve
it with our Marinated Pork Tenderloin.]
• If giving as a gift, remember to place a note on the jar to remind
the recipient to keep the sauce stored in the refrigerator. You
may want to add an expiration date, too.

Featured Archive Recipes:
Comeback Sauce
Emeril's Essence
Hot Cooked Mustard
Hot Pepper Jelly
Ketchup

Index - Condiment Recipes
Index - Basic Sauce Recipes
Do you know what it means
to miss New Orleans?
Daily Recipe Index
Recipe Archives Index
Recipe Search