Mia Cucina
Art Print
Garant, Jennifer
Buy at AllPosters.com
La Belle Cuisine - More Appetizer Recipes
Fine Cuisine with Art Infusion
"To cook is to create. And to create well...
is an act of integrity, and faith."
Scampi Appetizer "Alla Buonavia"

Save Up to 70% Off Sale Items at CHEFS
"Cooking is at once one of the simplest and most gratifying
of the arts, but to cook well one must love and respect food."
~ Craig Claiborne
---
Recipe of the Day Categories:
Recipe Home
Recipe Search
Appetizers
Beef
Beverage
Bread
Breakfast
Cake
Chocolate
Fruit
Main Dish
Pasta
Pies
Pork
Poultry
Salad
Seafood
Side Dish
Soup

Garlic, Ischia Ponte, Ischia, Bay
of Naples, Campania, Italy
Photographic Print
Bibikow, Walter
Buy at AllPosters.com


Academia Barilla 100% Italian Unfiltered Extra-
Virgin Olive Oil

Your patronage of our affiliate partners supports this web site.
We thank you! In other words, please shop at LBC Gift Galerie!

Buon Appetito
David Fischer
Buy This Allposters.com



Scampi Appetizer "Alla Buonavia"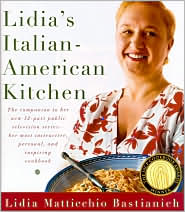 Lidia's Italian-American Kitchen

by Lidia Matticchio Bastianich,
2001, Alfred A. Knopf
"This appetizer was very popular at my first restaurant, Buonavia, which
opened in 1971. It was a time when lots and lots of chopped garlic was
used in Italian-American cooking. If you like a milder garlic flavor, use
crushed or sliced garlic cloves instead, and remove them from the dish
before you serve it."
Makes 6 servings
3 tablespoons extra-virgin olive oil,
plus more for finishing dish
3 cloves garlic, chopped fine
1 pound extra-large (about 25 to the pound)
shrimp, completely shelled, deveined, and
cut crosswise into 3 pieces
1 tablespoon chopped fresh chives
1/2 cup dry white wine
4 tablespoons unsalted butter,
cut into 4 pieces
1 tablespoon lemon juice
1 tablespoon chopped fresh Italian parsley
1/2 teaspoon crushed hot red pepper
Salt
6 slices Italian bread (about 1/4 inch thick
and 2 1/2 inches wide), toasted and
kept warm
1 lemon, cut into slices
Whole chives and/or parsley sprigs, optional
"In this dish, high heat and speed are essential. Make sure the pan is good
and hot when you add the shrimp and that it is wide enough to hold all
the shrimp pieces in a single layer (so the pan doesn't cool down as the
shrimp go in). And be sure to have all your ingredients right by the
stove – once the shrimp go into the pan, it's 'full speed ahead'."
Heat 3 tablespoons olive oil in a large skillet, over medium heat. Add the
garlic and cook, shaking the pan, until light golden, about 2 minutes. Raise
the heat to high, add the shrimp, and toss until they are bright pink and
seared on all sides, about 2 minutes. Stir in the chopped chives, then add
the wine, butter, and lemon juice. Bring to a boil, and boil until the shrimp
are barely opaque in the center and the sauce is reduced by half, about 2
minutes. Stir in the chopped parsley and crushed red pepper. Season
with salt.
Place a piece of warm toast in the center of each of six warm plates.
Spoon the shrimp and sauce over the toast, drizzling some of the
sauce around the toast. Decorate the plates with lemon slices, and
with the parsley sprigs and/or whole chives, if using.

Featured Archive Recipes:
Antipasti from Mario Batali's
"Simple Italian Food"
Garlicky Shrimp with Olive Oil
Grilled Shrimp with White Beans, Rosemary,
Māche, and Mint Oil (Mario Batali)
Jumbo Shrimp in Herbed Oil
Prosciutto-Wrapped Scampi
Rao's Shrimp Scampi
More from Lidia Bastianich:
Fresh Egg Pasta
Pasta with Fresh Basil and Mozzarella -
Hot and Cold
Rigatoni in a Woodman Sauce
Ricotta Gnocchi with Contessa Sauce
Risotto 101


Index - Appetizer Recipe Archives
Index - Seafood Recipe Archives
Daily Recipe Index
Recipe Archives Index
Recipe Search