Recipe of the Day Categories:
Recipe Index
Recipe Search
Fruit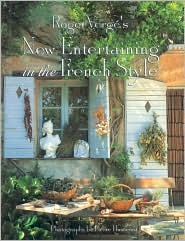 Roger Vergé's New Entertaining in the French Style

Aubergine:...

Buy This at Allposters.com

Goat Cheeses
Art Print
Buy at AllPosters.com


Aubergines
Art Print
Alma'ch
Buy at AllPosters.com

Freshly Harvested Home-Grown Organic Vegetables
Gary Smith
Buy This at Allposters.com


Purple Eggplant, Seafront Market, St-Paul, Reunion Island, France
Walter Bibikow
Buy This at Allposters.com


Your patronage of our affiliate partners supports this web site.
We thank you! In other words, please shop at LBC Gift Galerie!

Still Life with Pitcher and Aubergines
Giclee Print
Cezanne, Paul
Buy at AllPosters.com


"Gleaming skin; a plump elongated shape: the eggplant is a
vegetable you'd want to caress with your eyes and fingers,
even if you didn't know its luscious flavor."
- Roger Vergé
in Roger Vergé's New Entertaining in the French Style
by Roger Vergé, translated by Edward Schneider,
1994, Workman Publishing Co., Inc.

Amen! I'll certainly drink a glass or two of Châteauneuf-du-Pape to that!
Mercy, mercy, mercy! And the ode, befitting a vegetable also known by
the melodic name of "aubergine", continues:
"Suspended as if by a miracle amid its tangle of leaves and its little
mauve blossoms, the almost luminescent eggplant seems to be a magnet
for sunlight - even piled up in the market or in your shopping basket.
Only cooking can dull its glow."
My Eggplant Caviar
Roger Verge's Vegetables in the French Style

by Roger Vergé, translated by Edward Schneider,
1994, Workman Publishing Co., Inc.
"Eggplant caviar can be banal; it can verge on the disgusting if not well
prepared. But a good version is delicious spread on grilled country bread
and sprinkled with olive oil and lemon juice or wine vinegar."
Cut a big eggplant in half lengthwise. Cut through the flesh in a grid
pattern, but do not pierce the skin. Sprinkle on olive oil and salt, and
place skin side down in a sheet pan in a preheated 425-degree F. oven
for about 35 minutes, or until the flesh is very tender.
Using a stainless steel spoon, scoop out all the flesh and place it in a
food processor or blender with
2 tablespoons chopped tomatoes
half a minced garlic clove
and either a pinch of cayenne pepper
or a few chopped basil leaves.
Blend well, then add olive oil as though you were making mayonnaise (between 1/2 cup and 1 cup, depending on the size of the eggplant).
When it is completely smooth and homogenized, it is ready to serve.
Editor's note: Obviously, what will make all the difference in this dish is
the quality of the ingredients. Please be sure to use only the very freshest
vegetables and basil, and a fine-quality extra-virgin olive oil. An aged
balsamic vinegar can be the crowning glory.
Eggplant with Black-Olive Stuffing
(Aubergines Farcies aux Olives Noires)
Roger Verge's Vegetables in the French Style

by Roger Vergé, translated by Edward Schneider,
1994, Workman Publishing Co., Inc.
"You can replace the Niçoise olives in this recipe with other black olives
such as those from Nyons. The important thing is that they be preserved
in oil, not brine, which would change the texture of the dish; brined
olives, especially the big ones, are full of water."
For 4 servings
Preparation: 40 minutes
Cooking time: 45 minutes
4 small eggplants (2 1/4 pounds total)
8 tablespoons olive oil
7 ounces white mushrooms
2/3 cup chopped parsley
4 fresh mint leaves
1 garlic clove
2 eggs
1/2 cup fresh bread crumbs
1/2 cup (3 ounces) black Niçoise olives, pitted
Salt and freshly ground black pepper
Preheat the oven to 400 degrees F.
Cut the stems off the eggplants and cut them in half lengthwise. With a
knife, cut through the flesh in a grid pattern, but do not pierce the skin. Sprinkle olive oil and salt on each half, place on a sheet pan or cookie
sheet, and bake for about 30 minutes or until tender.
Meanwhile, clean the mushrooms by trimming the ends of the stems
and rinsing briefly. Immediately chop them coarsely.
Heat 2 tablespoons olive oil in a large skillet over medium heat; add the mushrooms and stir with a wooden spoon until they have rendered all
their liquid.
Wash the parsley and mint, then drain it; peel the garlic. Chop the mint, parsley and garlic medium-fine.
Beat the eggs in a bowl.
When the eggplants are tender, remove them and lower the oven temper-
ature to 350 degrees. Use a stainless steel spoon to scrape the eggplant
flesh out onto a cutting board, without damaging the skins. Chop the
flesh using a stainless-steel knife. Add eggplant to the skillet containing
the mushrooms, turn the heat to high, and let the juices evaporate from
the mixture, stirring constantly with a wooden spoon. Try to get the
mixture as dry as possible without burning.
Remove skillet from the heat, then add the herb-garlic mixture, 2 table-
spoons of the bread crumbs, the olives, and the eggs. Add pepper and a
little salt to taste (remember that the olives are salty).
Stuff the eggplant skins with this mixture; try to keep the original form
of the eggplants, tamping down the stuffing with a fork. Sprinkle with
the remaining bread crumbs and arrange the eggplant halves in an
ovenproof dish greased with 1 tablespoon of olive oil.
Sprinkle with the remaining 3 tablespoons of olive oil and bake for
about 15 minutes. Serve very hot.
Roasted Eggplant-Chèvre Mousse

The White Dog Cafe Cookbook:
Recipes and Tales of Adventure from
Philadelphia's Revolutionary Restaurant

by Judy Wicks and Kevin von Klause, 1998, Running Press
"We serve this mousse with our Spicy Pita Crisps as an hors d'oeuvre on
cocktail buffets, with lemon-dressed greens as a light first course, or as an
integral part of a vegetarian feast. Alone, the mousse is a terrific sandwich
spread, filling for stuffed tomatoes, or sauce for a bowl of hot pasta."
1 large eggplant (1 1/2 to 2 pounds)
Olive oil, for coating
1 head of garlic, roasted, the pulp
squeezed from the cloves *
1 red bell pepper, roasted
4 ounces unaged chèvre
1 scallion, thinly sliced
2 tablespoons chopped fresh basil leaves
2 tablespoons chopped fresh cilantro leaves and stems
Juice of 1/2 lemon
2 teaspoons red wine vinegar
1/2 teaspoon ground cumin
1/4 teaspoon salt
1/4 teaspoon freshly ground black pepper
1. Preheat the oven to 450 degrees F.
2. Halve the eggplant lengthwise and rub the flesh with a little of the olive
oil. Place the halves, cut sides down, on a baking sheet. Roast until very
soft, about 20 minutes. Remove and let cool to room temperature.
3. Scrape the eggplant pulp out of the pulp skin with a large spoon. Discard the skin; very finely chop the pulp. Combine the eggplant pulp, garlic
pulp, roasted bell pepper, cheese, scallion, basil, cilantro, lemon juice,
vinegar, cumin, salt, and pepper in a large mixing bowl. Mash together
with a fork until well combined. Taste for seasoning; depending on
how tangy the chèvre is, you might desire more salt or vinegar.
4. Serve at room temperature, or cover and refrigerate for up to 4 days.
If refrigerated, bring to room temperature before serving.
* For one whole head of garlic, preheat the oven to 375 degrees F. Cut the top
off of the head of garlic, exposing the cloves. Rub the head with a little olive
oil and wrap in foil. Roast in the oven until the cloves are completely soft,
about 30 minutes. When cool, squeeze the softened garlic pulp from its skin;
it will have a pastelike consistency. Use immediately.
Roasted Eggplant and Bell Pepper Terrine
The Martha Stewart Living Cookbook

by Martha Stewart, October 2000, Crown Publishing Group
Serves 6
"Make this terrine a day ahead, and bring it to room temperature before
serving. Fromage blanc, a fresh cream cheese that has the consistency
of yogurt, is available in the dairy section of many supermarkets."
2 tablespoons extra-virgin olive oil,
plus more for brushing
2 medium (2 pounds total) eggplants,
cut into 1/4-inch-thick rounds
1 small shallot, minced
1 tablespoon balsamic vinegar
1/2 teaspoon kosher salt
1/8 teaspoon freshly ground black pepper
4 roasted red bell peppers, cut into
1-inch-wide strips *
1/4 cup fromage blanc or low-fat ricotta cheese
2 cups loosely packed fresh basil leaves,
plus more for garnish
1. Preheat the oven to 400 degrees F. Brush two baking sheets with oil. Working in batches, arrange eggplant rounds on baking sheets in a single layer. Roast until tender, 20 to 25 minutes, turning rounds over after
about 12 minutes to ensure even cooking. Using a spatula, transfer
rounds to a wire rack to cool. Repeat with the remaining eggplant.
2. In a small bowl, combine shallot, vinegar, salt, and pepper. Whisk in the remaining 2 tablespoons of olive oil until smooth. Set vinaigrette aside.
3. Brush a 9 x 4 1/2 by 2 1/2-inch loaf pan with oil, and line the pan with plastic wrap. Arrange one-third of the eggplant rounds, slightly over-
lapping, to cover the bottom of the pan. Brush lightly with the reserved
vinaigrette. Arrange half of the bell pepper strips, slightly overlapping,
over the eggplant. Using an offset spatula, spread half of the fromage
blanc over the bell peppers. Top with half of the basil. Brush with the
vinaigrette.
4. Make another layer of eggplant, vinaigrette, bell pepper, fromage
blanc, and basil; brush with the vinaigrette. Top with a third layer
of the eggplant; brush with the vinaigrette. Using your hands, press
down firmly but gently on the terrine, compressing the layers.
5. Cover tightly with plastic wrap; marinate, refrigerated, 12 to 24
hours. To serve, unmold terrine onto a serving platter; garnish
with basil. Serve.
* Place the peppers directly on the trivet of a gas-stove burner over high
heat or on a grill. Just as each section turns puffy and black, turn the
pepper with tongs to prevent overcooking. (If you don't have a gas stove,
place the peppers on a baking pan, and broil in the oven, turning as
each side becomes charred.) Transfer the peppers to a large bowl, and
cover immediately with plastic wrap.
The juices, which can be added to the liquid component of the recipe for
deeper flavor, will collect in the bowl. Let the peppers sweat until they
are cool enough to handle, approximately 15 minutes. The steam will
help to loosen the skin.

Featured Archive Recipes:
Cajun Seafood Baked Eggplant
Eggplant, Baked, with Two Cheeses
Eggplant Bayou Teche (Paul Prudhomme)
Eggplant Casserole, Mary Margaret's
Eggplant au Gratin (Craig Claiborne)
Eggplant Gratin Monsieur Henny's
Eggplant Parmigiano (Rao's)
Eggplant, Roasted Pepper and
Goat Cheese Terrine
Eggplant Romano
Eggplant Rolls Filled with Basil and Cheese
Eggplant and Seafood au Gratin (Emeril)
Ratatouille Riot!
Stuffed Eggplant (Galatoire's)

Index - Food Features
Index - Vegetable Recipe Archives
Classic French Recipe Index
Daily Recipe Index
Recipe Archives Index
Recipe Search