Back from the Market
Gilles ...
Buy This Allposters.com

La Belle Cuisine - More Vegetable Recipes
Fine Cuisine with Art Infusion
"To cook is to create. And to create well...
is an act of integrity, and faith."
The Barefoot Contessa's
Roasted Vegetable Torte

Sur La Table - Free Shipping on Select Items
"Food is not about impressing people. In fact, it's just the opposite:
it's about making them feel comfortable."
~ Ina Garten, in 'The Barefoot Contessa Cookbook
---
Recipe of the Day Categories:
Recipe Home
Recipe Index
Recipe Search
Appetizers
Beef
Beverage
Bread
Breakfast
Cake
Chocolate
Fruit
Main Dish
Pasta
Pies
Pork
Poultry
Salad
Seafood
Side Dish
Soup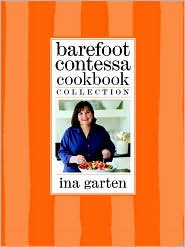 Barefoot Contessa Cookbook Collection: The Barefoot Contessa Cookbook; Barefoot Contessa Parties!; Barefoot Contessa Family Style

Your patronage of our affiliate partners supports this web site.
We thank you! In other words, please shop at LBC Gift Galerie!

On My Way to the Market
Art Print
Archambault,...
Buy at AllPosters.com


Roasted Vegetable Torte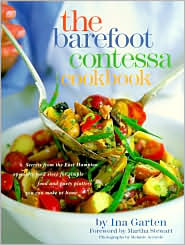 Barefoot Contessa Cookbook

by Ina Garten, 1999, Random House
Serves 6
"Paul Hodges invented this recipe at Barefoot Contessa, and
it was an immediate hit. Make it ahead of time and then cut it
into wedges, like a cake. The layers of roasted vegetables look
so beautiful."
2 zucchini, cut into 1/4-inch slices
1 red onion, cut in half lengthwise
and sliced
1 teaspoon minced garlic
Good olive oil
Kosher salt
Freshly ground black pepper
2 red bell peppers, halved,
cored and seeded
2 yellow bell peppers, halved,
cored and seeded
1 eggplant, unpeeled, cut into 1/4-inch
slices (1 1/2 pounds)
1/2 cup freshly grated Parmesan cheese
Preheat the oven to 400 degrees F.
Cook the zucchini, onions, garlic and 2 tablespoons olive oil in a large
sauté pan over medium heat until the zucchini is tender. Season with salt
and pepper. Brush the red and yellow peppers and eggplant with olive oil,
season with salt and pepper and roast on a baking sheet for 30 to 40
minutes, until soft but not browned.
In a 6-inch round cake pan, place each vegetable in a single, overlapping layer, sprinkling Parmesan cheese and salt and pepper to taste between
each layer of vegetables. Begin with half of the eggplant, then layer half
of the zucchini and onions, then all of the red peppers, then all of the
yellow peppers, then the rest of the zucchini and onions, and finally the
rest of the eggplant. Cover the top of the vegetables with a 6-inch round
of parchment paper or waxed paper. Place a 6-inch flat disk (another
cake pan or the bottom of a false-bottom tart pan) on top and weight it
with a heavy jar. Place on a plate or baking sheet (it will leak) and chill
completely. Drain the liquids, place on a platter, and serve at room temperature.

Featured Archive Recipes:
Grilled Portobello Mushrooms with
Black Olives and Tomatoes
Grilled Portobello Mushrooms with
Red Peppers and White Bean Purée
Portobello Napoleon of Grilled Vegetables

Index - Vegetable Recipe Archives
Index - Appetizer Recipe Archives
Daily Recipe Index
Recipe Archives Index
Recipe Search