Your patronage of our affiliate partners supports this web site.
We thank you! In other words, please shop at LBC Gift Galerie!

Lauch
Art Print
Meisen, Michael
Buy at AllPosters.com


Braised Leeks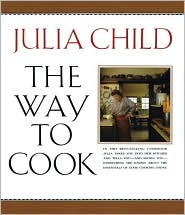 The Way to Cook

© 1989 by Julia Child (A Borzoi Book
published by Alfred A. Knopf, Inc.)
"Leeks have so much of their own wonderful flavor that you need no
aromatic enhancers … Serve leeks with steaks, chops, roasts – in fact
with almost any main course where you want an uncomplicated
accompaniment. You can also serve them au gratin…"
For 6 servings
6 large or 12 small leeks (1 or 2 per person)
Water or chicken broth
Salt and freshly ground pepper
2 or more tablespoons butter
Preparing the leeks for cooking. Trim the root ends of the leeks,
being careful to keep the leaves attached. Remove any wilted leaves,
and cut off the tops to leave the leeks 6 to 7 inches long. Slit each
lengthwise down to where the white begins [illustrated in cookbook];
give the leek a quarter turn and slit again. Wash very thoroughly under
cold running water, spreading each leaf apart to rinse off all dirt and
grit. If the leeks are fat, cut them in half lengthwise.
Braising. …arrange the leeks in a buttered baking dish (cut side down
if they are halved). Pour in water or broth to come halfway up the
leeks, salt lightly, and dot with a tablespoon or so of butter. Cover
with buttered wax paper and foil, and either simmer 15 to 20 minutes
on top of the stove, basting with the braising liquid several times, or
bake 30 to 40 minutes in a 350-degree F oven.
To serve hot. Boil down the cooking juices and enrich with butter, if
you wish [remove from heat and swirl in 2 to 3 tablespoons of butter,
a tablespoon at a time. Sprinkle the liquid over the leeks and serve.]
Leeks au Gratin
The Way to Cook

© 1989 by Julia Child (A Borzoi Book
published by Alfred A. Knopf, Inc.)
"Even if the doleful dishes of steam-table institutional food have
discouraged you from this one, it is an excellent preparation as well
as a useful one when you need an ahead-of-time vegetable that can
take the place of potatoes. The only secrets are: don't overcook and
don't let it sit around on a steam table!"
[The master gratin recipe is Cauliflower au Gratin. Many other braised or
steamed vegetables can be substituted. Julia recommends using a combination
of leek- cooking juices and milk when making the Cheese Sauce for the gratin.]
Assembling: For 4 to 6 people, lightly butter a 2-quart baking dish
2 inches deep, and spoon in a thin layer of cheese sauce. Arrange
the leeks over the sauce. Season with a sprinkle of salt and freshly
ground pepper, and a dusting of grated Swiss cheese. Spoon 1 1/2
to 3 cups of cheese sauce over the leeks to mask them completely.
Spread on 2 to 3 tablespoons of grated cheese. [Add bread crumbs,
if you wish.]
A Bouquet of Steamed Vegetables

The Way to Cook

© 1989 by Julia Child (A Borzoi Book
published by Alfred A. Knopf, Inc.)
A savory group to serve with a boiled dinner
"Here you boil-steam the leeks in chicken broth, then use that aromatic
liquid to baste and steam first the cabbage, then the carrots. Shortly
before serving, they all warm up together in their heady broth, while
the potatoes steam by themselves."
For 6 servings, 1 or 2 of each vegetable per person
6 medium leeks
Salt
3 to 4 cups chicken broth
1 large cabbage (about 2 pounds)
3 tablespoons melted butter, optional
12 slim carrots (or larger carrots
cut into wedges)
12 red-skinned "boiling" potatoes
1 3/4 inches across
Special Equipment Suggested:
A large skillet or flameproof casserole for the leeks; a steaming
basket and covered saucepan for the other vegetables; a bulb
baster; a baking dish and foil for final warming up
Leeks. Trim and wash the leeks, and cut into 8-inch lengths as described [above]. Drop them into boiling water and boil 2 minutes, refresh in cold water, and drain (to set color). Arrange the leeks in one or two layers, salt lightly, cover by 1 inch with chicken broth, and simmer uncovered until
just tender – 10 minutes. Arrange them in the baking dish, leaving the
liquid in the pan.
Cabbage. Cut the cabbage into 6 wedges, remove the cores and set the wedges cut side up in the vegetable steamer. Salt lightly, dribble on the optional melted butter, and baste with the liquid from the leeks. Steam
about 15 minutes, basting several times with the liquid in the pan.
Arrange in the baking dish with the leeks.
Carrots. Trim and peel the carrots. Leave them whole if young and
tender; otherwise, quarter or halve them. Arrange them in the steamer;
cover and steam 10 minutes, or until tender. Arrange them with the
other vegetables and pour the remaining steaming liquid over all.
Ahead-of-time note: Leeks, cabbage, and carrots may be cooked
ahead; to reheat, cover with foil and place in a 300-degree F oven
while the potatoes steam. I think it is safer to do the potatoes at the
last minute, since they can go off in taste otherwise.
Potatoes. Scrub the potatoes and shave a circle of skin off their
midriffs. Arrange them in the steaming basket and add 2 inches of
water to the pan. About 25 minutes before you plan to serve, cover
the steamer, turn on the heat; steam them about 20 minutes, or
until a small knife pierces them easily.
Serving. Arrange the vegetables around your meat, or upon a
separate platter. Rapidly boil down their aromatic cooking juices
until almost syrupy and either pour them over the leeks, cabbage,
and carrots, or add them to whatever sauce you may be serving.

Featured Archive Recipes:
Asparagus and Baby Leeks
('Rich and Poor')
Gratin Savoyard
Gratin of Leeks with Beaufort Cheese
Julia's Zucchini au Gratin
Chanterelle and Leek Sauté
Oven-Braised Leeks with Cream (Chez Panisse)
Scalloped Onions, Leeks and Shallots
Belgian Leek Soup The 1913 Room
Leek and Carrot Salad with Watercress
Potato, Leek, Gruyere and
Oyster Mushroom Gratin
Potato Skins Stuffed with Leeks
and Three Cheeses
Louis Diat's Crème Vichyssoise Glacée
Potage Parmentier

A Tribute to Julia Child
Julia Child, in her own words...
Classic French Recipes
Index - Vegetable Recipe Archives
Index - Side Dish Recipes
Daily Recipe Index
Recipe Archives Index
Recipe Search