Recipe of the Day Categories:
Recipe Home
Recipe Index
Recipe Search
Fruit

Eiffel Tower Decorated for
Chinese New Year, Paris, France
Bruno Morandi
Buy This at Allposters.com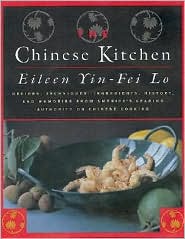 Chinese Kitchen: Recipes, Techniques, Ingredients, History,
And Memories From America's Leading Authority On Chinese Cooking

China, Guangxi Province, Longsheng, Drying Red Pepper
with Rice Terraces in the Village
Keren Su
Buy This at Allposters.com


Tea House in Shanghais Yuyuan Garden during Chinese New Year
Photographic Print
Eightfish
Buy at AllPosters.com


Your patronage of our affiliate partners supports this web site.
We thank you! In other words, please shop at LBC Gift Galerie!

Lanterns and Lights on North Bridge Road during Chinese New Year, Singapore
Richard I'Anson
Buy This at Allposters.com


Chinese New Year Feast from Food & Wine
"Welcome the New Year with a Chinese feast. You'll find wonton wrappers for
the dumplings in the refrigerated produce section and freezer sections of super- markets and Asian groceries. Noodles are a symbol of longevity (don't cut them!) and a whole fish represents prosperity.
The flavorful poaching broth for the chicken breasts (with soy, ginger, star anise
and cinnamon) can be refrigerated and reused several times. Serve juicy citrus
fruit, such as tangerines, for dessert."

Starters:
Hot and Spicy Cucumbers
Scallop Dumplings with Garlic Chives
Entrées:
Soy Sauce Chicken
Steamed Whole Fish with
Scallions and Ginger
Side Dishes:
Stir-Fried Chinese Greens (recipe below)
Vegetable Fried Rice (recipe below)
Longevity Noodles (recipe below)
Stir-Fried Chinese Greens
Recipe by Naomi Duguid and Jeffrey Alford,
from 'A Peak Experience in China'
This recipe originally appeared in
Food & Wine May, 1998
"Choy sum - sometimes called Chinese broccoli or flowering
cabbage - is a small green-stemmed Chinese vegetable similar
to broccoli rabe, with a few yellow flowers. Our children, who
are not the world's most daring eaters, love it."
1/2 cup chicken or vegetable broth
1 tablespoon oyster sauce
1 tablespoon Chinese cooking wine, dry
white wine or dry sherry
1 tablespoon soy sauce
1/4 teaspoon sugar
1/4 teaspoon salt
1 tablespoon peanut oil or vegetable oil
3 scallions, cut into 1-inch lengths
1 tablespoon minced garlic
1 teaspoon minced fresh ginger
1 pound choy sum, sliced crosswise at
3-inch intervals, thickest stalks halved
lengthwise
1 teaspoon cornstarch mixed with
1 tablespoon cold water
In a small bowl, combine the broth with the oyster sauce, wine, soy
sauce, sugar and salt.
Set a large wok over high heat. When it's hot, add the oil and swirl to
coat. After 20 seconds, add the scallions, garlic and ginger and stir-fry
for 30 seconds. Add the choy sum and stir-fry for 2 minutes; press it
against the wok, then stir and press again. Add the sauce in the bowl
and bring to a boil, then cover and simmer for 3 minutes. Add the
cornstarch mixture and continue stir-frying until the sauce thickens,
about 15 seconds. Transfer the greens to a small platter and
serve hot.
NOTE: If you cannot find choy sum, substitute chopped
broccoli rabe, mustard greens or spinach.
Vegetable Fried Rice
Recipe by Donna Wong
From 'Stars' Comfort Food'
This recipe originally appeared in
Food & Wine March, 2000.
Food & Wine - One Year Subscription
Serves 4
1 tablespoon dry mustard
2 tablespoons water
2 tablespoons soy sauce
1/4 teaspoon kosher salt
1/4 teaspoon sugar
1/4 teaspoon sesame oil
1 cup small broccoli florets
1 carrot, cut into 1/3-inch dice
3 1/2 tablespoons vegetable oil
3 large eggs, lightly beaten
4 ounces shiitake mushrooms,
stemmed, caps thinly sliced
3/4 cup snow peas
3 cups cooked jasmine rice,
preferably leftover
2 scallions, thinly sliced
1/4 cup sliced water chestnuts
In a small bowl, mix the mustard and water; let stand for at least
10 minutes.
In another small bowl, combine the soy sauce, salt, sugar and sesame
oil. Bring a small saucepan of water to a boil. Add the broccoli and
carrot and cook until crisp-tender, about 5 minutes. Drain well.
Heat a wok or large skillet over high heat. Add 1/2 tablespoon of the oil,
swirling to coat the pan. Stir the eggs and add them to the wok. Let the
eggs cook without stirring until the bottom is set, about 20 seconds. Stir
until very loose large curds form, 10 to 20 seconds longer. Scrape the
eggs onto a plate.
Add 1 tablespoon of the oil to the wok and heat until shimmering. Add
the mushrooms and cook over high heat, stirring occasionally, until ten-
der and beginning to brown, 5 to 6 minutes. Transfer the mushrooms to
a plate.
Add the remaining 2 tablespoons of the oil to the wok and heat until shimmering. Add the snow peas and stir-fry until crisp-tender, about 4 minutes. Add the broccoli, carrot, mushrooms, rice, scallions and water chestnuts to the wok and stir-fry until heated through, about 4 minutes.
Stir the soy mixture and drizzle it over the rice mixture. Add the
scrambled eggs and toss gently but thoroughly. Transfer the fried
rice to a bowl and pass the mustard separately.
Note: Fried rice is best made with cold, leftover rice because it's
not as sticky as fresh rice. Try to plan ahead and make a batch of
white, long grain rice the night before or earlier in the day and
keep it in the refrigerator until you are ready to use it.
Wine suggestion: An Oregon Pinot Gris, such as the 1998 King
Estate or the 1998 Ponzi Willamette Valley, won't overwhelm
the delicate flavors in this dish.
Longevity Noodles
Recipe by Eileen Yin-Fei Lo
From 'Balancing Act'
This recipe originally appeared in
Food & Wine January, 1999
Food & Wine - One Year Subscription
Serves 4
2 quarts water
5 ounces mung bean or
soybean sprouts (2 cups)
1 1/2 teaspoons salt
1/2 pound fresh Chinese egg noodles
1/4 cup chicken stock, vegetable stock, or
canned low-sodium broth
1 tablespoon plus 1/2 teaspoon
light soy sauce
1/2 teaspoon Asian sesame oil
1 tablespoon peanut oil
One 1/4-inch-thick slice of fresh
ginger, lightly smashed
1/4 pound snow peas
3 large fresh water chestnuts, peeled
and sliced 1/8 inch thick