Your patronage of our affiliate partners supports this web site.
We thank you! In other words, please shop at LBC Gift Galerie!

Variation in European Beets, Beta Vulgaris
David Cavagnaro
Buy This at Allposters.com


Roasted Beets with Walnut
Gorgonzola Dressing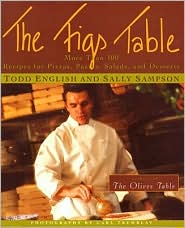 The Figs Table:
More Than 100 Recipes for
Pizza, Pastas, Salads, and Desserts

By Todd English and Sally Sampson,
1998, Simon & Schuster
"Unfortunately, beets are not on the top-ten list of favorite foods for many
people. Most people hate them because they've only eaten them boiled or
canned, but I was fortunate enough to try the real thing at an early age.
So they're on my top-ten list, and this recipe might just be a great way to
get them on yours. The roasting brings out the sweetness and intensifies
the depth of flavor that is lost when you boil. Once you roast a beet, you'll
never go back. Don't throw away the beet greens: braise or sauté them
if they are large, or add them to salad greens if they are small. The rich,
thick Walnut Gorgonzola Dressing is also great on burgers or grilled
portobello mushrooms or mixed into greens."
1 1/2 to 1 3/4 pounds beets, trimmed
and halved
2 tablespoons olive oil
1/2 teaspoon kosher salt
1/4 teaspoon black pepper
1 bunch arugula, well washed
and torn apart.
For the Walnut Gorgonzola Dressing:
2 tablespoons extra-virgin olive oil
1/4 cup chopped walnuts
1/4 red onion, thinly sliced
2 tablespoons chopped fresh basil leaves
1 tablespoon balsamic vinegar
1/4 teaspoon kosher salt
3 ounces Gorgonzola cheese
1/4 cup light or heavy cream
Preheat the oven to 425 degrees F.
To roast the beets: Place the beets, 1 tablespoon olive oil, 1/4 teaspoon
salt and 1/8 teaspoon pepper in a roasting pan and cook until the beets are
tender, about 40 minutes. When they are cool enough to handle, remove
the skins and slice the beets. Place the beets in a medium-sized mixing
bowl and toss with the remaining 1 tablespoon olive oil, 1/4 teaspoon
salt, and 1/8 teaspoon pepper.
To make the Walnut Gorgonzola Dressing: Place a large skillet over medium-high heat and, when it is hot, add the extra-virgin olive oil. Add
the walnuts and cook until they are browned, about 2 to 3 minutes.
Transfer to a small mixing bowl and when the walnuts have cooled to
room temperature, add the onion, basil, vinegar and salt. Place the
Gorgonzola cheese and cream in a blender or food processor fitted
with a steel blade and process until smooth. Transfer to the bowl
with the walnuts and mix to combine.
Divide the arugula between 4 to 6 plates and top with equal amounts
of beets. Serve immediately with a large dollop of Walnut Gorgonzola
Dressing. Serves 4 to 6.

Featured Archive Recipes:
Red and Golden Beets with Blood
Orange, Endive and Walnuts
Oven-Roasted Beets and Carrots
with Fresh Mint
The Beet Goes On

Index - Vegetable Recipe Archives
Index - Salad Recipe Archives
Thanksgiving Recipe Index!
Daily Recipe Index
Recipe Archives Index
Recipe Search