Recipe of the Day Categories:
Recipe Search
Fruit

Beet (Beta Vulgaris), Early Wonder Tall Top Variety
Photographic Print
Eberhart, Wally
Buy at AllPosters.com


Spices

Buy This at Allposters.com


Your patronage of our affiliate partners supports this web site.
We thank you! In other words, please shop at LBC Gift Galerie!

Beet, Ruby Queen
Wally Eberhart
Buy This at Allposters.com


Pickled Beets and Onions
Gourmet
Archives

3 pounds small beets, well-scrubbed
and trimmed
2/3 cup vinegar
1/2 cup sugar
1 tablespoon mixed pickling spice
A 3 1/2-ounce jar pickled small onions
In a saucepan cover the beets with cold water, bring water to a boil, and simmer beets, covered, for 30 to 40 minutes or until they are tender. Let
the beets cool in liquid and strain 1/2 cup liquid through a fine sieve lined
with a triple layer of dampened cheesecloth into an enameled saucepan.
Add the vinegar, sugar and pickling spice. Bring liquid to a boil, stirring
and simmer mixture 10 minutes. Drain the beets, slip off the skins and
cut them into 1/4-inch dice [I prefer to slice]. In a 1-quart enameled or
glass container combine beets with the pickled onions, including juice,
and pour vinegar mixture over them. Let mixture stand, covered and
chilled, for at least 1 day. Makes about 1 quart.
Mammy's Pickled Beets and Eggs
2 pounds medium size beets, without tops
1 cup sugar
1 cup cider vinegar
1 cup cold water
1 tablespoon pickling spices
1 teaspoon black peppercorns
3.4 teaspoon salt
1/2 teaspoon whole allspice
1 onion, sliced, in rings
3 large hard-boiled eggs, peeled
Place the beets in a large saucepan and add enough cold water to cover. Over high heat, bring to a boil. Lower the heat and simmer, uncovered,
for 40 minutes, or until tender. Drain the beets and cool. Peel and slice
the beets 1/2-inch thick, then place in medium-size bowl. In a medium-
size enamel or stainless steel saucepan bring the sugar, vinegar, water, pickling spices, peppercorns, salt and allspice to a boil over high heat.
Lower the heat and simmer, uncovered, for 5 minutes. Pour over the
beets, cover, and refrigerate for 30 minutes. Add the onion rings and
eggs to the beets, gently turning them until completely coated with the
liquid. Cover and refrigerate, turning occasionally, for 2 more hours
or until cold, or marinate overnight.
To serve, transfer the beets and onion rings with a slotted spoon
to a shallow dish and spoon over about 1 cup of the marinating
liquid. Slice the eggs crosswise 1/2 inch thick and arrange on top
of the beets. Makes 6 servings.
Scarlet Eggs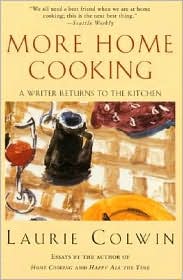 `
More Home Cooking:
A Writer Returns to the Kitchen

by Laurie Colwin, 1995, HarperPerennial
Hard boil 7 of the smallest eggs you can find and peel them. Cook 12
of the tenderest little beets you can find in water to cover, peel them and
reserve 1 cup of the cooking liquid. Stick a large bunch of fresh tarragon
in the bottom of a jar, fill the jar with the eggs and the beets, and cover
them with the reserved cooking liquid and 3 to 4 tablespoons sugar
dissolved in 2 cups red-wine vinegar. Add salt and pepper and a couple
of cloves of garlic, sliced. Keep the mixture in the refrigerator for a week.
(I would add sliced red onions separated into rings.) When you slice these fragrant eggs you will find that the whites have turned an amazing shade
of red and that the yolks have become a brilliant yellow. In addition to
being delicious, these eggs are beautiful. Arrange the beets and eggs
on a bed of spinach and call the photographers at once!
(Recipe from Sylvia Thompson's "Feasts and Friends").
And two great recipes from the Old Country...

German Cookbook:
A Complete Guide to
Mastering Authentic
German Cooking

by Mimi Sheraton, 1972, Random House

German Pickled Beets
Use 2 to 3 cups sliced cooked beets, home-cooked or canned. Arrange
in layers in a tall narrow bowl or wide-mouthed jar, sprinkling each layer
with a little salt and sugar. A layer of thinly sliced onion slivers can be
placed between the layers of beets. Heat enough water or beet liquid and vinegar, half and half, to cover beets - 1 cup of each should do. Sprinkle
1 tablespoon caraway seeds on top of beets and pour hot liquid over
them. Marinate in refrigerator at least 24 hours, checking from time to
time to see if more salt and sugar are needed. Stir gently once in a
while so marinade penetrates evenly.
German Raw Beet Salad
Wash, peel and wash again, 6 to 8 medium-sized raw beets. Grate
on the fine side of a grater and mix with Raw Vegetable Marinade
[recipe follows] made with sour cream and seasoned with 2 tea-
spoons chopped or crushed caraway seeds. Marinate about 2 hours
before serving. A teaspoon of drained bottled horseradish can be
stirred into this. [My German ex-in-laws add grated apples
and celeriac.]
Raw Vegetable Marinade
About 1/2 cup
2 to 3 tablespoons white vinegar, wine
vinegar or lemon juice
1/2 teaspoon salt, or to taste
Pinch of sugar, or to taste
1 tablespoon finely minced onion
One or more green herbs, such as borage, chives,
chervil, dill, tarragon or parsley, to taste
2 to 3 tablespoons olive oil or salad oil, or
4 to 6 tablespoons sour cream or yogurt for salads
of raw root vegetables such as beets, carrots,
knob celery [celeriac], etc.
Combine all ingredients except oil or yogurt and shake well in a bottle
or mix in a bowl. Pour over prepared raw vegetables and let stand at
room temperature about 15 minutes. Add oil, yogurt or cream and
toss into salad lightly. Chill, check seasoning and serve.

Featured Archive Recipes:
Coburg Dilled Beet Salad
Pickled Beet and Endive Salad
with Goat Cheese and Walnuts
Roasted Beet Napoleon
Roasted Beet and Portobello Mushroom Salad

Index - Salad Recipe Archives
Index - Salad Dressing Recipes
Daily Recipe Index
Recipe Archives Index
Recipe Search