Your patronage of our affiliate partners supports this web site.
We thank you! In other words, please shop at LBC Gift Galerie!

Houses Along the Louisiana Bayou
Photographic Print
Buy at AllPosters.com


Emeril's Catfish (or Trout)
Pecan Meunière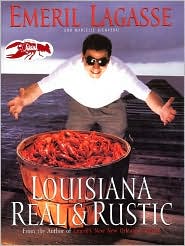 Louisiana Real
and Rustic

Emeril Lagasse with Marcelle Bienvenu,
1996, William Morrow & Co.
"The French à la meunière technique is a method of preparing any
type of fish by lightly dredging it in flour, sautéing it in butter, and
serving it with melted butter and sliced lemon. À la meunière means
in the style of the miller's wife…"
4 servings
1 cup flour
4 teaspoons Rustic Rub
2 eggs, beaten
1/2 cup milk
4 catfish or trout fillets (6 to 6 1/2
ounces each)
1/2 cup vegetable oil
1 stick (1/4 pound) butter
1 cup pecan pieces
4 tablespoons chopped parsley
2 tablespoon minced garlic
2 tablespoon fresh lemon juice
1/4 cup Worcestershire sauce
1/4 cup heavy cream
1 teaspoon salt
1/4 teaspoon cayenne
Combine the flour with 2 teaspoon of the rub is a shallow bowl.
In another shallow bowl, blend the eggs and milk together. Season the
fish with the remaining 2 teaspoons rub.
Heat the oil in a large nonstick skillet over medium-high heat. Dredge
the fillets in the flour, coating evenly. Dip the fillets in the egg mixture.
Dredge again in flour. When the oil is hot, but not smoking, lay the fillets
in the skillet. Panfry for 3 to 4 minutes on each side, or until golden.
Transfer to a warm platter.
Discard any oil remaining in the skillet and wipe clean with paper towels. Return the skillet to the stove. Over medium-high heat, melt 2 tablespoons
of the butter. When the butter foams, add the pecans and stir constantly
for about 1 1/2 minutes, or until lightly toasted. Add the parsley, garlic,
lemon juice, Worcestershire and cream. Stir with a whisk for about 15
seconds and remove from heat. Add the salt, cayenne, and remaining 6
tablespoons butter, broken into small chips, and stir until the butter
melts completely.
Spoon the sauce over the fillets to serve.

Featured Archive Recipes:
More from "Louisiana Real and Rustic"
Emeril's Pan-Crispy Fish with Jambalaya Grits
Trout Louisiane
Trout Meunière Amandine (Galatoire's)
Commander's Catfish Pecan with
Lemon Thyme Pecan Butter


Index - Fish Recipe Archives
Index - Seafood Recipe Archives
Do you know what it means
to miss New Orleans?
Daily Recipe Index
Recipe Archives Index
Recipe Search