Recipe of the Day Categories:
Recipe Home
Recipe Index
Recipe Search
Appetizers
Beef
Beverage
Bread
Breakfast
Cake
Chocolate
Fruit
Main Dish
Pasta
Pies
Pork
Poultry
Salad
Seafood
Side Dish
Soup

Lemon Branch...
Nicole Etienne
Buy This at Allposters.com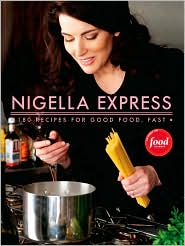 Nigella Express:
Good Food Fast

Your patronage of our affiliate partners supports this web site.
We thank you! In other words, please shop at LBC Gift Galerie!

Citron Botanical
Art Print
Alleyne, Anne
Buy at AllPosters.com


Lemon Meringue Cake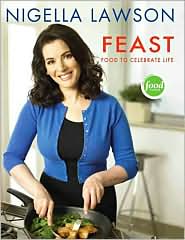 Feast: Food to Celebrate Life

Copyright 2004 by Nigella Lawson
Publisher: Hyperion
"In all honesty, the origin of this cake is simply that I cannot make a go of
a lemon meringue pie. I've tried, and I've tried, and it's not that I've utterly
failed, but I haven't completely delighted myself. There's enough of that
kind of falling short in the rest of life, without having to usher in disap-
pointment and self-loathing in the kitchen. [Amen, Sister Nigella!] This,
then, is the easy option.
After the effortless success - no credit to me, it's just a simple recipe - of the strawberry meringue layer cake in 'Forever Summer
', it seemed obvious to
make a few marginal changes to turn it into this. And the funny thing is,
the layers of cake, with their crisp-carapaced squashy-bellied meringue
topping are sandwiched with tart lemon curd and softly whipped cream,
so much better than a lemon meringue could ever be. I include it here
because it seems to sing with Springtime and Easter hopefulness, but I
wouldn't push it away at any time of the year."
Makes 8 slices
1 stick [1/2 cup] plus 1 tablespoon
very soft unsalted butter
4 eggs, separated
1 1/2 cups plus 1 tablespoon superfine sugar
3/4 cup all-purpose flour
2 tablespoons cornstarch
1 teaspoon baking powder
1/2 teaspoon baking soda
Zest of 1 lemon
4 teaspoons lemon juice
2 teaspoons milk
1/2 teaspoon cream of tartar
2/3 cup heavy or whipping cream
1/2 cup plus 2 tablespoons
good-quality lemon curd

Preheat the oven to 400 degrees F. Line and butter two 8-inch cake
pans. Mix the egg yolks, 1/2 cup of the sugar, the butter, flour, corn-
starch, baking powder, baking soda, and lemon zest in a processor.
Add the lemon juice and milk and process again.
Divide the mixture between the prepared pans. You will think you
don't even have enough to cover the bottom of the pans, but don't
panic. Spread calmly with a rubber spatula until smooth.
Whisk the egg whites and cream of tartar until peaks form, then slowly
whisk in the cup of sugar. Divide the whisked whites between the two
pans, pouring or, more accurately, spreading the meringue straight on
top of the cake batter. Smooth one flat with a metal spatula, and with
the back of a spoon, peak the other, and sprinkle 1 teaspoon sugar
over the peaks. Put the pans into the oven for 20 to 25 minutes.
With a cake tester, pierce the cake that has the flat meringue topping to check it's cooked all through. (It will have risen now but will fall back
flattish later.) No sponge mixture should stick to the tester. Remove
both cakes to a wire rack and let cool completely in the pans.
Unmold the flat-topped one onto a cake stand or plate, meringue side
down. Whisk the heavy cream until thick but not stiff and set aside.
Spread the flat sponge surface of the first, waiting. cake with the lemon
curd and then spatula over the cream and top with the remaining cake, bronze-peaked meringue uppermost.
Note: After I'd made this a couple of times, it occurred to me, that if I were to
fill the cakes with passionfruit curd, in place of the lemon curd (which I buy,
but it must be a good one) it would be particularly appropriate for Eastertime.
Hence the recipe [following]. Or stir the pulp of two passionfruit into some
good bought lemon curd.
If you want to make your own lemon curd, then more or less follow the recipe
for passionfruit curd [following], but in place of the passionfruit, use the finely
grated zest and the juice of 2, preferably unwaxed, lemons.

Passionfruit Curd
"This recipe came from 'How to Be a Domestic Goddess
,' and it's not hard
work, though a bit fiddly. But this is the way to go if you want to make a
cake that symbolically marks the Passion.
And what you don't use up in a cake, you can slather over a thick slab of
white bread [or scones!] for an Easter morning breakfast."
Makes 1 1/3 cups
11 passionfruit
2 large eggs
2 large egg yolks
3/4 cup superfine sugar
1 stick [1/2 cup] unsalted butter
Put the seeded pulp of 10 of the passionfruit into the processor and blitz
just to loosen the seeds (so only do this insofar as it could be helpful to
you). Strain into a glass measuring cup or bowl.
Beat the eggs, egg yolks and sugar together.
Melt the butter over a low heat in a heavy-based pan, and when melted
stir in the sugar-egg mixture and the passionfruit juice, and keep cooking
gently, stirring constantly, until thickened.
Off the heat, whisk in the pulp - seeds and all - of the sole remaining passionfruit, let cool slightly, then pour into a clean jar. Use what you
need for the cake, keeping the rest in the sealed jar in the fridge.

Featured Archive Recipes:
Angel Lemon Pudding
East 62nd Street Lemon Cake
Glazed Lemon Almond Pound Cake
Kerry's Favorite Lemon Layer
Cake with Lemon Curd Filling
Lemon Buttermilk Cake with Strawberries
Lemon Cheesecake with Lemon Bar Crust
Lemon Curd and Almond Shortbread Tart
Lemon Curd Marbled Cheesecake
(Another) Lemon Meringue Cake
Lemon Meringue Pie
Lemon-Passion Fruit Meringue Pie
Lemon Mousse Angel Cake

Index - Cake Recipe Archives
Index - Cake Fillings and Frostings
The Rites of Spring!
Daily Recipe Index
Recipe Archives Index
Recipe Search