Recipe of the Day Categories:
Recipe Index
Recipe Search
Fruit

Traditional Bread

Buy This at Allposters.com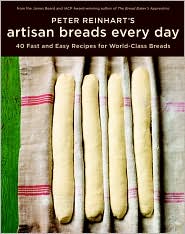 Peter Reinhart's Artisan Breads Every Day: Fast and Easy Recipes for World-Class Breads

Woman Holding Two Loaves of Bauernbrot (German Farmhouse
Bread)
Buy This at Allposters.com


Traditional Beer Mugs, Munich,
Bavaria, Germany
Photographic Print
Levy, Yadid
Buy at AllPosters.com

Your patronage of our affiliate partners supports this web site.
We thank you! In other words, please shop at LBC Gift Galerie!

Bread
Le Scanff &...
Buy This at Allposters.com


Authentic German Bauernbrot
Recipe courtesy Petra at All Recipes
"Here is a great recipe for authentic German Sourdough Bread. This
bread tastes almost exactly like the bread we buy back home in Bavaria,
Germany. There, to this day, they bake their bread in a very old stone
oven in the middle of a small village, once every 2 weeks. They bake a
whole bunch at once, and then you can buy it and freeze extras until
the next baking day. It's the best German bread I know!"
Sourdough Starter
1 1/2 ounces compressed fresh yeast
1 quart warm water
2 tablespoons white sugar
4 cups all-purpose flour
8 cups white rye flour
4 cups all-purpose flour
2 tablespoons salt
1 teaspoon white sugar
2 cups warm water
1. First, make the sourdough starter. Crumble the yeast into a large bowl. Whisk in 1 quart of warm water and 2 tablespoons of sugar until dis-
solved. The water should be just slightly warmer than body temper-
ature. Gradually whisk in 4 cups of flour, continuing to mix until all
lumps are gone. Cover with a dish towel, and let sit for 24 hours at
room temperature.
2. After 24 hours, stir well, cover, and let stand another 24 hours. It will
be a thin, light-colored sourdough which is then ready to use.
3. In a large bowl, stir together the rye flour, 4 cups of all-purpose flour,
salt and sugar. Mix in the sourdough starter using a wooden spoon,
then stir in 2 cups of warm water. I transfer the dough to a heavy-
duty stand mixer to mix the first couple of minutes, then it can't
handle the heavy dough and I start using my hands by turning the
dough out onto a floured surface. A clean countertop works best.
Knead the dough, adding a few tablespoons of water at a time if it
is too stiff. Fold the dough over, pull it apart, whatever you can do
to get it kneaded up good. Total kneading time should be 15 to 20
minutes to get a smooth dough. Place the dough in a large bowl,
cover, and let rise until doubled, 1 to 2 hours.
4. When the dough has risen, scrape it out of the bowl and back onto a
floured surface. Knead for about 5 minutes. This is important to
activate the gluten. Shape into 1 or 2 long loaves. Place on baking
sheets, and let rise for about 1 hour, or until your finger leaves an
impression when you poke the bread gently.
5. Preheat the oven to 425 degrees F (220 degrees C). Bake the bread
for about 45 minutes for 2 loaves, 1 1/2 hours if you made one big
loaf. Don't worry if the crust is dark. The bread will be delicious
and so will the crust. Cool completely before cutting. I always
freeze half. [Petra always uses a baking stone.]

Petra's Note: I submitted this recipe and I really want to share some-
thing valuable. In Germany, we usually add spices to the bread and they
are available for purchase already ground up or as seeds. If you want,
take a handful of either coriander, fennel, anise, and/or caraway seeds
and add to the dough. I actually buy loose fennel tea seeds (cheaper)
and smash it up good with a mortar and add it... Oh, if you decide to
freeze some (it freezes very well), simply put it in a zip lock bag, then
when you are ready to eat it thaw it in the CLOSED bag! It only takes
a few hours to thaw. Enjoy!
And another wonderful version from About.com
German Bauernbrot
Jennifer McGavin, About.com
"So far, this is one of the easiest recipes for recreating the German
bread experience. This bread uses half white and half whole wheat
flours, some sourdough for taste, and caraway seeds. Two rises
make this bread light and easy to slice. It's perfect for serving with
soup or for 'Abendbrot'. This bread freezes well."
Makes one large Bauernbrot
"Laib" or loaf
Prep Time: 4 hours
Cook Time: 40 minutes
Total Time: 4 hours, 40 minutes
2 1/2 cups white flour (all-purpose
or bread flour)
2 1/2 cups whole wheat flour (I use white
whole wheat flour from King Arthur)
1/2 cup rolled oats
2 teaspoons salt
2 teaspoon caraway seed
1 1/2 teaspoon instant yeast
1 cup milk mixed with 1 tablespoon
vinegar (sour milk)
1 cup plain yogurt
1/4 cup sourdough culture (optional)
11-2 tablespoons water
Sourdough Notes: To make sourdough culture beforehand, see this
resource. The sourdough culture used in this recipe was started with
Goldrush sourdough starter and kept in the refrigerator. It had been
fed and then refrigerated one day prior to using. It was taken straight
from the refrigerator and mixed with the other ingredients
immediately.
Dough: Mix flours, oats, salt, caraway and instant yeast together in a
large bowl. Add the sour milk, yogurt and sourdough culture and begin
mixing. This is easier if you have a stand mixer, but you can do this
with a large spoon, too. Mix until dough forms a ball, adding water if
needed. The dough should be slightly sticky.
Continue kneading, either with the mixer or on a lightly floured board
for 5-7 minutes. Let the dough rest for 5 minutes, then knead again
for 1 minute. Form into a smooth ball and place in an oiled bowl,
turning to coat the top. Cover with a clean dish towel and let rise in
a warm place until doubled.
Turn out onto a lightly floured board and form into a typical long loaf
as follows:

• De-gas as little as possible.
• Pat dough into rectangle.
• Indent with fingertips down the middle.
• Fold one third to middle, lengthwise,
pulling dough taut on the bottom.
• Press seam a little to seal.
• Fold other third to middle (pulling dough
taut) and pinch seam closed.
• Roll over, seam-side down and rock gently
while rounding the ends and making loaf
longer or fatter, as you wish.

Place on parchment paper on a baking sheet or cardboard, dust top with
flour and let rise until doubled. About 30 minutes before you plan on
baking, slash the top with a sharp razor blade or lamé at least 1/4 inch
deep. Heat oven to 500 degrees F for 1 hour prior to baking. Use a
baking stone if you have it, according to manufacturer's instructions.
Otherwise, place an old pan on the bottom rack and set the second rack
in the middle. Place the bread on the middle rack (still on the parchment
or floured baking pan), pour 2 cups of hot water into the old pan and
close the door.
Using a spray bottle filled with water, spray the sides of the oven after
two, five and seven minutes. Turn oven down to 450 degrees F. Bake
for 20 minutes. Turn oven down to 350 degrees F and bake for another
20 to 30 minutes, or until a temperature probe measures 190-200
degrees F or loaf is brown and sounds hollow when tapped. Remove
and let cool 2 hours before slicing.
To Create Steam in the Oven for Crusty Bread

Featured Archive Recipes:
Country Hearth Loaf
Country Pistolettes
French Mixed Grain Bread
Hard Rolls (like Broetchen)
Herbed Wheat Bread
New Orleans French Bread
Pepper, Onion and Poppy Seed Rolls
Rye and Walnut Rolls
Sourdough Whole Wheat Bread
Walnut Hearth Bread


Index - Bread Recipe Archives
Index - Breakfast Recipe Archives
Daily Recipe Index
Recipe Archives Index
Recipe Search