Aromatic Garden
Art Print
Buy at AllPosters.com

La Belle Cuisine - More Beef Recipes
Fine Cuisine with Art Infusion
"To cook is to create. And to create well...
is an act of integrity, and faith."
Herb-Roasted Rack of Veal

Shop CHEFS Catalog for reliable, long-lasting and quality kitchenware
at the best prices - Click Here!
"…we've tried to distinguish Union Square Café's food by its simplicity, consistency, and straightforward flavors; its hospitality by warmth and
generosity; and its atmosphere, by a convivial, full house of animated
guests with robust appetites."
~ Danny Meyer and Michael Romano
---
Recipe of the Day Categories:
Recipe Search
Fruit

Never Enough Thyme
Art Print
Olsen, Barbara
Buy at AllPosters.com


Union Square Cafe Cookbook: 160 Favorite Recipes from New York's Acclaimed Restaurant

Your patronage of our affiliate partners supports this web site.
We thank you! In other words, please shop at LBC Gift Galerie!

Herb and Kitchen Gardens, Chateau Villandry, Centre, France
Ken Gillham
Buy This at Allposters.com


Herb-Roasted Rack of Veal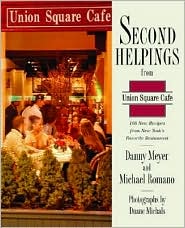 Second Helpings from
Union Square Cafe:
140 New Favorites from New
York's Acclaimed Restaurant

by Danny Meyer and Michael Romano,
© 2001, published by HarperCollins
Serves 6 to 8
"The rack is the most luxurious cut of veal – and is commensurately expensive –
but it makes an impressive presentation for special celebratory occasions. For
this recipe, an elegantly trimmed, six-bone rack of veal is marinated with an
aromatic rub of fresh herbs, olive oil and garlic, then roasted to juicy perfection.
We tie a length of butcher's twine around the 'eye' of the roast between each of
the 6 bones, which is a good technique for making the roast more compact and
juicy. One chop per person yields especially generous portions, but you can
certainly carve smaller slices between the bones for more delicate appetites."
1/4 cup coarsely chopped (1-inch pieces)
fresh summer savory, thyme sprigs,
or sage leaves
1 garlic clove, thinly sliced
1 tablespoon coarse sea salt
1 teaspoon cracked black peppercorns
2 tablespoons extra-virgin olive oil
1 (6-rib) rack of veal, chine removed,
and denuded (deckle removed
and fat trimmed to a thin layer), bones
frenched, and meat tied between each rib
(5 to 5 1/2 pounds trimmed; see Note)
3 tablespoons olive oil
1/2 cup white wine
1 cup chicken stock or veal stock
1 tablespoon butter
1. In a small bowl, combine the savory, thyme, or sage, the garlic, salt, pepper, and extra-virgin olive oil. Place the veal in a baking dish and
rub all over with the seasoned oil. Cover the baking dish with plastic
wrap and refrigerate for 5 to 8 hours.
2. Preheat the oven to 350 degrees F.
3. Brush off and set aside the garlic, peppercorns, and herbs adhering
to the veal. Heat 2 tablespoons of the olive oil in a 14-inch, heavy-
bottomed skillet or a small roasting pan over medium heat. Add the
veal and brown on both sides, about 15 minutes total.
4. Adjust the veal so that it is bone side down in the pan and roast in
the oven for 20 minutes. Turn the veal bone side up and continue
to roast until the meat registers 125 degrees F on a meat thermo-
meter, 30 to 40 minutes longer. Transfer the roast to a serving
platter, loosely cover with foil, and let rest at least 15 minutes.
5. Pour off the fat from the skillet or roasting pan. Add the remaining 1
tablespoon of oil and heat over medium-high heat until smoking.
Toss in the reserved herbs, garlic, and peppercorns and cook,
stirring, for about 1 minute. Pour in the wine and reduce until
almost dry. Add the stock and any juices that have accumulated
on the platter with the veal and reduce by about two-thirds, or
until the sauce thickens slightly. Whisk in the butter until just
melted, and adjust the seasoning to taste. Strain the sauce into
a gravy dish and cover.
6. Remove the twine and carve the rack of veal into 6 chops. Serve
the chops with the sauce.
Note: Ask your butcher for all the meat trimmings. You can freeze them
for later use, either cubed in a stew, ground for juicy veal burgers, or
braised with tomatoes and vegetables for a pasta ragu.
Wine Suggestions: Serve with an elegant, medium-bodied red such as a
mature Pomerol or St. Emilion, a Burgundy from the Côte de Beaune,
or a California pinot noir.

More from Union Square Cafe:
[Infamous] Bar Nuts
Cod with Radicchio, White Beans, and
Lemon Vinaigrette
Crabmeat-Artichoke Tortelli
Fagioli alla Toscana
Roasted-Vegetable and Goat-Cheese Terrine
Sautéed Shrimp Goan Style
Shrimp with "Gazpacho" Sauce
Soup (4 excellent recipes!)

Featured Archive Recipes:
Stuffed Loin of Veal Vier Jahreszeiten
Roast Veal with Cèpes and Banyuls
Herbed Veal Chops with Wild Mushroom Sauté
Commander's Veal Chops Tchoupitoulas

Index - Beef Recipe Archives
Holiday Central!
Daily Recipe Index
Recipe Archives Index
Recipe Search