Basket of Vegetables on a
Kitchen Shelf by a Window...
Photographic Print
Gipstein, Todd
Buy at AllPosters.com

La Belle Cuisine - More Vegetable Recipes
Fine Cuisine with Art Infusion
"To cook is to create. And to create well...
is an act of integrity, and faith."
Julia Child's Stuffed Onions
"Once you have mastered a technique,
you hardly need look at a recipe again."
~ Julia Child
---
Recipe of the Day Categories:
Recipe Home
Recipe Search
Appetizers
Beef
Beverage
Bread
Breakfast
Cake
Chocolate
Fruit
Main Dish
Pasta
Pies
Pork
Poultry
Salad
Seafood
Side Dish
Soup

Garlic, Onions and Pimiento Peppers at Market Stall, Bergerac, Dordogne, France
Per Karlsson
Buy This at Allposters.com


Mastering the Art of French Cooking Boxed Set: Volumes 1 and 2

Your patronage of our affiliate partners supports this web site.
We thank you! In other words, please shop at LBC Gift Galerie!

Onions
Joaquin Moragues
Buy This at Allposters.com


Stuffed Onions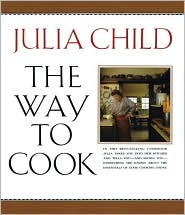 The Way to Cook

© 1989 by Julia Child (A Borzoi Book
published by Alfred A. Knopf, Inc.)
"A fragrant big stuffed onion is a most edible object all by itself, and it
is an attractive accompaniment to a plain roast chicken, veal, or turkey,
as well as to chops, steaks, and hamburgers. The trick for success is to
hollow the onions and blanch them before stuffing and baking them.
Otherwise they take hours to cook and may well burst out of their shells
before they are done."
For 6 large onions
6 large firm fresh perfect onions
at least 3 inches in diameter
A saucepan of boiling water, for peeling
A large kettle of boiling salted water,
for blanching
Melted butter and/or oil
Butter, for greasing the baking pan
Salt and freshly ground pepper
1 1/2 to 2 cups stuffing (recipe follows)
2 tablespoons fresh crumbs from
homemade-style white bread
1/2 cup dry white French vermouth or
dry white wine
1/2 to 1 cup beef stock or chicken broth
Peeling, coring, and blanching the onions: One at a time, shave off the pointed and root ends of the onions, being careful to keep the onion layers attached to the root. For easy peeling, drop them one or two at a time for exactly 1 minute into the saucepan of boiling water; carefully remove the
skin. With a sharp knife, cut a cone-shaped core out of the top (not root)
end of the onion, and reserve all cuttings. Then, being careful not to make
the sides and bottoms too thin – they should be about 3/8 inch thick – use
a melon baller to dig circular sections out of the onion to form a cup of the
interior. Drop the onion cups into the kettle of boiling salted water and boil
slowly 10 to 15 minutes; they should be just tender but they must still hold
their shape. Drain upside down in a colander.
Stuffing the onions: Butter or oil the outside of the onion cups and ar-
range cup-side-up in a heavily buttered flameproof baking dish about 3
inches deep and just large enough to hold them in one layer. Season the
inside of the cups lightly with salt and pepper, and fill with the stuffing,
heaping it into a 1/2-inch dome. Top each with a teaspoon of bread
crumbs and a drizzle of melted butter. Pour the wine around the onions,
and enough broth to come a third of the way up.
Baking – about 1 1/2 hours at 375 degrees F. Bring to the simmer on
top of the stove. Bake uncovered in the lower middle level of the pre-
heated oven, maintaining the liquid at a slow simmer and basting the
onions several times with the liquid in the dish. They are done when a
knife pierces them easily, but they must keep their shape. (The outside
layer will be slightly tough, but the insides deliciously tender.)
Ahead-of-time note: The onions may be baked in advance, and
reheated later; they are also good served cold.
An Onion Stuffing
For about 1 1/2 cups
1 cup or so minced onions
Butter as needed
1 cup cooked rice
1/4 cup heavy cream
3 to 4 tablespoons grated Swiss cheese
2 to 4 tablespoons fresh crumbs from
nonsweet homemade- type white bread
1/4 cup minced fresh parsley
Fresh or dried tarragon, or fresh basil
Salt and freshly ground pepper
Cook the minced onions slowly in 2 tablespoons of butter in a covered
pan until very tender; uncover pan and stir over moderately high heat
to brown very lightly. Blend in the rice, cream, cheese, and 2 table-
spoons of the bread crumbs, adding a few more crumbs if the mixture
is too soft for easy stuffing. Stir in the parsley and other herb; season
carefully to taste.

Featured Archive Recipes:
A Tribute to Julia Child
In Memory of Julia Child:
"First you take a leek..."
Ratatouille-Stuffed Onions

Index - Vegetable Recipe Archives
Classic French Recipe Index
Daily Recipe Archives
Recipe Archives Index
Recipe Search