Recipe of the Day Categories:
Recipe Home
Recipe Search
Fruit

Primavera
Art Print
Lunden, Elise
Buy at AllPosters.com


Your patronage of our affiliate partners supports this web site.
We thank you! In other words, please shop at LBC Gift Galerie!

Primavera in Fiore
Maria Grazia...
Buy This at Allposters.com


Spring Risotto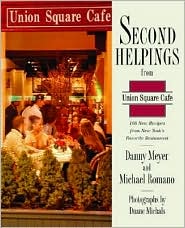 Second Helpings from
Union Square Cafe:
140 New Favorites
from New York's
Acclaimed Restaurant

by Danny Meyer and Michael Romano,
2001, HarperCollins
"Risotto is an excellent vehicle for seasonal ingredients that go well together,
and here are three that sing of spring. You'll have no trouble finding asparagus,
but if you can't get your hands on ramps – the baby wild leeks whose very brief season makes them elusive and difficult to find – substitute an equal amount of spring onions or leeks.
The same holds true for the morels. Their woodsy flavor and spongy texture are
ideal for this dish, but other mushrooms would also provide delicious results. As
fresh products of the earth, spring ingredients often bring with them unwanted
sand or dirt. It's worth going to the extra effort of washing them thoroughly. To
clean morels, split them in half lengthwise and place them in a large bowl of
cool water. Swish them around well and lift them out of the water with your
hands. Repeat with fresh water as many times as necessary, until there are no
more grains of dirt or sand in the bowl. Work quickly to avoid 'waterlogging'
the morels and place them immediately on paper towels to dry."
Serves 4 to 6
5 to 6 cups chicken stock
3 tablespoons olive oil
1 pound asparagus, washed, tough ends
snapped off, tips cut off in 1-inch lengths,
stalks cut into 1/4-inch-thick rounds
1/4 pound morel mushrooms, split or
quartered, depending on size, and
washed (about 2 cups)
3/4 cup washed and sliced ramps, spring
onions, or leeks (white part only)
Kosher salt
Freshly ground black pepper
2 tablespoons minced shallots
1 teaspoon minced garlic
1 3/4 cups Arborio rice
1 1/2 cups white wine
2 tablespoons butter
1/2 cup finely grated
Parmigiano-Reggiano
1. Bring the chicken stock to a simmer in a saucepan.
2. In an 8-inch (3-quart) heavy-bottomed saucepan, heat 2 table-
spoons of the olive oil over high heat. Add the asparagus and
cook, stirring, until softened, 2 to 3 minutes.
3. Reduce the heat to medium. Add the morels and ramps, onions,
or leeks and cook until softened 3 to 4 minutes. Season with 1
teaspoon salt and 1/8 teaspoon pepper. Using a slotted spoon,
remove the asparagus, ramps, and morels from the pan
and reserve.
4. Add the remaining tablespoon of olive oil to the pan. Add the
shallots and garlic and cook until softened but not colored, about
1 minute. Add the rice and stir with a wooden spoon to coat with
the oil.
5. Add the wine, bring to a simmer, and stir constantly until the rice
has absorbed the wine.
6. Ladle 1/2 cup of hot chicken stock into the pan and stir until it is
absorbed. Continue with the rest of the stock, adding 1/2 cup at
a time and letting each addition become absorbed completely
into the rice before adding more liquid. The constant stirring
allows the rice to release its starch into the cooking liquid, result-
ing in the characteristic risotto creaminess. The grains of rice
should be al dente. Count on approximately 20 to 25 minutes
for the rice to cook.
7. When the rice is al dente and creamy, fold in the reserved aspar-
agus, morels, and ramps or onions and heat through. Stir in the
butter, 2 1/2 of teaspoons salt, 1/8 teaspoon pepper, and 1/4
cup of the Parmigiano. Spoon the risotto into a serving bowl or
individual bowls, sprinkle with the remaining cheese, and serve
immediately.
Wine Suggestions: Wines with earthy sweetness pair beautifully
with the risotto. Try an Oregon pinot noir or a Côte Chalonnaise
Burgundy like Rully, Mercurey, or Givry. Just as delicious would
be a Rioja, Barbaresco, or, for a white, Vouvray.

Featured Archive Recipes:
Risotto 101
Risotto Primavera
Risotto Porcini Casserole
Spring Pea Risotto with
Spicy Herb Sauce

Index - Side Dish Recipe Archives
Rites of Spring Index
Daily Recipe Index
Recipe Archives Index
Recipe Search