Flavors from Italy
Buy This Allposters.com

La Belle Cuisine - More Side Dish Recipes
Fine Cuisine with Art Infusion
"To cook is to create. And to create well...
is an act of ingenuity, and faith."
Risotto Porcini Casserole

Free Shipping on over 450 products. Check them out now!
"Nature alone is antique and the oldest art is mushroom."
~ Thomas Carlyle
---
Recipe of the Day Categories:
Recipe Home
Recipe Search
Fruit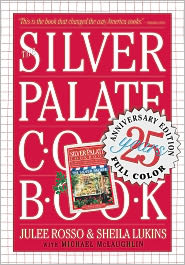 The Silver Palate Cookbook (25th Anniversary Edition)

Your patronage of our affiliate partners supports this web site.
We thank you! In other words, please shop at LBC Gift Galerie!

Bicycle Parked Outside Historic Food Store, Siena, Tuscany, Italy
Photographic Print
Elk III, John
Buy at AllPosters.com


Risotto Porcini Casserole
The Silver Palate
Good Times Cookbook
by Julee Rosso and Sheila Lukins
with Sarah Leah Chase,
1985, Workman Publishing
"Risotto is a wonderful dish to serve as a main course or with
highly flavored fish or lamb. Porcini add a rich deep taste and
this version doesn't require the constant last-minute attention
that is so characteristic of risottos."
8 portions
2 ounces dried porcini
8 tablespoons (1 stick) unsalted butter
2 bunches scallions (green onions), chopped
3 carrots, peeled and minced
2 cups Italian Arborio rice
1/2 cup dry white wine
4 to 5 cups beef stock or canned beef broth
1 pound fresh cultivated mushrooms,
wiped clean and sliced
3 cloves garlic, minced
3/4 cup chopped fresh parsley
Salt and freshly ground black pepper, to taste
2 cups freshly grated Parmesan cheese
1 cup heavy or whipping cream
2 eggs
Pinch ground nutmeg
1. Place the porcini in a small bowl, add hot water to cover, and let stand
30 minutes.
2. Melt 4 tablespoons of the butter in a 10- to 12-inch skillet over medium heat. Add the scallions and carrots and sauté for 10 minutes. Add the
rice and cook, stirring to coat with the butter and vegetables, for 1
minute. Drain the porcini, strain the liquid through cheesecloth, then
pour it over the rice. Add the wine and enough of the stock to com-
pletely cover the rice. Simmer covered over low heat, adding more
stock as needed, until rice is tender but still firm, about 30 minutes.
3. While the rice is cooking, melt the remaining 4 tablespoons butter in a medium-size skillet over medium heat. Add the porcini and cultivated mushrooms and sauté 10 minutes. Stir in the garlic and parsley and
simmer uncovered 10 minutes. Season to taste with salt and pepper.
4. Preheat oven to 350 degrees F. Butter a 2-quart baking dish.
5. Spread half the rice in the bottom of the baking dish. Top with all the mushrooms. Sprinkle 1 cup of the Parmesan over the mushrooms
and top with the remaining rice.
6. Whisk the cream, eggs, and nutmeg together and pour evenly over
the rice. Sprinkle with the remaining 1 cup Parmesan.
7. Bake until the top is puffed and brown, about 30 minutes. Let cool
several minutes before serving.

Featured Archive Recipes:
Risotto 101 (Lidia Bastianich)
Baked Sage and Saffron Risotto
(Martha Stewart)


Index - Side Dish Recipe Archives
Daily Recipe Index
Recipe Archives Index
Recipe Search