Provencal Village...
Michael Longo
Buy This at Allposters.com

La Belle Cuisine - More Main Dish Recipes
Fine Cuisine with Art Infusion
"To cook is to create. And to create well...
is an act of integrity, and faith."
Provençal Leg of Lamb with
Fennel and Scallions

Free Shipping on over 450 products. Check them out now!
"In my kitchens, a dish always begins with a product, never the other
way around; I never decide I want to do a certain kind of dish and
then look for the ingredients with which to compose it. The product
determines its own destiny."
~ Alain Ducasse, in 'Flavors of France'
---
Recipe of the Day Categories:
Recipe Home
Recipe Search
Fruit

Taste of Provence

Buy This at Allposters.com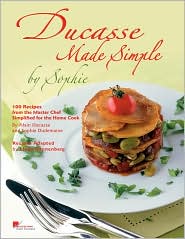 Ducasse Made Simple: 120 Original Recipes from the Master Chef Adapted for the Home Chef

Your patronage of our affiliate partners supports this web site.
We thank you! In other words, please shop at LBC Gift Galerie!

Provencal Village
Giclee Print
Longo, Michael
Buy at AllPosters.com


How to Treat Lamb
The New York Times, April 3, 2002
By Alain Ducasse
(This is the sixth of eight columns by Alain Ducasse...
written with Florence Fabricant.)
You often see chefs make dozens of little slashes into a leg of lamb and then
force slivers of garlic into each one. It horrifies me. That's no way to treat a
piece of meat. With lamb, garlic is essential, but it should perfume the meat.
Garlic is the very essence of Provence, but you must play it off against herbs,
tame it a bit, not force it on the lamb.
I take some crushed cloves and good olive oil and let the lamb bask in this
mixture for a couple of days. I do this regardless of whether I'm preparing
baby lamb, which you can find starting about now, or older spring lamb.
It's worth trying to find baby lamb, but you must also know how to cook it.
More mature lamb should be medium-rare so it remains tender. But naturally
tender baby lamb is better done medium. It's a pale meat, and my rule is that
the lighter the meat, the more cooking it needs. That's why, in general, veal
and pork both require more cooking than lamb or beef. Once the lamb is
ready to roast I massage it with thyme and savory. I know that rosemary is
often paired with lamb but you have to be careful because it's strong, and
in the roasting pan it can burn. You can add a little at the very end.
After browning the lamb I roast it on a bed of cut-up lamb trimmings to
help concentrate the pan juices. When the lamb is done, it must rest for
about half an hour, and you can use that time to simmer the pan juices
to make a nice, simple sauce. (Use a wet basting brush to wipe down the
inside of your saucepan, so you can incorporate the tasty remnants that
collect as the sauce cooks.)
I like to serve scallions and fennel with the lamb, and, if I have them, fresh
shell beans like favas. I blanch thick slices of the fennel, sauté them and
then season them with my lovely lamb jus and some Parmesan. They need
to bake 20 minutes or so, but make for a fragrant and flavorful vegetable
component to your dish. It's all you need.
You find fennel most often used with fish but it should not be overlooked
for lamb. I think it's absolutely superb, and so Provençal besides."

Provençal Leg of Lamb with
Fennel and Scallions
Time: 2 1/2 hours, plus 2 days' marinating
Yield: 8 servings
1 leg of lamb, preferably spring lamb,
boned, about 5 pounds
1 tablespoon paprika
3/8 cup extra virgin olive oil
7 large cloves garlic, smashed
1 bunch thyme or savory, or 1/2 of each
1 1/2 pounds lamb neck, in 2-inch chunks
Salt and freshly ground black pepper
4 large bulbs fresh fennel
2 bunches scallions, trimmed,
leaving 1-inch of green
1 cup chicken stock
1 sprig rosemary
2 tablespoons freshly grated Parmesan.
1. Lightly score fat on lamb; rub with paprika. Place 1/2 cup olive oil
and 5 cloves garlic in bowl that will hold lamb snugly. Place lamb
in bowl, turn to coat sides, and cover by placing sheet of plastic
wrap directly on meat. Refrigerate 48 hours.
2. Preheat oven to 350 degrees F. Remove lamb from bowl. Discard the
garlic. Reserve 4 branches herbs. Use the rest to rub lamb all over,
inside and out. Tie lamb at 1 1/2-inch intervals with butcher's cord.
Heat 1 tablespoon oil in heavy ovenproof casserole that will hold
lamb comfortably. Brown leg of lamb on top of stove on all sides.
Remove from casserole. Place pieces of lamb neck in casserole,
season with salt and pepper, place leg of lamb on top, place in the
oven, and roast 1 hour for medium-rare for 5- to 5 1/2-pound roast.
Add 15 minutes for 6- to 7-pound roast. Instant-read thermometer
inserted in center should register 120 degrees F.
3. While lamb is roasting, trim fennel: cut a /2-inch slice off the bottom
of each bulb and cut off branches down to the bulb. Slice bulbs in
four vertically. Use wooden skewers or toothpicks to hold the
layers together. Bring large pot of salted water to a boil. Blanch
fennel about 3 minutes. Drain, remove skewers and set aside.
4. Heat remaining oil in heavy skillet. Lightly brown fennel slices on
each side. Place fennel slices, slightly overlapping, in shallow
baking dish. Lightly brown scallions and place around fennel.
5. Remove lamb from oven and place in shallow baking pan tented
with foil, 30 minutes or up to 1 hour. Transfer contents of cas-
serole to saucepan. Deglaze casserole with chicken stock and
add to saucepan. Bring contents of saucepan to a simmer. Peel
remaining garlic and add, along with the reserved herb sprigs
and rosemary. Simmer gently 30 minutes. Strain, return to the
saucepan, degrease and season with salt and pepper. Spoon 4
tablespoons sauce around fennel and scallions in baking dish.
6. Turn oven to 400 degrees F. Pour any juices accumulated
around lamb into saucepan. Remove foil from lamb and place
in oven in baking pan. Dust the fennel and scallions with
Parmesan. Place in oven; bake 20 minutes.
7. Remove lamb from oven, snip cord, and cut in slices. Arrange
on warm platter. Drizzle a little of the sauce over it. Remove
fennel and scallions from oven and serve with lamb and the
remaining sauce on the side.
Copyright 2002 The New York Times Company Used with permission.

More from Chef Alain Ducasse:
Asparagus Three Ways
Confiture de Vieux Garçon (The Old
Bachelor's Fruit Preserves)
Glazed Mango With Sour Cream Sorbet
and Black Pepper
Olive Mill Pasta
Herb-Roasted Chicken
Steak with Style
Featured Archive Recipes:
Butterflied Leg of Lamb
Grilled Lamb Chops with Warm
Tomato-Mint Vinaigrette
Lamb and Eggplant Potpie with
Feta Potato Crust
Lamb and Vegetable Orzotto

Index - Main Dish Recipe Archives
The Rites of Spring!
Daily Recipe Index
Recipe Archives Index
Recipe Search