Screen Door
Pam Ingalls
Buy This at Allposters.com

La Belle Cuisine - More Condiment Recipes
Fine Cuisine with Art Infusion
"To cook is to create. And to create well...
is an act of integrity, and faith."
Mississippi Comeback Sauce
"Sauce, n. The one infallible sign of civilization and enlightenment.
A people with no sauces has one thousand vices; a people with one
sauce has only nine hundred ninety-nine. For every sauce invented
and accepted, a vice is renounced and forgiven."
~ Ambrose Bierce
---
Recipe of the Day Categories:
Recipe Home
Recipe Search
Appetizers
Beef
Beverage
Bread
Breakfast
Cake
Chocolate
Fruit
Main Dish
Pasta
Pies
Pork
Poultry
Salad
Seafood
Side Dish
Soup

Your patronage of our affiliate partners supports this web site.
We thank you! In other words, please shop at LBC Gift Galerie!

Iced Tea in the Garden
Marie Versailles
Buy This at Allposters.com


Comeback Sauce
Put It on Anything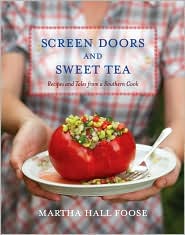 Screen Doors and Sweet Tea:
Recipes and Tales from a
Southern Cook

Copyright 2008 Martha Hall Foose
Clarkson Potter/Publishers
"This is first-rate served over chilled boiled shrimp or as a dressing for vegetable salad. It's a crowning condiment for fried pickles, onion rings, and crackers.
Chef and food writer Robert St. John calls Comeback Sauce 'the Queen Mother
of all Mississippi condiments.' And it is.
Comeback Sauce (which is also spelled Kumback or Cumback, and will get you
to all kinds of interesting sites if you Google these spellings) originated in the
Greek restaurants of Jackson MS. The Rotisserie opened in the late '20s or early '30s, and was Jackson's first Greek restaurant. Malcolm White, who is keeper of
all information on Comeback, credits the genesis of Comeback Sauce to The Rotisserie and its owner, Alex Dennery.
Comeback Sauce then spread to other Greek restaurants that opened in Jackson, such as the Mayflower, which has been serving Comeback Sauce in bottles left
on each table with crackers since 1935.
Comeback, like kudzu, that miracle vine introduced to the South, couldn't be
reined in. You'll find versions of the sauce at local hangouts like the Cherokee,
C. S.'s and Hal & Mal's. Some of the sauces use curry or extra garlic. You can
find it at the Ajax Diner in Oxford, or at Giardina's in Greenwood. It's often
described to those above the Mason-Dixon line as a spicy Thousand Island.
But it is so much more than that. Comeback Sauce is heaven on a cracker,
and it is home."
Makes 1 pint
1 cup mayonnaise, preferably homemade
1/4 cup salad oil
1/4 cup chili sauce
1/4 cup ketchup
1 tablespoon Worcestershire sauce
1 teaspoon yellow mustard
1 teaspoon freshly ground black pepper
1 teaspoon hot pepper sauce
1/4 teaspoon hot paprika
1 small white onion, grated
2 cloves garlic, minced
In a food processor or blender, combine the mayonnaise, oil, chili sauce, ketchup, Worcestershire, mustard, pepper, hot pepper sauce, paprika,
onion, and garlic. Process until smooth. Store in the refrigerator for up
to 1 week.
Note: To lean this dressing more toward Thousand Island, add 2 chopped hard-boiled eggs and 1 tablespoon chopped capers or sweet pickle relish.

Featured Archive Recipes:
Emeril's Essence
Hot Cooked Mustard
Hot Pepper Jelly
Jezebel Sauce
Ketchup


Index - Condiment Recipes
Index - Basic Sauce Recipes
Do you know what it means
to miss New Orleans?
Daily Recipe Index
Recipe Archives Index
Recipe Search