Recipe of the Day Categories:
Recipe Home
Recipe Search
Appetizers
Beef
Beverage
Bread
Breakfast
Cake
Chocolate
Fruit
Main Dish
Pasta
Pies
Pork
Poultry
Salad
Seafood
Side Dish
Soup

Lemon Branch Bouquet
Giclee Print
Etienne, Nicole
Buy at AllPosters.com


Salmon

Buy This at Allposters.com


Cucumber, Sweet Success
Wally Eberhart
Buy This Allposters.com


Your patronage of our affiliate partners supports this web site.
We thank you! In other words, please shop at LBC Gift Galerie!

Leaping Salmon in the Ballysadare River in Ireland
Paul Nicklen
Buy This at Allposters.com


Gravlax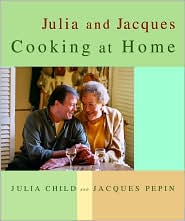 Julia and Jacques
Cooking at Home

by Julia Child and Jacques Pépin with David Nussbaum,
1999, a Borzoi Book, Alfred A. Knopf
Jacques
"Salt is the principal agent for curing the salmon in all gravlax recipes. It
draws out moisture, making it difficult for bacteria to survive, and perme
ates and flavors the flesh. I prefer to use kosher salt for this process, since
the pointed larger segments penetrate the meat and cure more effectively.
Curing thin slices of 'instant' gravlax with this method takes only 15 to 20
minutes, and you can make as much as you want, as long as you spread the
slices directly on the seasonings, without overlapping them. For individual
servings, cure just 2 or 3 slices on small plates, 1 for each person at the table.
Then cover the slices with plastic wrap, stack the plates on top of each other,
and refrigerate until serving time.
Since I cure the slices with only salt, pepper, and a tiny bit of sugar, I like to
put lots of garnishes on my instant gravlax just before serving. You can be very
creative at this point. In the recipe here I suggest shallots, lemon zest, radishes,
chives, and walnut oil (diluted with peanut oil to temper its strong flavor). And
I garnish the salmon with julienne mushrooms, capers, chopped parsley, basil,
and olive oil. You can also use chopped red or white onion, black olives, diced cucumber tossed with a bit of vinegar – whatever you like and whatever you
have available.
I also add many garnishes to the salmon tartare, but in this case there is no
actual curing. The fish is essentially raw, although, as in South American
seviche, the citric acid in the lemon juice coagulates the protein so the pieces
whiten and appear 'cooked'. For any of these recipes, use very fresh salmon
from a reliable fish market."
SeaBear.com - Fresh Copper River Salmon Straight from the River
Jacques's Instant Gravlax
Yield: 8 to 10 slices, serving 6 to 8 as an hors d'oeuvre, or 4 as a first course
12 ounces salmon fillet, trimmed and boned
1 teaspoon kosher salt
1/4 teaspoon sugar
1/2 teaspoon freshly ground black pepper
For garnishing
1 teaspoon fine lemon peel in fine julienne strips or shreds
1 tablespoon chopped fresh chives
2 radishes, in julienne strips
4 tablespoons thinly sliced shallots (4 large shallots)
1 tablespoon walnut oil
2 tablespoons peanut oil
For serving
Lemon wedges
Cucumber Ribbons, optional (recipe follows)
Slices of buttered pumpernickel, brioche, or crackers
Special equipment
A serving platter; plastic wrap
Curing the salmon
Slice the salmon as thin as possible [illustration in cookbook]. You should have 8 or more slices, each about 1 1/2 ounces.
Stir together the salt, sugar, and pepper in a small bowl. Sprinkle half of
the mixture evenly over the surface of the serving platter. Lay the salmon
slices flat, on top of the seasonings, without overlapping. Sprinkle the
rest of the seasoning mix evenly over the slices.
Cover the slices airtight with plastic wrap – pressing the wrap so it adheres
to the salmon – and set it in the refrigerator for at least 20 minutes, to cure. (You may keep it refrigerated for up to 24 hours, tightly covered, before garnishing and serving.
Garnishing and serving
Uncover the platter. Sprinkle the lemon zest, chives, radish slivers, and
sliced shallots all over the slices of salmon. Stir together the walnut and
peanut oils, and drizzle them over the slices and garnishes.
Arrange the lemon wedges – and cucumber ribbons, if you like – around
the edges of the platter. Serve with slices of buttered bread or brioche
toast, or crackers, on the side.

Jacques's Salmon Tartare
Yield: About 2 cups, serving 4 as a first course or 8 as hors d'oeuvre
12 ounces fresh skinless, boneless salmon
(including scrapings and trimmings from filleting)
2 tablespoons finely chopped shallots
1 1/2 teaspoons lemon peel in fine julienne strips
or shreds (recipe follows)
1 1/2 tablespoons freshly squeezed lemon juice
3 tablespoons chopped parsley
1 tablespoon extra-virgin olive oil
1/4 teaspoon Tabasco sauce, plus more to taste
1/2 teaspoon salt, plus more to taste
1/4 teaspoon freshly ground black pepper,
plus more to taste
For serving
Thin Cucumber Ribbons (recipe follows)
1 tablespoon chopped fresh chives
Slices of pumpernickel or other black bread,
spread with butter or mayonnaise
Cut all the salmon into small (roughly 1/4-inch) pieces, and put them in a bowl along with the shallots, lemon peel, lemon juice, parsley, olive oil, Tabasco, salt, and pepper. It is important to cut by hand, because the food processor will purée too fast and make the salmon pasty and mushy. Mix gently and thoroughly. Taste the tartare and adjust the seasonings as you
like. The tartare can be serves right away, or refrigerated for an hour or
two. (The salmon will whiten, and become opaque, after a few minutes in
the marinade.)
To serve as an hors d'oeuvre, pile thin cucumber ribbons on a serving
platter, spread them with your fingers into a ring or nest, and mound the
tartare in the middle. For first-course plates, make small nests of ribbons
and fill each with 1/2 cup or so of the tartare. Sprinkle the chopped chives
over and arrange triangles of black bread, spread with butter or mayon-
naise, around the platter.

Jacques's Cucumber Ribbons
"These thin strips of lightly dressed cucumber are a fine garnish for all of
our salmon appetizers.
With a sharp vegetable peeler, remove the skin from a large, preferably 'seedless' (or English) cucumber. Then, still using the vegetable peeler,
shave lengthwise strips from one side of the cucumber, until you can see
the interior layer of seeds. Rotate the cucumber 90 degrees, shave off
more long ribbons until you reach the seeds, then rotate and remove
strips twice more. (Now you can discard the rectangular center of the
cucumber, with all the seeds.)
You should have about 2 cups of ribbons. Season with 1/4 teaspoon each
of salt, sugar, and freshly ground black pepper, and about 1 teaspoon of
white-wine vinegar. Toss to distribute the seasonings.
For more delicate, spaghettilike ribbons, neatly lay 4 to 6 unseasoned cucumber strips on top of each other, then fold or roll the pile over several times, making a many-layered stack. Cut down through the layers length-wise, every 1/8 inch or so, creating long thin strips, like spaghetti. Loosen
the strands gently and season as above.
You can garnish with the ribbons in many ways: lay them flat in decora-
tive, crisscross patterns on serving plates; form them into small mounds
and drape them with slices of gravlax, for individual servings; or spread
a loose tangle of ribbons into a ring or nest around a platter of gravlax
or salmon tartare [see recipe above]."

Jacques's Lemon Peel Garnish
The yellow layer of lemon peel, also called the "zest," contains the vola-
tile citrus oils and make a colorful garnish for cured salmon slices, salmon
tartare, and many other dishes. Though you can grate the peel (and some- times your knuckles) on a regular grater, a better method is to remove the
zest in long thin shreds, using a special "zesting" tool, which has a row of
small, sharp-edged holes. Another technique I use frequently is to shave
off 2-inch strips of peel, about 1/2 inch wide, with a vegetable peeler.
Stack these on top of each other, then slice the stack crosswise with a
sharp knife, into very fine julienne slivers. This will give you several
tablespoons of garnish in just a few seconds.
Featured Archive Recipes:
Savory Puffs with Smoked Salmon Mousse
and Mascarpone-Vegetable Medley
Salmon en Papillote from Julia and Jacques
Charlie Trotter's Smoked Salmon Canapés

Index - Appetizer Recipes
Index - Fish Recipe Archives
Holiday Central!
Daily Recipe Index
Recipe Archives Index
Recipe Search