Asparagus, 14th Century

Buy This at Allposters.com

La Belle Cuisine - More Vegetable Recipes
Fine Cuisine with Art Infusion
"To cook is to create. And to create well...
is an act of integrity, and faith."
Rich and Poor:
Asparagus and Baby Leeks


Thousands of premium wines and gourmet gifts
"The Romans had a saying when they wanted something done quickly.
'Do it,' they said, 'in less time than it takes to cook asparagus.' "
~ Alexandre Dumas
---
Recipe of the Day Categories:
Recipe Home
Recipe Search
Appetizers
Beef
Beverage
Bread
Breakfast
Cake
Chocolate
Fruit
Main Dish
Pasta
Pies
Pork
Poultry
Salad
Seafood
Side Dish
Soup

Leeks

Buy This at Allposters.com


Your patronage of our affiliate partners supports this web site.
We thank you! In other words, please shop at LBC Gift Galerie!

Asparagus at a Market in Provence
Photographic Print
Buy at AllPosters.com


Rich and Poor:
Asparagus and Baby Leeks
(Le Duo d'Asperges et Jeunes Poireaux)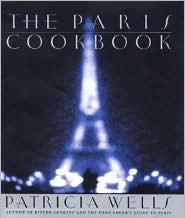 Paris Cookbook

by Patricia Wells, 2001,
HarperCollins
"Come early March, the markets of Paris explode with a flourish of green.
Pencil-thin spring leeks arrive, looking like lithe young ladies, while Provence steps in to provide the slimmest of green asparagus. The match is one made in heaven, for the common leek is often called 'the asparagus of the poor'. In this recipe, inspired by a version offered by Alain Ducasse's deputy chef Frank
Cerutti, the two are anointed with a touch of butter and then a few drops of balsamic vinegar to 'wake them up'. (If slim leeks are not available, prepare
this with all green asparagus.)"
4 servings
8 baby leeks, white portion only,
trimmed to about 7 inches
About 2 cups homemade chicken stock
8 asparagus spears (about 8 ounces
trimmed weight)
3 tablespoons coarse sea salt
2 tablespoons unsalted butter
3 tablespoons freshly grated
Parmigiano-Reggiano cheese
About 1/2 teaspoon balsamic vinegar
Fleur de sel or fine sea salt
Minced fresh chives, for garnish
Equipment
A 6-quart pasta pot fitted with a colander
1. Trim the leeks at the root end. Rinse well under cold running water. Transfer them to a bowl of cold water and soak for 5 minutes to rid
of any remaining dirt. When all the grit has settled to the bottom of
the bowl, remove the leeks and dry thoroughly.
2. Place the leeks in a saucepan that will hold them in a single layer.
Cover with the chicken stock, cover the pan, and simmer until
tender, about 8 minutes. Drain. Set aside and keep warm.
3. Trim the asparagus, discarding the tips of the woody ends. Trim
the tender tops to about 7 inches. (Reserve the less tender ends
for an asparagus purée or a velouté.)
4. Prepare a large bowl of ice water.
5. Fill the pasta pot, fitted with a colander, with 5 quarts water and bring
to a boil over high heat. Add the 3 tablespoons salt and the asparagus,
and boil, uncovered, until the spears are crisp-tender, 3 to 4 minutes.
(The cooking time will vary according to the size of the asparagus.) Immediately remove the colander from the water, drain the asparagus,
and plunge the colander into the ice water so the asparagus will cool
down as quickly as possible and retain its crispness and bright green
color. As soon as the asparagus is cool (no longer than 1 to 2 minutes,
or the spears will soften and begin to lose crispness and flavor), drain
them and wrap in a thick towel to dry.
6. In a skillet large enough to hold both the leeks and the asparagus in a single layer, warm the butter over moderate heat just until it begins to
foam. Add the two vegetables, alternating them side by side. Sprinkle
all over with the cheese, being careful to keep the vegetables in place.
As the cheese melts into the vegetables and butter, it should form a
thick emulsion. Cook gently just until warmed through, being careful
not to burn the butter, 2 - 3 minutes. Drizzle with the balsamic butter.
Immediately transfer the vegetables to salad plates, season with fine
fleur de sel, garnish with minced chives, and serve.
"While the slight bitterness of asparagus can make wine a difficult choice,
there are solutions. I enjoy this with a young Chardonnay, any Sauvignon
Blanc, an Alsatian Pinot Gris, or a Jurançon sec."

Featured Archive Recipes:
Alain Ducasse's Asparagus
Three Ways
Roger Vergé's Gratin of Leeks
with Beaufort Cheese


Index - Vegetable Recipe Archives
Asparagus: The Royal Vegetable
Classic French Recipe Index
Rites of Spring Recipes
Daily Recipe Index
Recipe Archives Index
Recipe Search