Your patronage of our affiliate partners supports this web site.
We thank you! In other words, please shop at LBC Gift Galerie!

Maurice
Art Print
Rafuse, Will
Buy at AllPosters.com


Cream Soups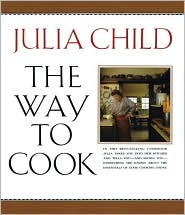 The Way to Cook

by Julia Child, 1989, a Borzoi Book
published by Alfred A. Knopf, Inc.
"Soups may be creamed in a number of ways, including great lashings of cream itself – an ambrosial item I shall soft-pedal here in favor of the velouté system
with its flour-butter roux, and of the… rice puree system, which looks, feels, and tastes for all the world like a creamy soup but can contain as low as zero fat."
Cream Soups: Velouté
"Start out with minced onions tenderly simmered in butter, stir in a little flour
to make the roux that will lightly thicken the soup, and cook until the butter and
flour are foaming nicely; moisten with a delicious chicken stock or milk or wine,
then simmer a few minutes more. That's the traditional base for a myriad of cream
soups, be they based on chicken, mushrooms, artichokes, broccoli, or even fish."
Manufacturing Note: Velouté soups are delicious and velvety when properly made, but they can be dismal and gluey when prepared by careless or untutored cooks. It
is of greatest importance that the roux be sufficiently cooked, as described below,
and that the soup have a preliminary simmer of at least 10 minutes. Nothing difficult about that!
Chicken Stock Note: When making vegetable soups, don't be too lavish with chicken stock, particularly canned stock. If it is too strong, you'll muffle the
taste of such vegetables as broccoli and zucchini. Dilute the stock with some
of the vegetable cooking liquid, as suggested for the broccoli soup farther on.
No rules here; have trust in your own judgment of tastes.

Master Recipe
Velouté Soup Base
For about 2 quarts
4 tablespoons butter
3/4 cup to 1 1/2 cups minced onion and/or
white of leek – the amount depending on
your other ingredients
1/4 cup flour
7 to 8 cups liquid: chicken or fish stock and/or
milk or vegetable cooking liquid –
of which at least 1 cup is hot
Salt and freshly ground white pepper
Special Equipment Suggested:
A heavy-bottomed 3-quart stainless saucepan
Set the saucepan over moderately low heat, add the butter, and, when melted, stir in the onions. Cover and cook slowly 7 to 8 minutes, or until
the onions are tender and translucent. Blend in the flour. Stir slowly for 3 minutes, to cook the flour without letting it color… [illustration included in cookbook] Remove from heat, and in a few seconds, when bubbling stops, pour in 1 cup of hot liquid all at once, whisking vigorously to blend smooth-ly. Whisk in 6 more cups. Bring to the simmer, stirring frequently to be sure the soup is not scorching on the bottom of the pan. The soup base should be slightly thickened, enough to coat a spoon lightly… add dollops more liquid
if too thick. Correct seasoning, and continue as your recipe directs.
Ahead-of-time note for roux-based soups and sauces: Warm flour-based soups
and sauces will form a skin over their surface. The skin will not form if you stir
the soup frequently until it is cool. Or fill a large kitchen spoon with stock or
milk and lay the spoon just over the surface, tipping it to let the liquid float on
top. Or lay a sheet of plastic wrap on top of the surface, pressing it well.

Variation
Cream of Mushroom Soup
"Use this as a general model for all velouté soups, and since the base itself
is well flavored, the actual amount of other ingredients you add is not too
important. For instance, the following recipe calls for 1 quart of mush-
rooms, but just a handful will give the mushroom impression."
For about 2 1/4 quarts, serving 6
Ingredients for the preceding Velouté Soup Base,
made with 1 cup of hot chicken broth and
6 or more cups of milk
1 quart fresh mushrooms, trimmed,
washed, and diced
1/4 teaspoon dried tarragon leaves
1/2 cup or more sour cream,
heavy cream, or crème fraîche,
optional
Salt and freshly ground white pepper
Drops of fresh lemon juice, if needed
Suggested decoration:
Springs of fresh tarragon; or slivers of neatly sliced raw
mushroom caps tossed in drops of lemon juice; or a fluted
stewed mushroom cap for each serving
Special Equipment Suggested:
A food processor is useful for mincing the mushrooms
Finishing the soup and serving. Bring the soup base to the simmer, and fold in the mushrooms and tarragon; simmer 10 minutes, stirring frequently to prevent scorching. Stir in the optional cream, simmer a moment more,
and carefully correct seasoning, adding drops of lemon juice if you think
they are needed. Decorate each serving, if you wish, as suggested.
Other Cream of Vegetable Soups
"Make other vegetable soups in much the same way, either simmering
the vegetables in the velouté base as for the preceding mushroom soup,
or cooking them separately as for the following broccoli soup. Here
the soup is puréed, and given a final decoration of broccoli buds."

Cream of Broccoli Soup
For about 2 1/2 quarts, serving 6 to 8
2 large heads of fresh broccoli
(1 1/4 to 1 1/2 pounds)
Salt and freshly ground white pepper
Ingredients for the Velouté Soup Base
1/2 cup or more sour cream, heavy cream,
or crème fraîche, optional
Drops of lemon juice, if needed
2 tablespoons butter, optional
Special Equipment Suggested:
An electric blender or a food processor –
the blender does a faster and better job
of puréeing – or a vegetable mill
Preparing the broccoli. Wash the broccoli. Trim an inch or so off the woody ends of each stem, and peel the stems with a knife up to where
the bud branches begin, taking off a scant 1/16 inch of the tough outer
green skin. Cut off the tiny branches and bud ends of the broccoli
flowerettes, and reserve. Cut the remaining stalks into 1/4-inch slices.
Preliminary cooking of the broccoli. Place the sliced broccoli in a saucepan; add 1/2 inch of water and 1/4 teaspoon of salt. Bring to the
boil and boil slowly uncovered 4 to 5 minutes, adding a little more water
if necessary, until the pieces are barely tender and a fine bright green.
Drain through a sieve set over a bowl, and return the cooking liquid to
the saucepan. Purée the steamed broccoli with a cup or so of the soup
base, pouring the purée back into the remaining soup – which will now
be a lovely fresh pale green. Simmer the reserve broccoli buds in the
cooking liquid for 2 to 3 minutes, drain the cooking liquid into another
saucepan, and boil down rapidly to less than 1 cup; pour the liquid into
the soup base. Meanwhile, run cold water over the broccoli buds to set
the color, and reserve for the final decoration.
Ahead-of-time note: To preserve its green color chill the soup uncovered.
Finishing the soup. Shortly before serving, bring the soup to the simmer. Stir in the cream if you are using it. Simmer 2 to 3 minutes uncovered – always watching that it does not scorch! Taste carefully for seasoning,
adding lemon juice if you think it needed. (The broccoli buds: rather
than leaving them as is, you may wish to sauté them briefly in 2 table-
spoons of butter.)
Serving. Pour the soup into a warmed tureen for serving at the table,
or into warmed soup cups or plates. Decorate with the broccoli buds.
Featured Archive Recipes:
In Memory of Julia Child -
First you take a leek...
Julia Child's Soulful Chicken Soup
Michele's Potage d'Hiver


A Tribute to Julia Child
Julia Child, in her own words...
Index - Soup Recipe Archives
Basic Stock Recipes
Daily Recipe Index
Recipe Archives Index
Recipe Search