Coca-Cola
Poster
Buy at AllPosters.com

La Belle Cuisine - More Pork Recipes
Fine Cuisine with Art Infusion
"To cook is to create. And to create well...
is an act of integrity, and faith."
Ham in Coca-Cola

TABASCO brand Chipotle Pepper Sauce.
Great for marinating and grilling.
"Enjoying food, enjoying eating, isn't about graduating with honors
from the Good Taste University... there surely is a place - and in my
heart a very fond one - for a bit of kitsch in the kitchen."
~ Nigella Lawson, in 'Nigella Bites'
---
Recipe of the Day Categories:
Recipe Search
Fruit

Your patronage of our affiliate partners supports this web site.
We thank you! In other words, please shop at LBC Gift Galerie!

Coca Cola Logo

Buy This at Allposters.com

Ham in Coca-Cola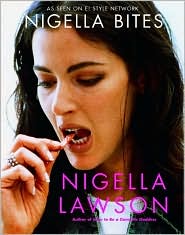 Nigella Bites: From Family
Meals to Elegant Dinners -- Easy,
Delectable Recipes for Any Occasion

by Nigella Lawson, 2002, Hyperion
We have decided not to be offended in the least by the fact that this recipe is included in Chapter Six, entitled "Trashy", of "Nigella Bites". This despite
the fact that we have been bathing our ham in Coca-Cola for decades. And
darned proud of it! As a matter of fact, the ham I baked today was a Coca-
Cola ham. Made sense to kick it up a notch by adding a goodly dousing of
Bacardi Spiced Rum (left over from the Christmas eggnog). The glaze con-
sisted of orange marmalade, Dijon mustard, brown sugar, ginger, and – how
did you guess – another goodly dousing of spiced rum. Mercy, mercy,
mercy… [MG, several years ago]
"This recipe is from my first book, 'How to Eat: The Pleasures and
Principles of Good Food
', with some rejigging (just because it's not
in my nature to leave completely alone), and I don't apologize for
reproducing, or rather recasting, it because I simply cannot urge
you to try this strongly enough.
The first time I made it, it was, to be frank, really just out of amused
interest. I'd heard, and read, about this culinary tradition from the
Deep South, but wasn't expecting it, in all honesty, to be good. The
truth is it's magnificent, and makes converts of anyone who eats it.
But, if you think about it, it's not surprising it should work: the
sweet, spiky drink just infuses it with the spirit of barbecue. I have
to force myself to cook ham any other way now; though often I don't
bother with the glaze but just leave it for longer in the bubbling
Coke instead.
And the salty, sweet liquor it leaves behind in the pot after it's
cooked makes an instant base for the most fabulous black bean
soup. But just one thing before we start: don't even consider using
Diet Coke; it's full-sugar or nothing." [Amen, Sistah Nigella!]
4 1/4- to 4 1/2-pound bone-in ham
1 onion, peeled and cut in half
2-liter bottle of Coca-Cola
for the glaze:
Handful of cloves
1 heaping tablespoon molasses
2 teaspoons English
mustard powder
2 tablespoons Demerara or
granulated brown sugar
If you know that you're dealing with a salty ham, put it in a pan covered
with cold water, bring to the boil, then tip into a colander in the sink and
start from here; otherwise, put the ham in a pan, skin-side down if it fits
like that, add the onion, then pour over the Coke. Bring to the boil, re-
duce to a good simmer, put the lid on, though not tightly, and cook for
just under 2 1/2 hours. If you joint is larger or smaller, work out timing
by reckoning on an hour for every 2 pounds, remembering that it's going
to get a quick blast in the oven later. But do take into account that if the
ham's been in the refrigerator right up to the moment you cook it, you
will have to give it a good 15 minutes or so extra so that the interior is
properly cooked.
Meanwhile, preheat the oven to 500 degrees F.
When the ham's had its time, take it out of the pan (but do not throw away
the cooking liquid) and let cool a little for ease of handling. (Indeed, you
can let it cool completely then finish off the cooking at some later stage if
you want.) Then remove the skin, leaving a thin layer of fat. Score the fat
with a sharp knife to make fairly large diamond shapes, and stud each
diamond with a clove. Then carefully spread the molasses over the bark-
budded skin, taking care not to dislodge the cloves. Gently pat the mustard
and sugar onto the sticky fat. Cook in a foil-lined roasting pan for approxi-
mately 10 minutes or until the glaze is burnished and bubbly. Should you
want to do the braising stage in advance and then let the ham cool, clove
and glaze it and give it 30 – 40 minutes, from room temperature, at 350
degrees F., turning up the heat toward the end if you think it needs it.
|This is seriously fabulous with anything… Serves 8.

Featured Archive Recipes:
Emeril's Spiced Baked Ham
with Sweet Potatoes
Nigella's Ginger Glazed Ham
Mary Margaret's Vicksburg
Stuffed Baked Ham
Marmalade-Glazed Ham with
Pineapple Relish
Monte's Ham (for a crowd)
Tom Fitzmorris's Famous Root-Beer
Glazed Ham


Index - Pork Recipe Archives
Holiday Central!
Daily Recipe Index
Recipe Archives Index
Recipe Search