Recipe of the Day Categories:
Recipe Home
Recipe Search
Fruit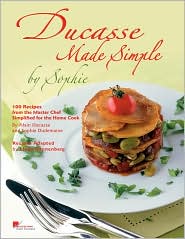 Ducasse Made Simple: 120 Original Recipes from the Master Chef Adapted for the Home Chef

Your patronage of our affiliate partners supports this web site.
We thank you! In other words, please shop at LBC Gift Galerie!

Manarola, Cinque Terre... Lifuria, Italy, Europe
Angelo Cavalli
Buy This at Allposters.com


Pasta From the Italian Riviera
The New York Times, March 13, 2002
By Alain Ducasse, written with Florence Fabricant
"I prefer dry pasta, macaroni, to fresh noodles. One of my favorites is a short
twisted kind called strozzapreti. And I like to cook it the way I learned from
the farm families who have mills for pressing olives for oil in rural Liguria
on the Italian Riviera. They cook pasta like a risotto.
I've been doing it for years now, and I would not cook macaroni any other
way.What happens is this. You do not boil the pasta in water first. Rather,
you start with some of your seasonings, the ingredients that will make up
your sauce, like olive oil, onions, garlic, tomatoes and herbs.
In Liguria, they also use potatoes and even big white beans. They cook the
beans first, of course.
Once these ingredients have started to soften and perhaps taken on a bit of
color, you add the pasta and stir it around. Then you begin adding stock,
about a cup at a time, stirring everything together.
After 15 or 20 minutes your pasta is cooked and is coated with just enough
sauce - richly concentrated, almost creamy and perfectly seasoned. It is a
sauce that has picked up the flavor of the macaroni and blended it with
your other ingredients.
You have taken advantage of the pasta's natural starch, like the starch in
arborio rice when you make risotto.
You have to use a high-quality hard-wheat pasta, a pasta made with old-
fashioned bronze dies. It's usually labeled "artisanal." That kind of pasta
has the best flavor and also a rougher texture, so it can grab the sauce. You
couldn't cook spaghetti this way, but almost any short-cut pasta, penne, for example, or gemelli or fusilli, would work.
I've served this pasta at my restaurant in Monte Carlo. But it is really a
modest dish, one that I would make at home and one that the housewives
in Liguria serve as the mainstay of a meal. These women are the keepers
of the best Italian cooking. A preparation like this also illustrates the
deep connection to the actual process and pleasure of preparing food,
something that is essential to me.
You're not just standing there waiting for a big pot of water to boil, and
then waiting for the macaroni to cook, and then applying a sauce. You
are participating every step of the way, stirring, seasoning, reducing the
liquid, enjoying the warmth and aromas around you, trusting your palate
and then sharing what you have prepared with others. It's what I adore
about cooking."

Olive Mill Pasta
Time: 45 minutes
Yield: 4 servings
1/2 cup extra virgin olive oil
4 tablespoons butter
2 medium-small onions, minced
1/4 pound fingerling potatoes, peeled
and sliced 1/4-inch thick
5 1/2 cups, approximately, vegetable
or light chicken stock
14 ounces artisanal strozzapreti pasta
Salt and freshly ground black pepper
2 medium-size ripe tomatoes, peeled,
seeded, juiced and diced, or
2/3 cup diced sun-dried tomatoes, not oil-cured,
covered with boiling water and drained
1 garlic clove, peeled and crushed
8 branches fresh basil or arugula,
leaves removed and slivered,
stems lightly crushed
1 bunch scallions, trimmed, slant-cut
in 1-inch pieces
3 ounces freshly grated Parmigiano-Reggiano
cheese, about 1 cup
1. Heat 1/4 cup oil in a 10-inch sauté pan. Add butter. When it melts,
add onions and potatoes. Cook, stirring gently, over medium heat
until they begin to turn golden.
2. In a small saucepan, bring stock to a slow simmer.
3. Add pasta to sauté pan, and stir gently. Lightly season with salt and pepper, and add tomatoes, garlic and basil or arugula stems. Add
1 1/2 cups stock. Cook, stirring gently, until nearly all stock has
evaporated. Add scallions and another cup of stock, and cook,
stirring, adding additional stock from time to time, so there is
always some liquid in the pan, until pasta is al dente, about 18
minutes. Remove garlic and herb stems.
4. Fold in cheese and all but 1 tablespoon remaining oil. Add slivered
herbs. Season with additional salt and pepper if needed. Transfer
to warm soup plates, taking care that the ingredients are well
distributed. Drizzle remaining oil over each and serve.
Copyright 2002 The New York Times Company

Featured Archive Recipes:
Marcella Hazan - Matching Pasta
to Sauce - 3 recipes!
Rao's Pappardelle with Hot Sausage Sauce
Maccheroncini Campolattaro Le Sirenuse

Index - Pasta Recipe Archives
Daily Recipe Index
Recipe Archives Index
Recipe Search