Your patronage of our affiliate partners supports this web site.
We thank you! In other words, please shop at LBC Gift Galerie!

Still Life with Basket, 1888-90
Paul Cézanne
Buy This at Allposters.com


Pears Poached in Mint Tea with
Dark Chocolate Sauce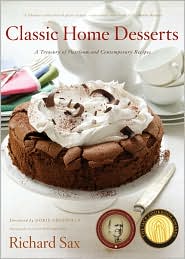 Classic Home Desserts:
A Treasury of Heirloom and
Contemporary Recipes

by Richard Sax, introduction by Dorie Greenspan
November 2010, Houghton Mifflin Harcourt
(winner of both a James Beard Award
and a Julia Child Award!)

"The simplest of desserts, with the surprising hint of fresh mint. The idea is
from restaurant consultant and author Rozanne Gold. The pears can be
served in just a little of their syrup or napped with chocolate sauce."
Serves 8
2 quarts water
6 mint tea bags or 2 tablespoons loose mint tea
3 tablespoons honey
4 fresh mint sprigs, torn
6 quarter-size slices peeled fresh ginger,
smashed with the side of a knife
1 lemon, halved
8 firm-ripe pears: Bartlett, Anjou or Bosc
Schrafft's Hot Fudge Sauce (recipe follows)
Fresh mint sprigs, for garnish
1. Bring the water to a boil in a wide saucepan or casserole. When it
comes to a full boil, turn off the heat and add the tea, honey, mint
and ginger. Add the 1/2 lemon to the water. Let the tea steep for
5 minutes.
2. Peel the pears, rubbing them with the cut side of the other 1/2 lemon
as you peel them. Halve them lengthwise and core them, leaving the
stems on. Slip the pear halves into the tea; cover with a round of
parchment paper or wax paper. Bring the tea nearly to a boil. Reduce
the heat to low and gently simmer until the pears are just tender but
not mushy (the timing varies according to the ripeness of the pears; it
can range from 5 to 18 minutes). Let the pears cool in the cooking
liquid. Refrigerate if not serving immediately.
3. The pears should be served at cool room temperature. With a slotted spoon, place 2 pear halves beside one another on each serving plate,
the stem end of one next to the rounded bottom of the other. Pour
3 or 4 tablespoons of chocolate sauce over the pears, garnish with
mint sprigs and serve.
Schrafft's Hot Fudge Sauce
"This recipe has been adapted slightly from Schrafft's original for the home
kitchen. Combining both melted chocolate and cocoa results in complex
flavor: Use only the best of both here (Swiss Lindt or Tobler, French
Valrhona and Belgian Callebaut are all excellent chocolates; Droste,
Valrhona and Williams-Sonoma's Pernigotti cocoa are also good). This
sauce has the full body and consistency of true hot fudge, firming up
slightly as it hits the cold ice cream [or fruit]."
Makes about 2 cups
1/4 cup unsweetened cocoa powder
1/2 cup sugar
Pinch salt
1/2 cup whole milk
1 cup heavy cream
1 cup light corn syrup
3 ounces best-quality semisweet chocolate,
finely chopped
Few drops of malt vinegar or cider vinegar
2 tablespoons unsalted butter, thinly sliced
1 teaspoon pure vanilla extract
1. In a heavy saucepan, whisk together the cocoa, sugar, salt and milk
until the mixture forms a smooth paste. Place over medium heat and
stir in the cream, corn syrup, 2/3 of the chocolate, and the vinegar.
Bring the mixture to a boil, whisking or stirring frequently. Boil,
whisking frequently, until the sauce reaches 220 to 225 degrees F
on a candy thermometer, about 8 minutes.
2. Remove from the heat; whisk in the butter, vanilla, and the remaining chocolate until the sauce is smooth. Set aside for a few minutes before serving.
3. Store the sauce in the refrigerator in a tightly covered jar or container. Rewarm before serving, either by spooning a little into a small skillet
or by heating the entire jar, uncovered, in a microwave oven. You
can also place the jar in a saucepan of cold water and bring it slowly
to a bare simmer. This sauce keeps well, refrigerated, for 3 weeks
or longer.

Featured Archive Recipes:
Peaches or Pears Poached in Pepper and
Bay Leaf-Scented Wine
Poached Pears in Red Wine Sauce
Poires Maxim's
Port and Honey Poached Pears with
Lemon Curd Mousse
Roasted Pears with White Chocolate Zabaione


Index - Fruit Recipe Archives
Index - Chocolate Recipe Archives
Index - Miscellaneous Dessert Recipes
Holiday Central!
Daily Recipe Index
Recipe Archives Index
Recipe Search