Pears and Varieties of Apples in a Bowl at the Tilth Festival in Seattle
Photographic Print
Abell, Sam
Buy at AllPosters.com

La Belle Cuisine - More Fruit Recipes
Fine Cuisine with Art Infusion
"To cook is to create. And to create well...
is an act of integrity, and faith,"
Gingered Confit of Apples and Pears
"The value of those wild fruits is not in the mere possession
or eating of them, but in the sight and enjoyment of them."
~ Henry David Thoreau
---
Recipe of the Day Categories:
Recipe Home
Recipe Search
Appetizers
Beef
Beverage
Bread
Breakfast
Cake
Chocolate
Fruit
Main Dish
Pasta
Pies
Pork
Poultry
Salad
Seafood
Side Dish
Soup

Poire I
Giclee Print
Gillette, Susan
Buy at AllPosters.com


Your patronage of our affiliate partners supports this web site.
We thank you! In other words, please shop at LBC Gift Galerie!

Apples and Pears
Art Print
Cezanne, Paul
Buy at AllPosters.com


Gingered Confit of Apples and Pears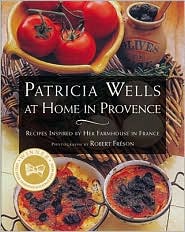 Patricia Wells at Home
in Provence: Recipes Inspired
by Her Farmhouse in France

By Patricia Wells, 1996, Scribner
"I have always had a fascination for espaliered fruit trees. So once we began expanding the orchard at Chanteduc, I added a trio of espaliered pear trees,
each shaped into a compact, well-trained W. The three French varieties –
Comice, Poire William's, and Beurre Hardy – ripen at different times and
in good years provide plenty of fruit for the table and for cooking. One of
my preferred ways to use them is in this old-fashioned confit, a golden
dessert of soft pears and apples bathed in a thick, transparent syrup. It's
great served warm with a dollop of cream or at room temperature as a
sweet end to a meal. The cooking procedure is typical of all confits: The
juices of the fruits are first released, then gradually reabsorbed by the
fruit, which plump up during the long, slow cooking process."
1 1/3 cups (230 g) sugar
Grated zest (yellow peel) of 2 lemons,
blanched and refreshed
Grated zest (orange peel) of 2 oranges,
blanched and refreshed
1 pound (500 g) cooking pears,
preferably a range of varieties
5 pounds (2.5 kg) cooking apples,
preferably a range of varieties
A walnut-size knob of ginger and 10 cloves
wrapped in a cheesecloth bag
1 teaspoon pure vanilla extract
3 tablespoons Poire William's
(pear eau-de-vie)
1. Place the sugar, lemon zest, and orange zest in a large shallow bowl.
Peel, quarter, and core the fruit, adding each piece of fruit to the mix-
ture in the bowl as it is prepared. With your fingers, toss to coat the
fruit evenly with the sugar mixture.
2. Transfer the coated fruits, sugar and zest to a large, heavy-bottomed saucepan. Cook over the lowest heat possible until the sugar is dis-
solved to a clear liquid, about 20 minutes. Stir from time to time. Add
the cheesecloth bag with ginger and cloves. Cook, uncovered, over
the lowest heat possible until the liquid is very thick and syrupy, but
the fruit still holds its form, about 3 hours. (The fruit will first release
a great deal of liquid. The long, slow cooking process is necessary
to permit the juices to reduce, intensify, and thicken.) Stir from time
to time and keep the heat low to avoid scorching the fruit. Remove
and discard the cheesecloth. Stir in the vanilla extract and pear eau-
de-vie. Serve warm, with a touch a fresh cream. (The compote may
be stored up to 1 month, covered and refrigerated.)
Ten to twelve servings
On apples and pears: Once you come to know the different varieties of
apples and pears, you will have a sense of how they behave when cooked.
Golden Delicious, Granny Smith and Northern Spy are firm-fleshed
varieties that offer intense apple flavor and a pleasant tang. They also
hold their shape when cooked. McIntosh tend to fall apart, but a few
can be tossed into a mixture of firm-fleshed varieties to add dimension
to the flavor.
For pears, the Bartlett and Bosc are the most versatile. They not only
hold their shape during cooking, they impart a distinct flavor. The
Anjou, though less firm, provides plenty of sweet juice for pies
and tarts.

Featured Archive Recipes:
All Hail the Almighty Apple
A Profusion of Pears
Champagne Zabaglione with
Fresh Fruit Compote
Three Pear Condiments:
Fiery East Indian Pear Chutney
Cooling Pear and Yogurt Chutney
with Mint
Three-Peppercorn Pear Vinegar

Index - Fruit Recipe Archives
Index - Miscellaneous Dessert Recipes
Daily Recipe Index
Recipe Archives Index
Recipe Search