Your patronage of our affiliate partners supports this web site.
We thank you! In other words, please shop at LBC Gift Galerie!

Holstein Cow in Barn with Christmas Wreath, WI
Photographic Print
Stone, Lynn M.
Buy at AllPosters.com


Cream Cheese Squares
A very quick, easy recipe, but absolutely delicious. It has been
a family favorite ever since it was introduced to me by my dear
friend and former co-worker, Ellen Ford (in the 70s!!!)
1 box yellow cake mix (such as Duncan Hines)
1 egg, beaten
1 stick (1/2 cup) butter, melted
Chopped pecans, as many as you like!
8 ounces cream cheese, softened
2 eggs
1 teaspoon vanilla
1 pound powdered sugar
Mix together cake mix, 1 egg and melted butter (pastry blender works
well to mix this). Gently pat the mixture into a 9- x 13-inch cake pan.
Sprinkle chopped pecans on top of the dough.
Finally, combine cream cheese with 2 eggs and vanilla. Blend mixture
until it is smooth. Mix in powdered sugar. Pour this mixture over the
pecan-topped dough in baking pan. Bake 40 to 50 minutes at 350
degrees F. Cool in pan on rack. Refrigerate and cut into squares
when ready to serve.
Variation:
(Lemon Cheese Squares) Combine lemon cake mix (18.5-ounce box),
egg, butter, and 2 cups (or more) chopped toasted pecans in medium
bowl and mix to blend; pat into pan and bake as above. Beat 2 cups
confectioner's sugar, 8 ounces cream cheese and 1/4 cup sour cream
in large bowl to blend. Mix in 2 eggs, 1 tablespoon grated lemon zest
and 1 teaspoon vanilla extract. Spread cheese mixture evenly over
crust. Bake until cheese topping sets, about 30 minutes. Cool in pan
on rack. Refrigerate until very cold, at least 3 hours. Cut into squares
and serve.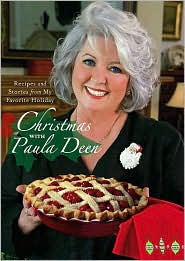 Christmas with Paula Deen:
Recipes and Stories from
My Favorite Holiday

Index - Cookie Recipe Archives
HolidayCentral!
Index - Favorite Recipes Archives
Daily Recipe Index
Recipe Archives Index
Recipe Search