Your patronage of our affiliate partners supports this web site.
We thank you! In other words, please shop at LBC Gift Galerie!

Fruit and Vegetable Market, Aix-En-Provence, Bouches-Du-Rhone, Provence, France
Peter Richardson
Buy This at Allposters.com


JR's Gratin Dauphinois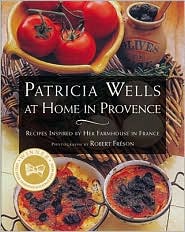 Patricia Wells at Home
in Provence: Recipes
Inspired by Her Farmhouse
in France

by Patricia Wells, 1996, Scribner
"Chef JoŽl Robuchon is one of the greatest cooks I know,
and his version of any dish is sure to cause diners to exult.
Not one to ever stint on butter or cream, he embellished his
potato gratin with plenty of both. Robuchon also cooks his
potatoes in the creamy mixture fist, making for a gratin
that is ultimately rich and unctuous."
Four to six servings
Equipment:
One shallow 2-quart (2-l) gratin dish
2 cups (50 cl) whole milk
1 cup (25 cl) heavy cream
4 ounces (125 g) freshly grated
Swiss GruyŤre cheese
Sea salt and freshly ground
black pepper to taste
Freshly grated nutmeg to taste
1 plump, fresh garlic clove,
peeled and halved
2 pounds (1 kg) firm-fleshed potatoes,
peeled and sliced very thin
3 tablespoons (1 1/2 ounces; 45 g)
unsalted butter

1. Preheat the oven to 375 degrees F. (190 degrees C; gas mark 4/5)
2. In a large saucepan, bring the milk to a boil over moderate heat. Add
the cream and 3/4 of the cheese. Stir to blend. Season with salt, pepper
and a grating of nutmeg. Add the potatoes and mix well with a wooden spoon. Cook over low heat, stirring from time to time, until the potatoes
are soft, about 20 minutes. Taste for seasoning.
3. Thoroughly rub the inside of the baking dish with garlic. Transfer the potatoes and their liquid to the baking dish. Sprinkle with the remaining cheese and the butter.
4. Place in the center of the oven and bake until the potatoes are cooked through and the top is crisp and golden, about 1 hour and 15 minutes.
Serve immediately.

Featured Archive Recipes:
Potato Gratin Forestier (Daniel Boulud)
Potato Gratin with Mustard and Cheddar Cheese
Potato, Leek, Gruyere and Oyster Mushroom Gratin
The "Upper Crust" Potato Gratin
Gratin Savoyard


Index - Side Dish Recipe Archives
Classic French Recipe Index
Holiday Central!
Daily Recipe Index
Recipe Archives Index
Recipe Search