Your patronage of our affiliate partners supports this web site.
We thank you! In other words, please shop at LBC Gift Galerie!

Heritage, Still Life with Peaches
Art Print
Fantin-Latour,...
Buy at AllPosters.com

Les pêches ou poires au vin de poivre
et de laurier
(Peaches or Pears Poached in Pepper and
Bay Leaf-Scented Wine)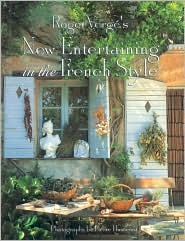 Roger Vergé's
New Entertaining
in the French Style

by Roger Vergé, 1997, Stewart, Tabori & Chang
"The wine and Port give white pears a beautiful brilliant
purple color and a complex fragrance."
Preparation: 25 minutes
Cooking: 20 minutes
Ease: Easy
Cost: Moderate
Yield: 6 servings
Ingredients:
2 cups (500 ml) red Port

3 cups (750 ml) red wine

2 teaspoons black peppercorns
Peel of 1 lemon
1 vanilla bean
5 bay leaves
5 tablespoons flower honey
12 vine peaches or 12 Williams pears
Shopping: Choose a wine rich in tannins and with a deep color, for
instance a young Bordeaux, or other wine from the Southwest [of
France], such as young Cahors.
It is preferable to use fresh rather than dry bay leaves. They release
a stronger, cleaner aroma, and do not crack as easily during cooking,
so are more attractive when served.
Vine peaches are not easily available, and can be replaced with very
fragrant medium white peaches.
At least 2 hours ahead: Pour the port and wine into a large saucepan.
Put the peppercorns into a square of cheesecloth, gather the ends, and
tie them to form a sachet. Put sachet in the wine along with the lemon
peel, vanilla bean, and bay leaves. Bring to a boil. Remove from heat,
add honey, and cover.
Put the peaches in a saucepan of boiling water for 2 minutes, then
immediately submerge them in cold water and peel. (If you have
chosen to make pears, peel them, keeping the stems attached.)
Just after peeling, put the fruit in the still-hot wine, and cook over
high heat. At first boil, lower the heat and simmer for 10 minutes.
Take the pan off the heat, cover, and set aside to cool.
Squeeze the liquid from the peppercorn sachet into the wine and
stir to blend. Discard the sachet. Put the fruit and its cooking liquid
in a bowl. Retrieve the bay leaves and stick tem on top of the
peaches or pears as though they were leaves. To decorate the
peaches, cut the vanilla bean into 12 sections and stick the
pieces into the tops of the peaches as though they were stems.
Store the fruits in a cool area, but not in the refrigerator. The
flavor of the pepper combined with the port will give a
refreshing enough impression.

Featured Archive Recipes:
Perfectly Peachy
A Profusion of Pears
Recipes from the Heart of
Francs (Roger Verge)


Index - Fruit Recipe Archives
Index - Miscellaneous Dessert Recipes
Daily Recipe Index
Recipe Archives Index
Recipe Search