Your patronage of our affiliate partners supports this web site.
We thank you! In other words, please shop at LBC Gift Galerie!

Mount Vernon and Peace
Jean Leon Gerome...
Buy This at Allposters.com


Believe you me, it did not escape my notice that the recipe to follow
appears in the chapter entitled "Why Dying Down South Is More Fun".
Amen, Brother Pat!
Perhaps you are wondering when I am going to get off this death kick
I've been on of late. What can I say? I tell it like it is. I sensed death
approaching. It came. It must be accepted, and perhaps even embraced.
Would that I had the time, space, and other precious resources to treat
you to the entire chapter referenced above. The introduction is, to me,
entirely as delicious as the recipes themselves. I've always considered
Pat Conroy a poet disguising himself as a novelist. His words never fail
to touch me profoundly.
And speaking of precious resources, if only I were Oprah, I would see to
it that every single one of you would open your snail-mail box in several
days to find a copy of this extraordinary cookbook/memoir awaiting you.
Alas, I must trust you to procure your own. At the very least, perhaps I
can whet your appetite...

George Washington's Punch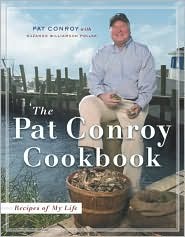 Pat Conroy Cookbook:
Recipes of My Life

by Pat Conroy with Suzanne Williamson Pollak
Copyright © Pat Conroy 2004
(Nan A. Talese/Doubleday)
Serves a Crowd
"Southern grief at a funeral of a loved one often gets mollified by the
scrumptious feast that follows the ceremony. In the South, you often
eat as well after the burial of a family member or friend as you do on
Thanksgiving Day or Christmas [which is why I choose to present
this recipe during the Christmas Holiday Season]. It is the custom
of the place for friends to bring a dish of delicious food to the home
of the deceased – it is one of the binding social conventions that
still survive in even the most estranged and disconnected enclaves
of the South."
"This recipe came to us from the Reverend William Ralston. It was
actually the Mount Vernon Christmas punch he got from Martha
Washington Jackson, which she had from her aunt, Mrs. George A.
Washington (Queenie Woods, who lived at Sewanee). [Don't you just
LOVE the South?!?!?] They were both part of the collateral
Washington family.
Father Ralston told me that he feels that the special thing about this
punch is the way all those alcohols mix and blend. 'It is as smooth as
velvet,' he said. 'It also does not leave you feeling "punchy" the next
day, although you certainly can drink too much of it. It also makes the
base for the world's best old-fashioned – add soda water and an orange
slice. Divine!' "
1 quart strong brewed English Breakfast
tea, sweetened
1 gallon good-quality bourbon
1 gallon Sherry
1 quart sweet vermouth
1 pint best-quality Jamaican rum
1 pint yellow or green Chartreuse
(I prefer green)
4 bottles Champagne, or more to taste
12 lemons, each cut into 4 wedges
1 quart maraschino cherries, without
stems but with their juice
Combine the first six ingredients. When it is time to serve the punch,
add Champagne – as much as you wish. Add lemon wedges and
cherries to the punch and serve. (The punch is much improved if
allowed to stand at least one week before serving.)
An ice ring (made in a Bundt pan filled halfway with water and the
cherries) looks good and helps keep the punch cold when serving.

Featured Archive Recipes:
Punch Collection
Cider Wassail Bowl
Eggnog Collection
Hot Buttered Rum Collection
Holiday Drink Collection
Holiday Spiced Wine Collection
New Year's Champagne Collection

Index - Beverage Recipe Archives
Holiday Central!
Party Central!
Daily Recipe Index
Recipe Archives Index
Recipe Search