Recipe of the Day Categories:
Recipe Home
Recipe Search
Appetizers
Beef
Beverage
Bread
Breakfast
Cake
Chocolate
Fruit
Main Dish
Pasta
Pies
Pork
Poultry
Salad
Seafood
Side Dish
Soup

Oia, Santorini, Cyclades, Greek Islands, Greece, Europe
Photographic Print
Sakis,...
Buy at AllPosters.com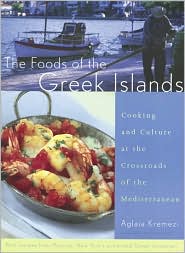 The Foods of the
Greek Islands:
Cooking and
Culture at the
Crossroads of the
Mediterranean

Oia, Santorini, Cyclades
Islands, Greece
Photographic Print
, Panoramic...
Buy at AllPosters.com


Your patronage of our affiliate partners supports this web site.
We thank you! In other words, please shop at LBC Gift Galerie!

Santorini, Oia, Cyclades Islands, Greece
Photographic Print
Vidler, Steve
Buy at AllPosters.com


Mezéthes... (Greek Appetizers) Part 2
Recipes from a Greek Island
©1991 Susie Jacobs, Simon & Schuster
"Imagine you are meandering through the lanes and alleys of an island fishing village. The moon reflects on the whitewashed walls and the town glows in the
dark. Windows and doors are open to let in the night air. As you pass along you
hear heated discussions and snoring, laughter, televisions, of course, and music
in the near distance. 'Páme miá vólta sto fengári…' 'Let's go for a walk to the
moon…' is an old tune sung on countless balmy nights like this, around
countless tables in countless tavernas, gardens, and cafés.
Across a clearing, under a couple of eucalyptus trees, is a table of singers and
one rapt guitar player. They motion you to join them and pull up another
chair. On the table there are jugs of Retsina and plates placed haphazardly
to be shared among everyone. There are shiny, wrinkled olives, pungent
pickled eggplant, and salads of sun-ripened tomatoes, crisp cucumbers, and
onions. There are fried cheeses, smelts or pilchards, meatballs, and grilled
sausages – all with plenty of lemon wedges to squeeze over them. There is
a plate of sliced lambs' tongues and a plate of sliced pink and white octopus,
both in vinegar, oil, and herbs. It is a simple feast of simple food to be enjoyed
along with the night, the music, and the company – an informal communion
under the stars,
These 'mezéthes', or 'little bits', are a national Greek institution. They can be anything from a handful of olives offered in the middle of a field to a grand
table spread lavishly as the prelude to a feast. Greek hospitality does not
allow for anyone to enter a home without having just a 'little bit', whatever
the time. Whether you call in the afternoon, or later in the evening when
you may already have eaten dinner, you will be offered a little something.
Nor would a Greek drink any sort of alcohol without some accompaniment,
and oúzo invariably means 'mezéthes' to nibble alongside it, whether in the
home, an ouzerié, or taverna.
The word 'meze' is Turkish, but the idea dates back at least as far as the 3rd
century BC, when Lynceus characterized it,
'…for the cook sets before you a large plate on which are five small plates. One holds garlic, another a pair of sea urchins, another a sweet wine sop, another
ten cockles, the last a small piece of sturgeon. While I am eating this, another
is eating that; and while he is eating that, I have made away with this. What I
want, good sir, is both the one and the other, but my wish is impossible. For I
have neither five mouths nor five right hands…'
Poor Lynceus seems to have had the wrong idea, as it has never been in the
Greek spirit to glut oneself."
Baked Olives
(Eliés Sto Foúrno)
"If you don't want to wait for wonderful, marinated olives that appear
from the recesses of well-organized pantries, these baked olives should
delight you, hot or cold. Originally the dish of olives would have been
placed by the side of a fire to heat and macerate."
Makes 1 pound
1 pound Greek olives, any variety;
they can even be mixed
2 cups red wine
4 garlic cloves, sliced
2 bay leaves
4 strips of thinly pared lemon zest,
each about 2 inches long
1 teaspoon dried mountain thyme
3 tablespoons mastíha liquor or oúzo
6 twists of the peppermill
Combine all the ingredients in a casserole and bake, covered, in an
oven preheated to 350 degrees F for 30 minutes.
Spinach Parcels with Fish Pilaf
(Psarospanakodolmathákia)
"This dish was inspired by time, place, and leftovers. The time is the eve of the twenty-first century when many dishes are being rediscovered, resynthesized,
and reinvented. The place is the Greek islands, where the simplicity of life
in a sparse landscape mixes gracefully with a little oriental refinement…
Steamed fish, canned salmon, or luxurious smoked salmon are all good in
these parcels. Serve them hot with egg and lemon sauce (recipe follows) as a
first course for six or lunch for four, or plain and cold as an excellent hors
d'oeuvre. If you cook the dish in the early months of the year, use the juice of
Seville (bitter) oranges, and substitute orange juice for lemon in the egg and
lemon sauce."
Makes about 24
24 or more large, unblemished spinach leaves,
washed and thick stems removed
1 medium-sized leek, cleaned and
white finely chopped
1/4 cup fruity olive oil
2/3 cup long-grain rice
1/2 pound (1 cup) leftover cooked fish, or
drained canned (or smoked) salmon
1/4 pound mizíthra cheese, or ricotta or
cottage cheese (about 1/2 cup)
1/2 cup finely chopped flat-leaf parsley
1/2 cup finely chopped fresh dill
1/4 cup finely chopped scallions,
white and light green
Salt and freshly ground black pepper
2 Seville (bitter) oranges, or
1 lemon and 1 sweet orange
Drop the spinach leaves into boiling water, a few at a time, and blanch
for about 1 minute – just long enough to make them pliable for rolling.
Remove them with a slotted spoon or chopsticks and transfer to cold
water. Drain them, then lay them out flat.
In a heavy skillet fry the chopped leek in 3 tablespoons olive oil, over
low heat, until it becomes translucent. Sprinkle in the rice and sauté until
it, too, becomes translucent. Stir in 1/2 to 3/4 cup of water, adding about
1/4 cup at a time. Let this become absorbed before you pour in more.
When the rice is almost – but not quite – done remove it from the heat.
Toss the rice with the fish, cheese, herbs, scallions and seasoning.
Lay out one spinach leaf flat and place a spoonful of the rice mixture at
the widest part of the leaf. Loosely roll it up, folding the sides over the
middle after the first turn. You should have made a net little package,
with just enough room for the rice to expand a little. Repeat until all the
filling is used.
Lay extra blanched spinach leaves in the bottom of an ovenproof ceramic
or other baking dish, with a few thinly-pared strips of orange (and lemon) zest. Pack in your dolmathákia in a single layer, so they are touching one another. Drizzle them with the remaining tablespoon of olive oil. Squeeze
the juice of the oranges (and lemon if using) and heat through. Pour this
over the dolmathákia. If the juice does not come nearly to the top, then
make up the difference with hot water.
Cover the dish tightly and cook in an oven preheated to 350 degrees F
for about 25 to 30 minutes. Serve hot with egg and lemon sauce or cold without it.

Egg and Lemon Sauce
3 large eggs, separated
Grated zest of 1 lemon, juice of 3
1 teaspoon cornstarch
1 1/2 cups hot broth or herb broth
[or your favorite stock]
1 tablespoon finely chopped parsley
1 tablespoon finely chopped dill
1/2 teaspoon finely chopped mint
In a saucepan or the top of a double boiler, beat the egg yolks with the
lemon zest and juice and the cornstarch. Over low heat, slowly add the
hot broth [or stock] by the spoonful, and continue cooking over low
heat, until you have a rich sauce.
Beat the egg whites in a separate bowl until soft peaks form. Fold these
into the sauce and stir until hot.
Featured Archive Recipes:
Mezéthes Part 1
Mezéthes Part 3
Baba Ghannouj
Cucumber Yogurt Dip ("Tzatziki")
Herbed Olives (Anne Willan)
Hummus
Roasted-Vegetable and Goat-
Cheese Terrine
Two Goat Cheese Appetizers


Index - Appetizer Recipe Archives
Daily Recipe Index
Recipe Archives Index
Recipe Search