Recipe of the Day Categories:
Recipe Search
Fruit

View of a Christmas
Tree Through Window
Photographic Print
Nowitz, Richard
Buy at AllPosters.com


Christmas Eve
Giclee Print
Dore, Gustave
Buy at AllPosters.com


Bien Fait Fruitcakes,
Greensboro, VT
Photographic Print
Clineff, Kindra
Buy at AllPosters.com

La Belle Cuisine recommends:

Your patronage of our affiliate partners supports this web site.
We thank you! In other words, please shop at LBC Gift Galerie!

as Fair at Night, Nurnberg, Germany
David Ball
Buy This at Allposters.com



from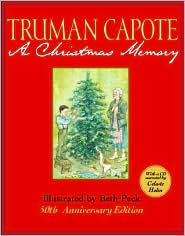 A Christmas Memory

by Truman Capote
"Imagine a morning in late November. A coming of winter morning more than twenty years ago. Consider the kitchen of a spreading old house in a country
town. A great black stove is its main feature; but there is also a big round table
and a fireplace with two rocking chairs placed in front of it. Just today the fire-
place commenced its seasonal roar.
"A woman with shorn white hair is standing at the kitchen window. She is wearing tennis shoes and a shapeless gray sweater over a summery calico dress. She is small and sprightly, like a bantam hen; but, due to a long youthful illness, her shoulders are pitifully hunched. Her face is remarkable – not unlike Lincoln's, craggy like that, and tinted by sun and wind; but it is delicate too, finely boned,
and her eyes are sherry-colored and timid. 'Oh my,' she exclaims, her breath
smoking the windowpane, 'it's fruitcake weather!'
"…'I knew it before I got out of bed,' she says, turning away from the window
with a purposeful excitement in her eyes. 'The courthouse bell sounded so cold
and clear. And there were no birds singing; they've gone to warmer country,
yes indeed. Oh, Buddy, stop stuffing biscuit and fetch our buggy. Help me find
my hat. We've thirty cakes to bake.'
"…Tomorrow the kind of work I like best begins: buying. Cherries and citron, ginger and vanilla and canned Hawaiian pineapple, rinds and raisins and walnuts
and whiskey and oh, so much flour, butter, so many eggs, spices, flavorings;
why, we'll need a pony to pull the buggy home.
"…The black stove, stoked with coal and firewood, glows like a lighted pumpkin. Eggbeaters whirl, spoons spin round in bowls of butter and sugar, vanilla
sweetens the air, ginger spices it; melting nose-tingling odors saturate the
kitchen, suffuse the house, drift out to the world on puffs of chimney smoke.
In four days our work is done. Thirty-one cakes, dampened with whiskey,
bask on window sills and shelves."
If reading this excerpt from "A Christmas Memory" doesn't inspire you to
start making fruitcake preparations, chances are nothing will!
Following is a recipe for fruitcake which my dad and I "developed" over the
years. I probably enjoy the anticipation and preparation as much as the cake
itself, since it's a very important part of our family tradition, even though my
dad is no longer with us on this earth. This is basically a pound cake with
fruits and nuts added. It always receives raves and recipe requests (even from
so-called fruitcake haters).

Michele's Fruitcake
1 cup red candied cherries
1 cup green candied cherries
1 cup red candied pineapple
1 cup green candied pineapple
2 cups mixed candied fruit
4 cups pecans, chopped
4 cups flour
1 pound butter, softened
1 1/2 cups sugar
6 large eggs
1/2 teaspoons salt
1 teaspoon pure vanilla extract
1 teaspoon freshly grated nutmeg
1 teaspoon ground cinnamon
1/2 teaspoon ground allspice
2 teaspoons baking powder
1 cup Grand Marnier
1/2 cup bourbon or rum, plus additional
for "soaking"
Additional fruit, nuts and light corn syrup
to decorate, if desired
Line a 10-inch tube pan with parchment paper or greased wax paper,
smoothing out the wrinkles.
Reserve 10 green cherries and 10 red cherries for garnish. Cut each
remaining cherry in half. In a large bowl place the cherries, pineapple,
mixed fruit and pecans. Cover mixture with Grand Marnier and let
stand overnight to macerate. Stir in 2 cups flour until fruit and nuts
are evenly coated.
Preheat oven to 300 degrees F.
In large mixer bowl cream butter and sugar until light and fluffy. Add
the eggs, one at a time, beating well after each addition. Sift remaining
2 cups flour with salt and spices. Add this to butter mixture alternately
with bourbon or rum, mixing until combined. Stir the batter into the fruitt
and nut mixture until combined well. Spoon the batter into prepared pan.
Pack the batter down evenly to eliminate air pockets. Add a decorative pattern of candied fruit and pecan halves as desired. Bake cake 2 1/2
hours or until toothpick inserted in center of cake comes out clean.
Cool cake in pan on a wire rack.
Remove cake from pan and peel off foil or waxed paper. Cool the cake completely on wire rack. Wrap the fruitcake in cheesecloth which has
been soaked in bourbon or rum. Store in an airtight container, continuing
to moisten with rum or bourbon periodically, if desired.
This is the fruitcake we'll be savoring this year...
Creole Christmas Fruitcake
with Whiskey Sauce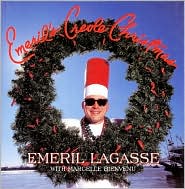 Emeril's Creole Christmas

by Emeril Lagasse with Marcelle Bienvenu,
1997, William Morrow and Company, Inc. Organize the ingredients so that everything you need
will be at hand when you begin.

Use a fresh clove of nutmeg if possible. The essence that
is released when it is grated intensifies the flavor.

Remember to zest the lemons over the pot so the lemon
oil that is released permeates it.

For gift-giving, wrap each loaf in festive cellophane and tie
it up with a bow or pack in holiday loaf tins. The whiskey
sauce can be put into small jars and refrigerated for up to
24 hours. The sauce should be reheated at serving time.
For the Simple Syrup
2 cups granulated sugar
2 cups water
Strips of zest of 2 lemons
(about 3 tablespoons)
Juice of 2 lemons (about 1/4 cup)

For the Cake
1 pound of a combination of dried fruits, such as:
blueberries, cranberries, cherries, raisins, and
chopped apricots
1 pound (4 sticks) unsalted butter,
at room temperature
2 1/4 cups granulated sugar
4 ounces almond paste
8 large eggs
1 cup Grand Marnier or other
orange-flavored liqueur
4 cups bleached all-purpose flour
2 teaspoons baking powder
1/4 teaspoon salt
1/4 teaspoon ground cinnamon
1/8 teaspoon freshly grated nutmeg
1 cup slivered blanched almonds
1 cup pecan pieces
1 cup walnut pieces
1/2 cup bourbon

Make the simple syrup by combining the sugar and water in a medium
-size heavy-bottomed saucepan over medium-high heat. Add the lemon
zest and juice and bring to a boil, stirring to dissolve the sugar. Boil for
2 minutes and remove from the heat.
Combine the dried fruits together in a large mixing bowl. Pour the simple syrup over them, toss to coat, and let steep for 5 minutes. Strain and
reserve the syrup.
Cream the butter, sugar, and almond paste together in the bowl of an
electric mixer fitted with a paddle at low speed, occasionally scraping
down the sides of the bowl. Beat until mixture is fluffy and smooth,
about 2 minutes. Add the eggs one at a time, mixing in between each
addition on low speed and scraping down the sides of the bowl as
necessary. Add 1/2 cup of the Grand Marnier and mix to incorporate.
Combine the flour, baking powder, salt, cinnamon, and nutmeg in a
medium-size mixing bowl and blend well. Add this mixture 1/2 cup
at a time to the butter mixture with the mixer on low speed, each time
mixing until smooth, about 2 minutes. Scrape down the sides of the
bowl as necessary. The batter will be thick.
Add the warm fruit and all the nuts a little at a time, mixing well. Scrape down the sides of the bowl and the paddle.
Preheat the oven to 350 degrees F.
Lightly grease twelve 1-pound loaf pans. Spoon about 1 cup of the batter
into each pan. Bake until golden and the tops spring back when touched,
about 45 minutes (rearranging them after 25 minutes if necessary to
brown evenly).
Cool for 10 minutes in the pans. Remove cakes from the pans and cool completely on wire racks.
Wrap each cake in a layer of cheesecloth. Store in plastic storage bags
until they are slightly stale, 3 to 4 days.
Combine the reserved simple syrup with the remaining 1/2 cup Grand Marnier and the bourbon. Without removing the cheesecloth, make
tiny holes with a toothpick randomly on the top of each cake. Pour 2
tablespoons of the syrup over the top of each cake once every 2 to 3
days until all of the syrup is used. Let the cakes age for up to 3 weeks
before eating. Makes 12 (1-pound) cakes.


Whiskey Sauce

3 cups heavy cream
1/2 cup bourbon
1/2 cup granulated sugar
1/4 cup plus 2 tablespoons cornstarch

Combine 2 3/4 cups of the cream with the bourbon and sugar in a
medium-size nonstick saucepan over medium heat. Stir to dissolve
the sugar.
In a small bowl, dissolve the cornstarch in the remaining 1/4 cup
cream. Add this to the cream-and-bourbon mixture and simmer stir-
ring often, until the mixture thickens, 4 to 5 minutes. Remove from
the heat and serve warm with the fruitcake.
The sauce may be stored, after it has cooled, in an airtight container
for 24 hours. When ready to serve, warm over low heat.
Makes about 3 cups.


Featured Archive Recipes:
Christmas with All the Trimmings!
Golden Fruitcake
Virginia's Precious Fruit Cake
Mrs. Mosal's White Fruit Cake



Holiday Central!
Index - Favorite Recipes!
Index - Food Features
Index - Cake Recipe Archives
Daily Recipe Index
Recipe Archives Index
Recipe Search