Recipe of the Day Categories:
Recipe Index
Recipe Search
Fruit

Cafe Tables in Plaza Mayor,
Madrid, Spain
Photographic Print
Barnes, David
Buy at AllPosters.com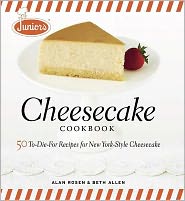 Junior's Cheesecake Cookbook: 50 to-Die-for Recipes for New York-Style Cheesecake

Your patronage of our affiliate partners supports this web site.
We thank you! In other words, please shop at LBC Gift Galerie!

Cafe, Old Town, Girona, Catalonia, Spain
Martin Child
Buy This at Allposters.com



Forbidden Pleasures
Cheesecake
Zanne Early Stewart
Gourmet
April 1996
"Cheesecake connoisseurs are choosy, discriminating between the ricotta and the cream cheese varieties. For me the winner has always been clear: cream cheese, hands down. The paradigm, of course, was Sara Lee's, the smooth, dense, tangy-sweet cake in a disposable aluminum pan that rarely ever received the amenity of proper plating. It was the first food I knew whose illicit nature was accentuated
by the fact that I ate it standing up, as if the need to make a quick getaway were imminent. Ritualistically, my girlfriends and I would gather round and shave off sliver after sliver of its deceptively innocent-looking richness, knowing that
calories consumed in a coven don't count. And they didn't - then.
Later came an even richer, creamier cheesecake, from a coffeehouse in Santa
Fe called Three Cities of Spain, which closed in the mid-seventies. The owners,
Robert Garrison and David Munn, showed foreign films and served wonderful
food. The European exoticism of Fellini or Bergman on the screen was buffered
by that familiar dessert, of which I sometimes had two servings in a single sitting.
Before moving from Santa Fe to Manhattan, I got the recipe for Three Cities' cheesecake and made it often, to much acclaim. But somehow I lost it and nearly gave up hope of finding it again. In a genre I had sampled and enjoyed thoroughly, that cheesecake had become the one by which I judged all others. Its absence made me doubt my memory, and I began wondering whether the cake was no more than a luscious creation of my dreams. And then, during last year's spring cleaning ritual,
I recovered my buried treasure - the recipe for that long-lost forbidden pleasure.
Of course I made it immediately, and one taste confirmed my fondest recollections.
I am pleased to share the recipe for your enjoyment, whether you eat the cheesecake in wanton wedges or surreptitiously, sliver by sliver."
Three Cities of Spain Cheesecake
For crust:
11 roughly 5-by-2 1/2-inch graham crackers, ground
fine in a food processor (about 1 1/2 cups)
1/3 cup (5 1/3 tablespoons) unsalted butter, softened
1/3 cup sugar
1/8 teaspoon salt
For filling:
24 ounces cream cheese, softened
4 large eggs, beaten lightly
1 teaspoon vanilla extract
1 cup sugar
For topping:
16 ounces sour cream
1 tablespoon sugar
1 teaspoon vanilla extract
Preheat oven to 350 degrees F.
Make crust: In a bowl stir together crumbs, butter, sugar and salt. Sprinkle half of the crumb mixture onto bottom of a buttered 9 1/2-inch springform
pan near rim, pressing evenly about 1 1/4 inches up side. Sprinkle remaining crumb mixture onto bottom and press evenly over bottom, joining edge.
Make filling: In a bowl with an electric mixer beat cream cheese until light and fluffy and add eggs a little at a time, beating on low speed until just combined. Beat in vanilla and sugar, beating on low speed until just com-bined. Pour filling into crust and bake in middle of oven 45 minutes.Trans-
fer cake in pan to a rack and let stand 5 minutes. (Cake will not be set in center but will set as it cools.) Leave oven on.
Make topping: In a bowl stir together sour cream, sugar and vanilla. Drop spoonfuls of topping around edge of cake and spread gently over center, smoothing evenly. Bake cake 10 minutes more. Transfer cake in pan to a
rack and cool completely. Chill cake, covered, overnight. Remove side of
pan and transfer cake to a plate. Let cheesecake stand at room temperature
30 minutes and serve with fresh strawberries.
Perfect Cheesecake Tips
(gathered over the years, sources not noted)
♦ Have all ingredients at room temperature. If you're in a hurry, warm
the cream cheese for 10 minutes at 200 degrees F [these days you
could just slip it into the microwave, unwrapped, for a minute or
so]. Slip the eggs into a bowl of warm water for 5 to10 minutes.
♦ Oiling the springform pan keeps cake from sticking to sides, which
can cause the cake to crack as it cools.
♦ Scrape the bowl and beaters several times while beating the
cream cheese.
♦ Once the eggs have been incorporated, don't beat or stir vigorously,
as this will add too much air.
♦ Cheesecakes rise very little, so pans may be filled to the rim.
♦ Don't open the oven door during the first 30 minutes of baking time.
♦ Make cheesecakes at least one day in advance in order to allow the
flavor to ripen. Cheesecake may be refrigerated up to 1 week, or
wrapped tightly and frozen up to one month.
♦ Slice cheesecake with a long, thin knife dipped in hot water.
Featured archive recipes:
Chef Keegan's Pecan Cheesecake
Gigi's Pineapple Cheesecake
Katish's Cheesecake
Lemon Cheesecake with Lemon Bar Crust
Lindy's New York Cheesecake
Michele's Tiramisu Cheesecake
Wolfgang Puck's Classic Spago Cheesecake
Cook's Illustrated's Perfect Pie Crust


The Essentials!
Index - Food Features
Index - Cake Recipe Archives
Index - Miscellaneous Desserts
Daily Recipe Index
Recipe Archives Index
Recipe Search