Potato Digging in the Kitchen Garden
William Small
Buy This at Allposters.com


Potato Salad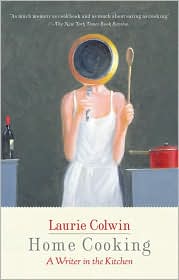 Home Cooking:
A Writer in the Kitchen

by Laurie Colwin, 1988, HarperCollins
(Reissued March 2000)
"There is no such thing as really bad potato salad. So long as the potatoes
are not undercooked, it all tastes pretty good to me. Some potato salads
are sublime, some are miraculous and some are merely ordinary, but I
have yet to taste any that was awful.
One of my earliest childhood memories is of going to lunch on a summer Saturday to Conklin's drugstore on the main street of Lake Ronkonkoma
with my parents and sister. In those days, drugstores had booths, fountains and grills. They made bacon, lettuce and tomato sandwiches, fried eggs, egg salad, and hot fudge sundaes. What I remember most was the potato salad.
It was the standard American kind: potatoes and onions in a creamy mayonnaise dressing spiked with vinegar and black pepper: no chopped
eggs, no celery. I still make this variety myself, with scallions substituted
for onions and dill as an addition.
When I was young, potato salad was considered summer food. My mother made her mother's version, which included chopped celery and catsup in
the dressing. It was known as pink potato salad and was served at picnics
and barbecues as an accompaniment to fried or grilled chicken. No one
would ever have thought of serving it in a formal setting.
Once I was out on my own and could cook to please myself, I figured that since I loved potato salad so much, other people did, too. I began to serve
it to my friends at dinner parties.
'Oh, potato salad,' they would say. 'I haven't had any homemade in years!'
I gave it to them with thin sliced, peppery flank steak, and with cold roast chicken in the summer and hot roast chicken in the winter. It was always
a hit.
For a while I turned my back on the old-fashioned kind and began to branch out. The possibilities were endless, since for every cook there are at least
three potato salad recipes. [For La Belle Cuisine, obviously there is no limit whatsoever.] I stole shamelessly from my friends. I made potato salad with funghi porcini, and with curried mayonnaise, and with chopped egg and walnut. But time after time I returned to my old standby: potatoes, scallions and dill. I must confess that I have never used homemade mayonnaise for
this. I use Hellman's, cut with lemon juice. [So do we, usually, unless we
have some Duke's on hand. Those Southerners among you understand…]
Among cooks there is always a discussion about the right potato. When in doubt, the new red potato comes close to being all purpose, but it does not absorb the dressing the way an Idaho or russet does. The new red potato allows itself to be delicately coated with dressing. The mealier varieties soak
it up like a sponge and thereby take more dressing. The result is creamier,
but both are very good. Totally useless, in my opinion, is something billed
as a salad potato: a soapy, greenish-looking creature which when cooked is
waxy and watery at the same time – an unfortunate combination.
[I cannot resist inserting here that I consider the German Salatkartoffel an exception. It stands up for itself. It has character as well as flavor. Germans know their potatoes!]
If you can find them, the tiny potatoes of early autumn are delicious. They
are the size of quail's eggs and are wonderful steamed, cooled and eaten
with a French olive oil, salt, pepper, and a drop of lemon juice.
I have a friend, a man in his seventies who fled Vienna on the eve of World War II and ended up in Bogotá, who once every two years comes to New York. When I first met him, I invited him for dinner.
'What would you like me to cook?' I asked him.
'I am a meat and potatoes man,' he said. 'I want hamburgers and that wonderful American potato salad.'
I said I did not approve of cooking hamburgers at home – that they were strictly restaurant food – but that I would make meat loaf. I told him that
I made an especially good potato salad.
He appeared one July evening, dressed in a woolly sport coat. We begged
him to take it off and he did, revealing a pair of snappy-looking suspenders.
Thus liberated, he sat down to dinner. I watched anxiously, wondering what
this feinschmecker would make of my potato salad.
'What do you think?' I said. I thought it almost perfect: creamy, oniony
with just a jolt of vinegar.
'This is not at all what I had in mind!' he said forcefully.
'What do you mean?' I said. 'This is A-plus American potato salad.'
'I did not say it was not delicious,' he said. It is just not the potato salad
I was thinking of.'
'And what potato salad were you thinking of?'
'What they serve in the delicatessen around the corner from my hotel,'
he said. I knew the place. It was a Greek coffee shop.
'But Dr. Hecht,' I said, 'that stuff is made in five-hundred-gallon drums
and sent all over the city.'
'Exactly!' he said. 'It tastes the same wherever I go. That is its charm.'
He ate three helpings of mine, which mollified me enough to get me to
admit that I liked the coffee shop variety myself.
The following recipes are stolen from friends.

Karen Edwards's Warm Potato Salad with
String Beans
1. Boil six Idaho potatoes. Steam half a pound of string beans.
2. Keep the potatoes warm. Cut the beans into longish pieces. Cut the
potatoes – some of the skin will come off and some will stay on.
3. Make a vinaigrette – lots of it: 3/4 cup of olive oil, a teaspoon of
Dijon mustard, juice of one or two lemons, lots of garlic, salt and
pepper to taste. The secret of this salad is lots and lots of dressing.
4. Dress the warm potatoes and beans, and add chopped scallions at
the last minute.
Rob Wynne's Potato Salad with Crème Fraîche
1. Cook as many new potatoes as you need. Slice and cool.
2. Skin as many cucumbers (even if you are using kirbys) as will
equal the amount of potatoes. Cut into julienne and drain.
3. Dress with a mixture of half mayonnaise, half crème fraîche, and
black pepper and a hint of garlic.

My own potato salad is a snap. Idaho or new red potatoes can be used.
Boil the potatoes. Make a dressing of Hellman's mayonnaise thinned with lemon juice and seasoned with black pepper. This does not need salt – prepared mayonnaise is quite salty enough. Mix the cut-up potatoes with chopped scallion and finely minced dill. Pour the dressing over and let sit
for an hour or so before serving.
It is always wise to make too much potato salad. Even if you are cooking
for two, make enough for five. Potato salad improves with age – that is, if
you are lucky enough to have any left over."
[You probably think this is all Laurie Colwin has to say about potato salad.
Think again. How about Warm Potato Salad with Fried Red Peppers…]

Featured Archive Recipes:
Potato salad, let me count the ways...
Laurie Colwin on Chocolate
Laurie Colwin on Red Peppers
Laurie Colwin's Roast Chicken


More Lagniappe Recipes!
Index - Salad Recipe Archives
Index - Side Dish Recipe Archives
Daily Recipe Index
Recipe Archives Index
Recipe Search