Recipe of the Day Categories:
Recipe Index
Recipe Search
Fruit

Have a heart for
the Gulf Coast

Wild Turkey
John James...
Buy This at Allposters.com


Close View of a Wild Turkey
Photographic Print
Sartore, Joel
Buy at AllPosters.com


Glade Creek Grist Mill
Ron Watts
Buy This at Allposters.com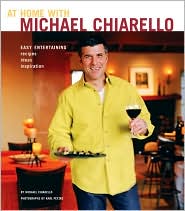 At Home with
Michael Chiarello: Easy Entertaining - Recipes, Ideas, Inspiration

"Freedom From Want",
March 6,1943
Norman Rockwell
Buy This at Allposters.com

Your patronage of our affiliate partners supports this web site.
We thank you! In other words, please shop at LBC Gift Galerie!

Wild Turkey Males Displaying, Texas, USA
Photographic Print
Nussbaumer, Rolf
Buy at AllPosters.com


To stuff or not to stuff...
15 November 2008
Okay, as we were saying...
here's the thing: not only do we have to decide whether to stuff or not to stuff,
we have to decide how we are going to cook this bird. These questions aree
inextricably intertwined, are they not. For example, should I decide to deep fry
my turkey (no way!) it ain't gonna get stuffed! My turkey will be roasted, for
sure. But only because I don't have a smoker!
Wow. This could get complicated, could it not? To roast, to smoke, to deep fry,
to brine or not to brine. A whole turkey or just the breast? A 22-pound bird, or
two 12-pounders? Merciful Father! It's almost enough to make you seriously consider going to Piccadilly's after all...So let's just say we've decided to go
with roasting our turkey... there are still LOTS of choices out there, believe
me! In my heart of hearts, I must admit that I still love the ritual of the
traditional way I grew up with. When I hear the word "Thanksgiving", those memories are conjured up, as vivid as ever. However, Michael Chiarello,
one of my all-time favorite chefs, has convinced me that there is another
excellent way to go. There is no sacrifice involved here, as we can enjoy
the same Thanksgiving instant gratification, nostalgia, aromas and flavors...
Whole Roasted Turkey with
Citrus Rosemary Salt
Easy Entertaining with Michael Chiarello
"Country Thanksgiving"
Serves: 10 to 12 servings
Citrus Rosemary Salt:
1 tablespoon fresh rosemary leaves, chopped
2 tablespoons lemon zest
1/2 cup coarse salt
Roasted Turkeys:
2 (8 to 10-pound) whole turkeys
2 carrots, cut in half
2 celery stalks, cut in half
1 quart chicken stock or broth
1 cup extra-virgin olive oil, divided
8 sprigs fresh rosemary
2 lemons, halved
4 large carrots, halved lengthwise
8 celery stalks
3/4 cup butter
3/4 cup all-purpose flour
Turkey Gravy:
1/2 cup (1 stick) butter
1/2 cup all-purpose flour
4 cups chicken broth
Salt and freshly ground black pepper
For the Citrus Rosemary Salt: In food processor, process all ingredients. Pulse until well blended. Set aside.
Preheat the oven to 425 degrees F.
For the Roasted Turkeys: Remove necks and giblets and put into a large saucepan. Add 2 onions, 2 carrots, 2 celery stalks and chicken stock. Bring
to a boil over high heat, then reduce the heat and let simmer until reduced
to about 2 cups. Strain and reserve; this is the turkey stock that you will
use for the gravy.
Wash the turkeys, inside and out, and dry well. Coat each turkey, inside
and out, with 1/4 cup of the olive oil. Season each turkey on the outside
with a tablespoon or two of the Citrus Rosemary Salt, pressing it in to
adhere. Place 4 rosemary sprigs and 2 lemon halves inside the cavity of
each turkey.
Arrange 4 of the halved carrots and 4 celery stalks on each of 2 half-
sheet pans (use baking sheets with a lip). [Chef Chiarello explains on the
show why he chooses to use this type baking pan rather than a traditional
roasting pan... the short version is that it keeps the breast from drying out
so quickly during the roasting process. Makes sense to me!] Position each
turkey on top of the carrots and celery so that the turkey does not rest
directly on the bottom of the pan. Drizzle turkeys with remaining olive oil.
Roast until an instant-read thermometer (inserted deep into the thigh but
away from the bone) reads 165 degrees F and juices in the thigh run clear
when pierced with a fork, about 2 to 2 1/2 hours; begin checking at 2
hours. Remove from the pans and let rest for 15 minutes before carving.
Reserve pan juices for gravy.
While turkeys are resting, make the gravy. In a medium saucepan, melt
the butter and add the flour. Whisk over medium heat for 3 to 4 minutes,
or until a smooth, blond-colored mixture is formed. Add the reserved tur-
key stock and pan juices and bring to a boil over high heat. Reduce the
heat and let simmer until thickened and ready to serve. Season, to taste.
Carve turkey and serve with gravy.

Sounds terrific! But let's just say you are not into citrus rosemary salt and would prefer something just a tad more exotic. Not to worry, Chef Chiarello's still got
you covered. Proceed as in the recipe above, substituting
Fennel Spice Rub:
1 cup fennel seeds
3 tablespoons coriander seeds
2 tablespoons white peppercorns
3 tablespoons kosher salt
for the Citrus Rosemary Salt, and using the Fennel Spice Rub to season each
turkey, pressing it in to adhere.
And BTW, we noticed when comparing Chef Chiarello's two Whole Roasted
Turkey recipes that the Fennel Spice turkey recipe called for the addition of
2 small whole onions, peeled to the stock ingredients. We would certainly do
the same for either recipe.
So here we are with some truly superb turkey recipes, all unstuffed. What to
do??? Not to panic! This is not an insurmountable problem. As a matter of
fact, it just may lead you to discover a brand-new favorite.
Panettone Stuffing
Easy Entertaining with Michael Chiarello
"Relaxing Thanksgiving"
Serves: 8 to 10 servings
One (2.2-pound) panettone
1 stick sweet butter
2 bunches fresh sage, leaves minced
Salt and pepper
1/2 cup dried apricots, julienned
1/2 cup dried sour cherries
1/2 cup golden raisins
1 1/2 cups minced yellow onion
1 cup minced celery or fennel
1 cup minced carrot
Up to 2 cups chicken stock [or turkey if you have it]
2 eggs, optional, use if you like a firmer stuffing
Preheat the oven to 350 degrees F.
Cut the panettone into 3/4-inch squares and place in large bowl. Melt half
of the butter in a saucepan over medium heat and continue to cook until
light brown, about 5 minutes. Take off the heat and add half the sage.
Season with salt and pepper. Pour the sage butter over the bread and toss gently but swiftly. Spread out on 2 cooking sheets and place in the oven
until light brown, about 15 minutes. Remove from the oven and place
back into the bowl.
Meanwhile, place the dried fruit in a large bowl; add boiling water to cover and then set aside for at least 10 minutes. This will plump and soften the
fruit for cooking. Drain fruit once plumped.
Raise the oven temperature to 375 degrees F.
Melt the remaining butter and add onion, celery, and carrot. Sauté on medium-low heat until soft. Add dried fruit and remaining sage. Toss into cooled croutons. Gently toss and add chicken broth to moisten; add more broth if you like a softer stuffing. Stir in beaten eggs now, if using. Adjust
salt and pepper, to your liking. Turn out into an oven-proof casserole.
Bake uncovered until golden brown on top, about 40 minutes.

Or, maybe some folks are sick and tired of thinking about, hearing about,
reading about, watching chefs make stuffings/dressings. Yet another fine
opportunity in disguise, my friend! I can hardly wait to try Chef Chiarello's
Autumn Panzanella
Easy Entertaining with Michael Chiarello
"Country Thanksgiving"
Serves: 8 to 10 servings
Croutons:
1/4 cup unsalted butter
12 cups crust-free cubed day-old bread
(1/2-inch cubes)*
3/4 cup finely grated Parmesan
Freshly ground black pepper
Dressing:
2 tablespoons unsalted butter
2 yellow onions, coarsely chopped
Sea salt, preferably gray salt
Freahly ground black pepper
6 tablespoons red wine vinegar
1/2 cup extra-virgin olive oil
2 tablespoons warm water
Salad:
1/4 cup olive oil
1 pound fresh wild mushrooms,
thickly sliced or quartered
2 tablespoons finely minced fresh thyme leaves
2 tablespoons finely minced garlic
Salt and freshly ground black pepper
3/4 cup thinly sliced celery heart (on the diagonal)
plus some chopped leaves
1/4 red onion, very thinly sliced, onion-soup style
2 ounces baby arugula or spinach leaves
Grated Parmesan
For the croutons: Preheat the oven to 350 degrees F.
Melt 1/4 cup butter in a large skillet over moderate heat and cook until
it foams.
In a large bowl, pour the butter over the 12 cups cubed bread and toss
to coat. Sprinkle with Parmesan and freshly ground black pepper. Toss
to season all of the bread,
Transfer the bread to a baking sheet. Bake, stirring once or twice, until
the croutons are crisp and lightly colored on the outside but still soft
within, about 15 minutes. Let cool.
Croutons can be made 1 day ahead and stored in an airtight container.
*Michael's Notes: I use a serrated knife to remove the crust from day-old bread, then switch to a chef's knife to cut to cubes because it doesn't tear the bread.
Also note that I recommend grating the Parmesan finely so that it will stick to
the bread better.
For the dressing: Melt the butter in a small skillet over moderately low
heat. Add the yellow onion and sauté until soft, about 15 minutes. Season
with salt and pepper. Add the vinegar and stir with a wooden spoon to
release any browned bits stuck on the bottom of the skillet.
Transfer to a blender or food processor and puree until smooth. With the machine running, slowly add 1/2 cup of the olive oil, then the water.
Transfer to a bowl and season with Salt and pepper.
For the salad: Heat a large skillet over high heat. When hot, add 1/4 cup
olive oil. When the oil begins to smoke, sprinkle in the mushrooms. Don't
stir! Let them sizzle until they have caramelized on the bottom, about 2
minutes. If you toss them too soon, they will release their liquid and begin
to steam. When the bottoms are caramelized, toss the mushrooms, reduce
the heat to moderate, and continue to cook until well browned. Stir in the
thyme and garlic and cook for about 1 minute to release their fragrance.
Season with salt and pepper.
In a large bowl combine the croutons, the mushrooms, and the onion
dressing. Toss well to coat. Add the celery, red onion, and arugula or
spinach and toss again gently. Taste and adjust the seasoning. Grate
fresh Parmesan on top and serve immediately.


If you liked that one, you're just gonna love this one...

Cornbread Panzanella Salad
Recipe courtesy Giada De Laurentiis
Everyday Italian, "Thanksgiving for Two"
Serves: 2 to 3 servings
[Feel free to double or triple, as you like.]
8 ounces cornbread, cut into cubes
(about 2 cups)
1/2 cup halved cherry tomatoes
1/2 cup cubed fontina cheese
1/2 cup cubed cucumber
1/4 cup chopped fresh basil leaves
1/3 cup extra-virgin olive oil
1 lemon, zested and juiced
1/2 teaspoon kosher salt
1/2 teaspoon freshly ground black pepper
Combine all the ingredients in a large bowl. Toss gently to combine.
Place in a serving bowl and serve.

Featured Archive Recipes:
Absolutely AWESEOME Holiday Sides!
Holiday Stuffing (Dressing) Recipes
Louisiana Firefighters Give Thanks (2001)
Louisiana Thanksgiving Feast
Thanksgiving Dinner from Food & Wine
Emeril's "Funky" Brined Turkey
Emeril's Oyster and Spinach Stuffed
Turkey Roll
Favorite Roast Turkey
with Stuffing (James Beard)
Tuscan-Style Stuffed Turkey Breast
"Gratitude unlocks the fullness of life. It turns what we have into
enough, and more. It turns denial into acceptance, chaos to order,
confusion to clarity. It can turn a meal into a feast, a house into a
home, a stranger into a friend. Gratitude makes sense of our past,
brings peace for today, and creates a vision for tomorrow."
~ Melody Beattie
"As you go through each day, are you mindful of the little blessings
God has given you? The air you breathe, the family you have, the
reliable car you drive. If you were to sit down and list all of the
blessings in your life, big and small, you would begin to cultivate
a thankful spirit. Today, look for blessings in unexpected places
and be sure to express your gratitude to our loving and gracious
Father in heaven."
Dr. David Jeremiah
"It seems to me that our three basic needs, for food and security and love,
are so mixed and mingled and entwined that we cannot straightly think
of one without the others. So it happens that when I write of hunger, I
am really writing about love and the hunger for it, and warmth and the
love of it and the hunger for it… and then the warmth and richness and
fine reality of hunger satisfied… and it is all one."
~ M.F.K. Fisher, The Art of Eating
Index - The Spice Cabinet
Index - Main Dish Recipe Archives
Do you know what it means
to miss New Orleans?
Favorite Recipes
Daily Recipe Index
Recipe Archives Index
Recipe Search