Recipe of the Day Categories:
Recipe Home
Recipe Index
Recipe Search
Fruit

Mushroom Risotto, Tuscany...

Buy This at Allposters.com


The Grand Canal, Venice
Art Print
Santoro, Rubens
Buy at AllPosters.com

Your patronage of our affiliate partners supports this web site.
We thank you! In other words, please shop at LBC Gift Galerie!

Canal Facades
Art Print
Longo, Michael
Buy at AllPosters.com


Risotto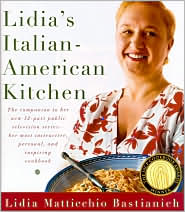 Lidia's Italian-American Kitchen

by Lidia Matticchio Bastianich,
2001, Alfred A. Knopf

"Risotto is as Italian as pasta, but it tool much longer to reach the American
shores and be presented on the Italian-American table. Actually, serving it is
a rather recent phenomenon – only in the last ten to fifteen years has risotto
made its way onto menus in America and onto the stoves of American home
kitchens.
Risotto – when made correctly – speaks of Italy. There are no two ways of making risotto; either you make it right, or it is not risotto. It was one of the first dishes
that identified an Italian restaurant in America as authentically Italian. I know
that risotto, along with polenta, gnocchi and other such dishes, set my first
restaurant, Buonavia, apart from the other Italian restaurants of the time and
led it to be labeled a 'Northern Italian' restaurant.
Risotto does demand a lot of attention from the cook, because it needs to be stirred continuously. But it is well worth the effort. One of the questions I am asked most often is, 'Can risotto be cooked in advance?' The simple answer is no. Once the
rice begins to release the starches and is wet, it will continue to break down until
it becomes mush. There is one option that is acceptable, and that is to prepare the
rice to the point where it is toasted and the wine has been added. But you must evaporate the wine completely and bring the rice back to a dry state. (See para-
graph three of the Basic Risotto recipe, which follows.) Then you can wait a few
hours before continuing with the recipe. Preparing the risotto through this step
will save you about 5 to 7 minutes."


Basic Risotto

Makes 4 main-course or 8 first-course servings

"Think of this recipe as a master plan for making risotto, and the additions and variations that follow it as inspirations for your own creations. Just keep in
mind, when adding ingredients, to time them so they are finished cooking at
the same time as the rice. Once you've mastered the art of making a creamy
risotto with each grain of rice cooked al dente, you'll never lose that skill.
That is why I believe this is the only risotto recipe you'll ever need. For proper
results, use only the traditional short-grain varieties of rice, like the Arborio
or Carnaroli suggested below."

4 1/2 cups hot chicken stock, vegetable stock, or
canned reduced-sodium chicken broth
3 tablespoons extra-virgin olive oil
1 medium onion, minced (about 3/4 cup)
1 medium leek, white parts only, trimmed,
cleaned, and chopped (about 1 cup)
4 to 6 scallions, trimmed, white and green
parts chopped separately
2 cups Arborio or Carnaroli rice
1/3 cup dry white wine
Salt
2 tablespoons unsalted butter, cut into 4 pieces
1/3 cup freshly grated Parmigiano-Reggiano cheese
Freshly ground black pepper

Pour the stock into a 2-quart saucepan and keep it hot over low heat.
(The texture of a properly cooked risotto is creamy, with each grain of rice separate and al dente. To achieve that, you are actually coaxing the starch gently out of the grains of rice. Adding cold stock to the risotto may cause
the surfaces of the rice grains to 'seize up' and seal in the starch, instead
of releasing it into the liquid.)
Heat the olive oil in a wide 3- to 4-quart braising pan over medium heat. Stir
in the onion and cook, stirring occasionally, until softened, about 4 minutes.
Stir in the leek and the white parts of the scallions and cook, stirring, until
the onion is golden, about 6 minutes. Adjust the heat under the pan as the
onion browns so that it cooks slowly with gentle bubbling.
Stir in the rice and continue stirring until the grains are coated with oil and
"toasted" – the edges become translucent – 1 to 2 minutes. Pour in the wine
and let it boil, stirring the rice, until evaporated. (Since the rice kernel is 98
percent starch, the acidity in the wine balances and imparts flavor to the
rice kernel.)
Season the rice lightly with salt and ladle enough of the hot stock into the
pan to barely cover the rice. Bring to a boil, then lower the heat so the stock
is at a lively simmer. Cook, stirring constantly, until all the stock has been
absorbed and you can see the bottom of the pan when you stir. Continue cooking, pouring in the remaining hot stock in small batches – each addition should be just enough to completely moisten the rice – and cook until each batch of stock has been absorbed. Stir constantly until the rice mixture is creamy but al dente; this will take 16 to 20 minutes from the time the wine
was added. When in doubt, undercook – risotto continues to cook, even
after it is removed from the heat.
Adjust the level of heat throughout cooking so the rice is simmering very
gently. The total amount of stock you use may vary for several reasons:
the type of rice you are using, the shape and size of the pan, and the de-
sired texture of the finished risotto which can be quite dense, or soft and
runny, depending on your personal taste. If you like a creamier risotto –
called all'onda, or 'wavelike' in Italian – stir in a little more stock once
the rice is al dente, but do not cook the rice any further. For a denser
risotto, keep the rice over the heat and cook until the last addition of
stock has been almost entirely absorbed by the rice. There is a general
rule that risotto with seafood is looser and risotto prepared with meats,
game, and mushrooms is more dense, but ultimately it depends on your
taste and preference.
Remove the pan from the heat; stir in the butter and green parts of the
scallion until the butter is completely melted. Stir in half the grated cheese,
taste the risotto, and add salt, if necessary, and pepper. Always ladle risotto
into warm, shallow bowls and serve immediately after finishing. Either top
each serving with some of the remaining grated cheese or pass the cheese
separately.


Variations

Tomato and Mozzarella Risotto

Heat 2 tablespoons extra-virgin olive oil in a wide skillet over medium
heat. Add 2 cloves garlic, sliced, and shake the pan until the garlic is lightly browned. Slide in 2 cups halved cherry tomatoes and stir gently until they
are juicy.
Toss in a handful of shredded fresh basil, remove the pan from the heat,
and set aside. Prepare the Basic Risotto, stirring in the sautéed cherry
tomatoes halfway through the cooking. Remove the pan of risotto from
the heat, and stir in 1 1/2 cups of cubed fresh mozzarella (preferably
mozzarella bufala) along with the grated cheese and butter.

Radicchio Risotto

Prepare the Basic Risotto adding 4 cups shredded radicchio leaves (pre-
ferably radicchio Trevisano) to the pan after the wine has evaporated.

Some Simple Additions to Basic Risotto

Stir leftover cooked vegetables into the Basic Risotto during the last
few minutes of cooking.
Leftover steamed clams or mussels… can be picked from their shells
and added to the risotto at the very end of cooking. Substitute some of
the liquid or sauce that the shellfish were cooked in for the stock called
for in the above recipes. As a general rule, 1 cup of shellfish cooking
liquid will flavor enough risotto for two.
…Since the meat [leftover oxtails or short ribs] is already cooked, you
can prepare the Basic Risotto as above, using some of the leftover
sauce from the meat in place of the stock. Shred the meat finely and
add it during the last few minutes of cooking.

~*~*~*~*~*~*~

Don't miss:
Risotto with Asparagus, Porcini and Basil
Risotto Porcini Casserole
More from Lidia!
Fresh Egg Pasta
Mostaccioli alla Caprese
Ricotta Gnocchi with Contessa Sauce
Rigatoni in a Woodman Sauce
Pasta with Fresh Basil and Mozzarella -
Hot and Cold




Index - Side Dish Recipe Archives
Daily Recipe Index
Recipe Archives Index
Recipe Search